The Atlanta Falcons' second preseason game was like a game of Who's Line is It Anyway – it was a cataclysm of sound and fury, signifying nothing.
Wait a second that's not right. Well, I mean, it kind of is when you think about it.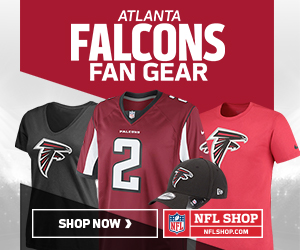 In a trip to the Steel City, the Falcons' starters throttled the Pittsburgh Steelers' starters (well, the ones not including the team's three best players, Big Ben, Antonio Brown, Le'Veon Bell, who are all very good), and the Steelers' reserves throttled the Falcons' reserves. All in all, it was just some dumb preseason game in a city known for putting French fries on sandwiches (which tastes good, for what it's worth).
Here are five takeaways, because the number five scientifically makes you more likely to click.
The first-team offense looks massively better than it did last year at this point
Look, I don't know how much you should read into this. But over the last two weeks, Matt Ryan and company have waltzed into the end zones of Miami and Pittsburgh – like, slow-waltzed, like that one time Oscar-winning actor Christoph Waltz danced with the Muppet Sweetums in Muppets Most Wanted. Both drives were missing two of the best receivers on the Falcons – WRs Julio Jones and Taylor Gabriel – and one was missing Pro Bowl RB Devonta Freeman. And, Miami and Pittsburgh have two of the better front sevens in the league – featuring players like DT Ndamukong Suh, DE Cam Heyward, DT Javon Hargrave, DE Cam Wake, OLB Stephon Tuitt, DE Charles Harris, OLB Bud Dupree and DE T.J. Watt. TE Austin Hooper keeps making plays, guys like WR Marvin Hall Jr. are out there catching passes and WR Mohamed Sanu Sr. looks like he could be the starting main WR. Gracious, even RB Terron Ward is out there doing stuff on the first team. It's a really, really good sign that the Falcons are easing into OC Steve Sarkisian's scheme and putting it to good use against two really solid defensive front sevens. This wasn't the case last year, when the team was struggling against Washington and Cleveland. Some were calling for Matt Ryan to be benched. What a difference a year makes.
The draft class is half developing, half not really
DE Takk McKinley made his grand debut for the Falcons when he landed a quarterback hit on QB Josh Dobbs that sent rumblings all the way down to Knoxville, the town of Dobb's alma mater. McKinley looked fast and ferocious in his first snaps as a Dirty Bird, showing the kind of drive that landed him in Atlanta this past April. OLB Duke Riley continued to improve, making strides in his snaps at linebacker and notching a handful of tackles. FS Damontae Kazee was all over the place making his presence known. These three are further proof that the Falcons know how to draft, and all three could make visible, immediate impacts on the field this season. They're just peachy.
Well, then you have the other three guys. G Sean Harlow, who we all kind of pegged as a reserve this season, made a few jumps this game, though he's still too raw to start if something happened to Andy Levitre. RB Brian Hill looked a bit better behind more competent blocking, but he still looks like he needs lots of work before he's taking major NFL snaps. And, TE Eric Saubert caught a pass. I know that doesn't sound like a big deal, but he's taking on a thunderstorm trying to adjust from playing at Drake to playing in the NFL. Harlow and Hill feel like roster locks. They may well both be inactive on game day, but their development will extend far into the 2017 season.
Saubert is a tricky case, with the roster not really equipped right now to carry four tight ends. The team would have to feel comfortable with him playing on special teams at the least to make him active – his blocking, penchant for penalties and general awareness for the game might indicate he'd be far-better served on the practice squad in 2017. That's not a knock on him at all, but at the moment, he's just not ready. A lot can change in two weeks, but right now, Saubert may really need that year of learning the speed of the game before he hits the field for Atlanta.
So, three up, three not-really-down-but-not-super-up-either.
The depth at tight end is kind of not great
Unless Saubert randomly becomes a super good tight end within fourteen days, Joshua Perkins wakes up and does things or this talk about Darion Griswold being actually good becomes a thing, the Falcons need a new tight end. Again, Hooper looks the part of a starter, and TE Levine Toilolo got paid like a second tight end in March and has experience doing such after filling in for an injured Jacob Tamme last season. So, if Saubert, Perkins and Griswold aren't the answer, who could they call? Five ideas:
Gary Barnidge – The former Cleveland Brown starting TE still has gas left in the tank, and might benefit greatly from working with a QB like Matt Ryan. He could be another scary cog in an offense that has an abundance of them. The team tends to do well with Cleveland castaways. Price could be an issue, though, as Barnidge figures to be on a roster at some point soon.
Jacob Tamme – Literally, just go get Tamme again if he's healthy. He and Ryan have an obvious rapport, he's got reliable hands, and he wouldn't have to start with Hooper playing well.
Brandon Myers – He's another solid depth guy who played for the Buccaneers last year and could probably pick up Sarkisian's scheme pretty quickly.
Jim Dray – Dray is old, but he went to Stanford. That must mean he is smart. He's primarily a blocking tight end, I think. Honestly, I don't know anything about Jim Dray. He also catches the ball apparently. Honestly, he's 30, and he was on a roster last year. That must mean he's at least somewhat good at his job. So, he is an option, by default. He also was a Brown once, which always is going to ring a bell.
Watch the camp cuts list/waiver wire soon – so, the team may just decide to fix this in like two weeks when players start getting released and waived.
Look, it's probably going to be Perkins or Griswold. Or maybe they keep two of those guys along with Saubert. All I know is that it's the only spot on the roster right now I look at and go "hurmph."
There is nothing else to talk about
I think that is a problem in and of itself. Preseason games are dumb. They stretch out guys who won't make the roster to take garbage snaps, and sometimes, embarrass themselves on live television doing something they won't do for a job. The NFL needs to limit this to two games, starting next weekend, and then just call it quits. I know these things make money and give football nerds an earlier taste at something they're going to get plenty of in like a month's time, but they are really pointless and droll – like visiting that great aunt for her birthday that you know really has other things to do than talk with you, but you're there, and she's there, so you make it work, even though she'd be far-happier in the break room talking about that handsome young man who is now singing and playing the guitar twice a week, and you'd rather not drive forty-five minutes across town for a 15-minute conversation you could do by phone.
That's what these first two preseason games are like. Cut 'em short, Roger.
Oh, yes, something to talk about
Y'all think Dan Quinn could fight a bear? Like, literally. Quinn, bear, ring. Just let it happen and see the outcome. Like, you think, well, obviously, bear, but Quinn's got spirit. He could scare the bear away. Bears are scary, but they're also animals, who don't have large brains. Quinn could scream about that bear missing a tackle, and the bear would firstly, not understand English, and secondly, be upset someone is yelling at him. Now, this could go one of two ways. The bear could attack and be angrier, or the bear could get scared and cower away in the corner, waiting for all the loud noises to end. Let's assume the latter happens, and Quinn wins. And then befriends the bear, who becomes an assistant coach on the Falcons. Coach Bear, a fast-and-physical bear. I love Coach Bear. And Coach Quinn. Go Coach Bear.
Photo from AtlantaFalcons.com