By Matt Karoly
The Atlanta Falcons are a week removed from another draft weekend. And much like the three previous drafts under Dan Quinn, it was another successful endeavor.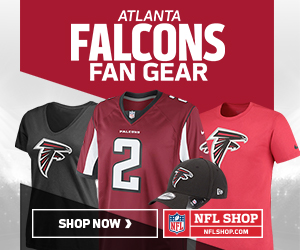 On day one, the team wowed us by selecting a wide receiver when the consensus number one player at the position—Calvin Ridley—fell to the Falcons at 26. Per an AJC report, the first round selection ultimately came down to Ridley and Florida defensive lineman Taven Bryan.
However, with Bryan being a more raw player than Ridley, who, at 23 years old, is ready to contribute to an NFL offense right away, the decision became quite clear. Atlanta had a need at wide receiver, so they went the best player available route and addressed the position in a major way.
Needless to say, the last time they plucked a wide out from Tuscaloosa, things turned out well for them.
Moving on to day two, the Falcons made it a clean sweep of the first two nights when they selected cornerback Isaiah Oliver at 58 and defensive lineman Deadrin Senat at 90. In Oliver, Atlanta acquired a cornerback that fits their archetype while also taking a player some believe they had a first round grade on. Slam dunk.
As for the Senat selection, Dan Quinn finally found his stout DT to pair with Grady Jarrett long-term. Senat provides the Falcons defense with another well-rounded interior presence for the next four years and beyond.
The only problem is Atlanta should not have stopped there when it came to adding talent to the middle of their defense. For a team that entered draft weekend with only two NFL caliber DTs, the Falcons needed to walk out of Dallas with more than just Senat. Instead, Dimitroff and company went in a different direction on day three as they selected running back Ito Smith, special teams maven Russell Gage, and linebacker Foye Oluokun.
The Gage and Oluokun picks are easy to understand. Atlanta was abysmal on special teams last year, so their additions will provide a breath of fresh air to Keith Armstrong's unit. After all, what more can you expect out of two sixth round picks?
That brings us, though, to the elephant in the room—fourth round pick Ito Smith. Before I go any further, let me preface by saying I'm a big fan of Smith's game. In fact, in one of my many mock drafts I messed around with this draft season, I mocked Ito to the Falcons…in the sixth round.
Now look, obviously NFL teams had a very different view on the day three running back prospects than the media did. That was made clear when Kalen Ballage and Chase Edmonds went a few picks after Ito.
So was Ito Smith over-drafted in the sense that he went much higher than a comparable player at his position? No. But was he over-drafted from the standpoint that there were other players available with a similar grade that would've filled a more pressing need for the Falcons? I'd say yes.
The following were the defensive linemen that were drafted after the Falcons took Smith with the 126th pick:
Other DTs that were taken after the Ito Smith selection:

128. Kentavius Street
139. RJ McIntosh
140. Maurice Hurst*
145. Bilal Nichols
180. Foley Fatukasi
195. Sebastian Joseph
198. Kahlil McKenzie
223. Jullian Taylor
232. James Looney
242. Kendrick Norton
246. Josh Frazier

— Matt Karoly (@mattkaroly) May 2, 2018
Keep in mind, fourth round picks, especially under the current regime, should be viewed as potential difference makers for this team; guys who can make major contributions and break the starting lineup. Most would agree that Ito Smith does not fit that description; at least not in 2018 anyway.
And even if Ito develops into Tevin Coleman's successor and forms a new two-headed monster with Devonta Freeman starting in 2019 (which I fully expect to happen), I'm still not sure that's enough to justify the pick. Not when running backs are a dime a dozen every draft and the team remains very thin at DT.
But I'll tell myself the same thing I've told all of you the last few months—trust the process. The team obviously has a plan and judging by the lack of DTs brought in from the undrafted pool, they are likely not done adding to the position this offseason.
That being said, the point still remains. The Falcons 2018 draft class will ultimately be judged by the selection of Ito Smith, thus giving his nickname—The Judge—a whole new meaning.
Photo from CBSSports.com