By Matt Karoly
With the Falcons roster seemingly set for 2018, now's as good a time as any to step into the future and examine how this organization plans to keep the machine rolling. By my estimation, Atlanta will have $148.5 million committed to 30 players that I've deemed to be safe roster bets in 2019.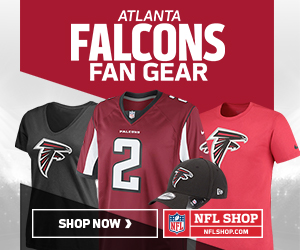 Sure, the NFL salary cap continues to increase every year; however, even after applying a liberal increase to the 2018 cap from $177.2M to $190M, that still only leaves the Falcons with $41.5M to round out their 63 man roster (includes practice squad) by week one of the 2019 season.
To make matters worse, the 30 players under contract that I alluded to does not include the likes of Grady Jarrett, Jake Matthews, or Ricardo Allen. Needless to say, the front office is going to have some tough decisions to make in the next year or two.
If you don't believe me, look no further than this past offseason. The team had the unenviable task of letting Dontari Poe, Adrian Clayborn, and Taylor Gabriel depart in free agency.
Mark my words. There will be other good players like Poe, Clayborn, and Gabriel that the Falcons will be forced to let walk. The key, however, is to identify the pieces most critical to the team's success and lock them up long-term.
This piece seeks to identify those members of the Brotherhood while categorizing all impending free agents regarding their likelihood to receive a second contract from the team. For argument's sake, the players examined will only include those set to hit unrestricted free agency in the next two years.
Note: All contract terms listed below are merely baseline numbers given to comparable players at each position.
Locks To Be Re-Signed
LT Jake Matthews – UFA in 2019 – 5 years $60M, $35M guaranteed
The only debatable part about the impending Jake Matthews contract is how high it will go. Matthews is by no means a top five player at his position, which is why I believe the annual per year (APY) value of players such as Cordy Glenn and Eric Fisher ($12M per year) makes sense for Jake. That being said, the recent record-breaking contract of Nate Solder ($15.5M per year) throws a curve ball into the discussion and could potentially bump the per year figure up.
DT Grady Jarrett – UFA in 2019 – 5 years $75M, $40M guaranteed
Grady Jarrett is simply an elite interior defender and deserves to be paid as such. The above contract puts him in line with the Jurrell Caseys and Malik Jacksons of the world.
LB Deion Jones – UFA in 2020 – 5 years $52M, $26M guaranteed
SS Keanu Neal – UFA in 2021 after 5th year option – 5 years $55M, $30M guaranteed
Deion Jones and Keanu Neal represent the embodiment of Dan Quinn's defense. Jones encompasses the fast element, while Neal packs the physical punch that strikes fear into opposing offenses. Both are on their way to being Falcons for life and these contracts will place them among the highest paid at their respective positions.
Futures In Doubt
DE Vic Beasley – UFA in 2020 – 5 years $60M, $20M guaranteed
The 2018 season represents a put-up-or-shut-up campaign for a number of players, but no one has more pressure on him to produce this year than Vic Beasley.
The inaugural draft pick of the Dan Quinn era has seen his share of highs and lows in his three year career. However, in each of his two down seasons, there's been one common denominator: injuries (year one: shoulder; year three: hamstring).
Now fully healthy and focused solely on rushing the passer from his left defensive end position, I expect Vic Beasley to have a bounce-back 10+ sack season in 2018. But if injuries strike once again or if Beasley proves to be a one-trick pony, Quinn may let him go, much like the Seahawks did with Bruce Irvin in 2016.
LB De'Vondre Campbell – UFA in 2020 – 5 years $40M, $15M guaranteed
Linebackers coach Jeff Ulbrich discussed last week that we have only seen the "tip of the iceberg" from De'Vondre Campbell. But with Campbell entering year three, there comes a point in time when a player is what he is.
With that said, 2018 represents an important season for Campbell. And if given a full season to concentrate his attention at SAM LB, expect Dre to solidify himself as the K.J. Wright of this defense.
TE Austin Hooper – UFA in 2020 – 5 years $35M, $12.5M guaranteed
Another player whose future with the Falcons can be secured with a good season is Austin Hooper. The third-year tight end has come under fire among the fan base for his poorly timed drops in 2017, but a 49 catch, 526 yard, 3 TD stat line is not too shabby for a second-year tight end.
Keep in mind, tight end is one of the most difficult positions to adapt to in the NFL. But even if Hooper does not give the team much more in the way of production, is that really a bad thing when you have Julio Jones, Mohamed Sanu, Calvin Ridley, Devonta Freeman, and Tevin Coleman (Ito Smith in 2019) dipping into Hooper's target share?
Nevertheless, it may be worthwhile to keep Hooper around post-2019 if the team plans to move on from Sanu's contract in the near future.
Never Say Never, But I Will Say It's Unlikely
RB Tevin Coleman – UFA in 2019 – 4 years $30M, $12M guaranteed
With the 2019 cap situation already looking bleak without Matthews and Jarrett on the books, I see no outcome that puts Tevin Coleman in a Falcons uniform in 2019. Not to mention, Atlanta doubled down on running backs in the past two drafts.
Sorry folks, but Tevin Coleman will be playing for a different team after this season.
FS Ricardo Allen – UFA in 2019 – 5 years $35M, $13M guaranteed
As of this writing, Ricardo Allen remains the only restricted free agent that still has not signed his tender. Obviously, Allen is seeking more financial security and with Drew Rosenhaus as his agent, thing could get messy.
In the end, I expect Rico to sign his tender and not cause any distractions for the 2018 season. But I also don't expect him to be rewarded with a long-term deal for falling in line.
Part of the reason you make guys like Deion Jones and Keanu Neal the richest at their respective positions is because you expect them to be the leaders of this defense. With Allen's biggest asset being his leadership and the Falcons' cap situation being tight, I just do not see Rico in the team's long-term plans.
After all, Allen began his Falcons career as a stopgap at free safety. And despite blossoming into an above average one, he still does not represent Dan Quinn's archetype at the position.
Therefore, expect DQ to get "his guy" in one of the upcoming drafts or, at the very least, deploy another capable stopgap (Damontae Kazee, Brian Poole) at FS in 2019.
WR Justin Hardy – UFA in 2019 – 3 years $12M, $6M guaranteed
The only situation where I envision Justin Hardy being a Falcon beyond 2018 is if the team cuts Sanu after this season. Sanu's release would save $4.6M on the 2019 cap ($6M if designated as a post-June 1 cut), which could help the team retain one of the above names.
However, Sanu's size in the red zone is a weapon Hardy does not offer and for that reason, I think this outcome is unlikely.
OG Wes Schweitzer – UFA in 2020 – 3 years $10M, $3M guaranteed
I would've placed Schweitzer in the "Futures In Doubt" category had he been given another shot to start in 2018. But that is simply not the case now with the addition of Brandon Fusco.
The team clearly sees Schweitzer more in the mold of a competent backup as opposed to a long-term starter. And with 2017 fourth round pick Sean Harlow on the Plan D[evelopment] back-burner, Atlanta has the flexibility to move on from Wes in 2020.
Not mentioned in this article are aging veterans at key fixtures such as Andy Levitre, Alex Mack, and Ryan Schraeder. As you can see, these three names make up 60% of the Falcons starting offensive line.
Thomas Dimitroff nor Dan Quinn, to his credit, have proven to be expert talent evaluators when it comes to the offensive line, which explains why they've had to take to free agency to patch together this unit. That will need to change very soon, though, if the team is going to make all these upcoming contracts fit.
The pressure is on to continue to draft well and "moneyball" some aspects of this roster. On the bright side, that hasn't been a problem for this regime.
Here's to hoping that trend continues for the foreseeable future.
Photo by Kevin C. Cox/Getty Images