By Matt Karoly
The Atlanta Falcons entered the 2020 NFL Draft with very obvious holes to fill at cornerback, interior pass rusher, backup center, and linebacker. By the time their fifth pick came around, Atlanta had addressed all four needs.
Here were the main takeaways from the Falcons' sixth draft under Dan Quinn and Thomas Dimitroff.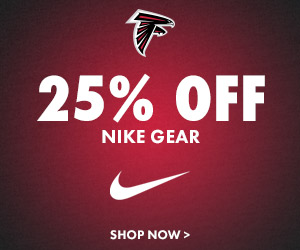 Thomas Dimitroff Doesn't Care About Mock Drafts
Mock drafts can be a useful tool to introduce fans to prospects who fill team needs. But part of the problem with them is they condition fans into thinking who their team should draft.
So when their team doesn't draft a particular player or takes someone they were never mocked, they often feel disappointed. That has been a consistent theme of Thomas Dimitroff-led drafts in recent memory.
For the second straight draft, and third time in five years, the Falcons selected a player in the first round many considered to be a "reach." This year, that player was Clemson cornerback A.J. Terrell.
Leading up to the draft, many analysts connected Atlanta to Florida cornerback C.J. Henderson. But in order to land Henderson, the Falcons would've had to part ways with a day two pick as the Jaguars wound up taking the Gator cornerback ninth overall.
In the end, Dimitroff proved unwilling to pay that tax, opting to stay put and take the next best available corner on his board in Terrell. And here's why it was the right move.
Had Atlanta moved down with Philadelphia (21) or Minnesota (22), two teams targeting a WR, they would have missed out on Terrell as the Las Vegas Raiders were poised to take him at pick 19 (Las Vegas ended up settling on Ohio State cornerback Damon Arnette). It was the Chris Lindstrom situation all over again. For those who don't remember, the Vikings were reportedly hot on Lindstrom's heels last year before the Falcons decided to "reach" on the Boston College guard at pick 14.
In Terrell, Atlanta acquires a player with the requisite physical tools to play the position while checking every box off-the-field. That last point is especially critical because the same could not be said for the other top cornerbacks available such as Jeff Gladney, Trevon Diggs, and Kristian Fulton.
Very rarely has Dimitroff missed in the first round which is why he deserves the benefit of the doubt here.
Falcons Hit a Home Run on Day Two by Securing the Future Inside
If the Falcons delivered a single or double in round one with the Terrell pick, they rounded the bases on day two with the selections of Marlon Davidson and Matt Hennessy.
Ever since Grady Jarrett became a household name in Super Bowl LI, the Falcons have needed to find a long-term running mate for him inside. Fast forward three years and they may have finally found that man in Auburn defensive lineman Marlon Davidson.
Davidson is an absolute freak show at 6-3, 303 lbs that spent the majority of his 51-game college career as an edge rusher. Yes, you read that right, a 300+ lb edge rusher.
A decision rooted mostly out of necessity, Davidson was miscast at Auburn which makes his evaluation at the next level a bit tricky. However, despite playing out of position in college, Davidson still put up quality production, registering 28 TFLs and 14.5 sacks.
Now imagine what he can do as a penetrating 3-technique in Atlanta's defense. His Senior Bowl practice film offered a glimpse into that future:
To follow up the Davidson pick, the Falcons landed a player in round 3 that most thought would require a second round pick in Temple center Matt Hennessy. By prioritizing Hennessy, Atlanta checked off one of their few remaining needs on the offensive side of the ball—finding the heir apparent to Alex Mack.
The Hennessy acquisition also serves a dual purpose as he figures to play a role in the left guard competition in year one, making cap casualties Jamon Brown and James Carpenter even more expendable. But by and large, the evaluation of Hennessy boils down to his ability to develop into the Falcons starting center sans Mack so even if he doesn't see the field in 2020 that is A-OK.
The Falcons Like Their Sleepers
Day three of the draft is often an opportunity for an organization's scouting department to flex their muscles. That couldn't have been more true of the Falcons' approach on day three this year. With picks 119 and 134, Atlanta took two sleepers in linebacker Mykal Walker and safety Jaylinn Hawkins.
With Walker, the Falcons acquired a versatile LB capable of playing all three positions on the second level. His short-term outlook will likely be at SAM LB—a spot he played at Fresno State in 2018—while his ceiling is that of a WILL or MIKE LB in base and nickel where he predominantly played in 2019.
At first glance, the Hawkins selection was a bit of a head scratcher, considering many draftniks had him as a 7th round pick/priority free agent. But peeling back the onion a bit more reveals a player stocked with all the attributes of a prototypical Falcons box safety—physicality, ball skills, and toughness.
Considering the Falcons' reluctance to embrace Sharrod Neasman as the team's backup to Keanu Neal, expect Hawkins to get every opportunity to win that job from day one.
Early 53-Man Roster Projection
QB (2): Matt Ryan, Matt Schaub
RB/FB (5): Todd Gurley, Brian Hill, Ito Smith, Qadree Ollison, Keith Smith
WR (6): Julio Jones, Calvin Ridley, Russell Gage, Laquon Treadwell, Olamide Zaccheaus, Chris Rowland
What To Know: UDFA Chris Rowland, who broke Jerry Rice's HBCU reception record, beats out Brandon Powell for the vacant punt/kick returner job.
TE (3): Hayden Hurst, Jaeden Graham, Jared Pinkney
What To Know: UDFA Jared Pinkney came into the 2019 college football season as one of the top tight ends in an admittedly weak 2020 class. But due to poor QB play and play calling around him in 2019, his stock dropped all the way to the 8th round. If Pinkney can recapture the magic from 2018, he should have the inside track to beat out Khari Lee at TE3.
OL (9): Jake Matthews, James Carpenter, Alex Mack, Chris Lindstrom, Kaleb McGary, Matt Hennessy, Matt Gono, Justin McCray, John Wetzel
What To Know: As alluded to earlier, Hennessy's addition creates a logjam at iOL with Jamon Brown likely having the most value on the trade market due to only being 27 years old. The Falcons shouldn't expect to get much, if anything, in return but moving Brown's contract post-June 1 would save the team $4.75 million.
DL (10): Takk McKinley, Grady Jarrett, Tyeler Davison, Allen Bailey, Dante Fowler, Marlon Davidson, Cam Wake, Steven Means, John Cominsky, Deadrin Senat
What To Know: In an interview prior to the draft, President Rich McKay teased a couple more free agent additions in the future. The Falcons don't have much behind McKinley and Fowler at edge rusher so I'd expect that's where their first move would come. Look for them to take a page out of the 2016 playbook and bring another Hall of Fame edge rusher into the fold in Cam Wake a la Dwight Freeney.
LB (5): Deion Jones, Foye Oluokun, Mykal Walker, LaRoy Reynolds, Edmond Robinson
CB (6): A.J. Terrell, Kendall Sheffield, Isaiah Oliver, Blidi Wreh-Wilson, Josh Hawkins, Ty Hall*
What To Know: Jordan Miller's suspension opens the door for Ty Hall, a feisty CB with playmaking potential, to win the sixth CB spot, if for only the first three games.
SAF (4): Ricardo Allen, Keanu Neal, Damontae Kazee, Jaylinn Hawkins
Specialists (3): Josh Harris, Younghoe Koo, Sterling Hofrichter
What To Know: The Falcons used a draft pick to take Hofrichter in the 7th round, so he better win the punter job.
*Jordan Miller will be serving a three game suspension to open the 2020 season and therefore will not count against the team's 53-man roster while on the Reserve/Suspended List.
AP Photo/Chris Seward