by Steve Cohen
There are some life moments that are so memorable and significant that you never forget where you were when they happened. Some quickly come to mind for me. The announcement that Osama Bin Laden was killed. Superstorm Sandy. The Bleacher Report publication of "What Happened to Falcons QB Matt Ryan?"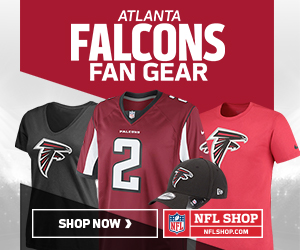 I'm serious! Well, somewhat serious. I distinctly remember sitting at my office computer two+ years ago, clicking on the link to that story and asking myself "What the f*** is this?" Then skimming the short post and asking myself "What the f*** did I just read?" Then reading it top-to-bottom and asking myself "What the f***?" Many of my pals on #FalconsTwitter immediately shared in my outrage.
I was a longtime reader and fan of the post's author Mike Freeman, who wrote one of my favorite NFL-related books, Bloody Sundays. I was stunned and disappointed to see that an NFL writer I had long admired wrote what appeared to be a hastily-written article that essentially shut the door on Matt Ryan's career simply because Ryan had thrown an admittedly ugly interception against the Lions one day earlier.
Anyway, Freeman seemed to revel in the face of the immediate criticism directed his way from #FalconsTwitter.
@EvanBirchfield Not you, thank God.

— mike freeman (@mikefreemanNFL) October 27, 2014
Romo is constantly criticized. Flacco? Won a Super Bowl and still ripped.

But DO NOT criticize Matt Ryan.

No, no, no.

Untouchable.

— mike freeman (@mikefreemanNFL) October 27, 2014
@Falcongirl_01 I'm the person you're tweeting. Who are you?

— mike freeman (@mikefreemanNFL) October 27, 2014
Even yours truly weighed in.
@andrewhirsh @TheWalkerman @mikefreemanNFL This reads like it was written by someone who watches Falcons highlights, not Falcons games.

— SteveInFalconsHeaven (@SteveInBrooklyn) October 27, 2014
And I received an obvious response.
@SteveInBrooklyn @andrewhirsh @TheWalkerman You mean like this highlight? http://t.co/BRxCFtoO8m

— mike freeman (@mikefreemanNFL) October 27, 2014
Whoops.
But now that Matt Ryan has brought his game to new heights, I figured now would be as good a time as ever to revisit "What Happened to Matt Ryan" and some of its post-scripts.
So let's take a trip down memory lane and find out for ourselves what has happened to Matt Ryan, shall we?
* * *
"What Happened to Falcons QB Matt Ryan?" memorably opens and closes with the question "Do you remember when Matt Ryan was really good?" That's a bit jarring to read now, to say the least.
Discussing Ryan's 2008 rookie season, Freeman says:
Ryan could make every throw. The deep ones. The short ones. The touch passes. The rockets. He could do it all. Ryan was praised for his calmness. His study habits. His coachability….I remember predictions from both media and football personnel that Ryan would win multiple Super Bowls.
Ok, sure. But wait!
Those times seem like so long ago. That Ryan—the old Ryan—is gone. There has been an inexplicable metamorphosis with him, a de-evolution into a player who at times is almost unrecognizable.
While 2014 maybe wasn't the best season of Matt Ryan's career – and yes, he threw that one ugly pass against Detroit – for those of us who watched Falcons games every week, the charge that Ryan was at his peak in 2008 (when he was heavily reliant on the bruising running game of Michael Turner and a simplified passing game structure installed by Mike Mularkey) but had highly regressed by 2014 seemed a bit…off.  Also, the definitive statement in October 2014 that the "old Ryan is gone" seemed especially dubious given that Ryan had put up incredibly strong 3-touchdown, 100+ passer rating performances in two separate September 2014 games (versus the Saints and Bucs). I realize the NFL is a what-have-you-done-for-me-lately league, but come on.
The entire piece was about 700 words, about 130 of which were devoted to a single, ugly interception Ryan threw against the Lions:
His third-quarter interception against the Lions on Sunday was Geno Smith-ian. The only person near the football when Ryan threw it was Lions defensive back Cassius Vaughn. There was no Falcons receiver within several time zones.
The play changed the game and, perhaps, the course of the Falcons' destiny. Atlanta was leading 21-10 at the time, and even though the Falcons defense held Detroit to three points, the momentum had changed. The Falcons' lead, which was 21-0 at the half, was cut down to 21-13.
That interception, one day in the near future, will perhaps be seen as the one Ryan mistake that doomed the current coaching regime….
The problem is the Falcons' line play was fine in the first half and that ridiculous interception Ryan threw had nothing to do with pressure. That was all Ryan.
Geez, imagine if we wrote every NFL player's obituary based on their single-worst play. Or if Brett Favre's abilities were dismissed every time that he threw an exasperatingly ugly pick. Fortunately for Brett, Bleacher Report didn't exist in the 1990s and early 2000s, I guess.
Also, with the benefit of hindsight, saying that interception changed "the course of the Falcons' destiny" and "doomed the [Mike Smith] coaching regime" doesn't seem like such a bad thing. No offense to Mike Smith, but his successor seems to be off to a pretty good start.
To Freeman's credit, he was prescient that the Falcons' struggles at the time would lead to Mike Smith's ouster.
Falcons head coach Mike Smith is one of the quality people in the sport. Truly, one of the nicest, most talented people in the NFL. But Ryan will likely doom him.
When quarterbacks play this horribly, it's not usually the quarterbacks that get fired. It's the coaches. While Atlanta's division is putrid—and because of that the Falcons could find salvation—there's little reason to believe Ryan can save himself or Smith.
This quote from Falcons owner Arthur Blank was highly ominous: "You're up 21-0. There's no way you lose that game—just no way. There's nothing else I can say."
But why are we giving nice-guy Mike Smith the benefit of the doubt for two consecutive disappointing seasons and assigning the blame to nice-guy Matt Ryan? If one wanted to analyze the deficient aspects of the Falcons' 2013 and 2014 rosters (an exercise that Freeman avoided doing here), he or she would find numerous talent-deficient and/or underperforming units and positions before turning to criticism of Matt Ryan, who remained inarguably among the Falcons' best handful of players at the time (perhaps behind only Julio Jones). But it's all Ryan's fault that good-guy Coach Smitty isn't getting the job done? Was it Matt Ryan's fault that the team lacked any semblance of a pass rush? Ryan's fault that the Falcons defense was embarrassed by Teddy Bridgewater, Odell Beckham, Jr., and Jay Cutler in successive weeks? And if Smith were such a "talented" head coach, shouldn't he have been able to find a way to win despite Ryan's supposedly "horribl[e]" play? If the team was really that shell-shocked by the momentum shift of a single interception that led to 3 points, as Freeman posits, doesn't that suggest the coaches should have done a better job of refocusing the team to perform the task at hand?
Knowing what we know now, I'm curious whether Freeman still believes that Ryan was holding the 2014 Falcons back more than Mike Smith was.
Anyway, Freeman tried to come up with an explanation for Ryan's supposed regression and mentioned that NFL team executives had circulated some theories.
What's the difference between that Good Matt and the Bad Matt now? The theories from team executives around the NFL are numerous, and many involve poor offensive line play. Another theory says Ryan is actually injured and the Falcons are hiding it (not buying that one).
To the unnamed team executives' credit, the Falcons offensive line play diminished greatly after the 2012 season, featuring numerous injuries (Sam Baker, Peter Konz, Lamar Holmes, Mike Johnson) and subpar starting talent (see all of the same names I just mentioned, among others). By the time of the infamous Lions game, the Falcons had put their top 2 centers and 3 of their top 4 offensive tackles on injured reserve. A month earlier, the Falcons were forced to play Levine Toilolo at right tackle during a game against the Vikings due to 3 in-game serious offensive line injuries.
The only statistics that Freeman used to support his assertion that Ryan had heavily regressed since 2008 were Ryan's year-by-year passing numbers. Except a cursory review showed that those numbers didn't even support Freeman's thesis:
Matt Ryan career stats
Year
Cmp%
Yards
TD-INT
Rating
W-L
2008
61.1%
3,440
16-11
87.7
11-5
2009
58.3%
2,916
22-14
80.9
9-5
2010
62.5%
3,705
28-9
91.0
13-3
2011
61.3%
4,177
29-12
92.2
10-6
2012
68.6%
4,719
32-14
99.1
13-3
2013
67.4%
4,515
26-17
89.6
4-12
2014
64.9%
2,306
15-8
93.1
2-6
See the problem here? Maybe Freeman was hoping we'd look at W-L and ignore everything else? Or he was thinking we wouldn't realize the stats in the 2014 line were incomplete because the season was only halfway complete? (For what it's worth, Ryan's end-of-year 2014 stat line didn't look much different than the mid-year stat line above, except that the yards, touchdowns, and interceptions all essentially doubled and 4 games were added to the win and loss columns.) In any event, Freeman posted those stats without any further explanation of why he thought 2008 was better than subsequent years or any clarification regarding where Ryan's supposed regression began. (Were three consecutive 4,000 yard seasons bad? Was a 90-ish QB rating bad? Was his 2-to-1 TD-to-INT ratio at the time bad?) So we were left to extrapolate, theorize, shake our heads in disbelief, and/or shout obscenities into the ether.
Perhaps the most damning line in the post was the following:
The prevailing Ryan theory is the most believable. It is this: Maybe we all overstated just how good he was to start with.
At least this was something one could say in October 2014 with a straight face (albeit not in February 2017). One could credibly argue at the time that Matt Ryan was very good-but-not-great. That he was good if you surrounded him with other pieces. That he wasn't #elite. If that's the argument one wanted to make in mid-season 2014, one could do so without the football-watching public raising much of an eyebrow in response.
Unfortunately for Freeman, he didn't stop there. He continued by saying the following:
It's possible we've gotten Ryan all wrong. Maybe he's incapable of carrying a team. Maybe he's not Ben Roethlisberger. Maybe he's more Jay Cutler than we think.
Well, I think it's safe to say that Ryan isn't Jay Cutler. And "incapable of carrying a team" was an odd charge for a quarterback who had led his team to numerous, impressive late-game scoring drives throughout his career. Like, we literally had a lot of evidence by that time that Matt Ryan had carried his team to victories. Did a single ugly play against Detroit mean that he could no longer do so? Were we supposed to believe that Ben Roethlisberger would have gotten Levine Toilolo to catch the balls that Matt Ryan threw directly into Toilolo's hands?
Freeman's piece was, in sum, extremely unconvincing to most of those who watched Matt Ryan week-in-and-week-out. Nowhere did Freeman attempt to account for the games that season when Ryan had played extremely well, including a comeback win against the Saints and a 56-point barn-burner against the Buccaneers. Oh, and by the way, with regard to the Lions game that Freeman kept savaging Ryan for:  in that game, Ryan went 20-for-27 with 2 touchdowns and had a QB rating of 108.3.
What Has Happened to Matt Ryan, the Sequel
If you think Freeman was satisfied having left Matt Ryan for dead just that once, think again! After the Falcons' disappointing close to the 2015 season (finishing 8-8 after starting the season 5-0 and then 6-1), Freeman decided December 2015 would be a good time to double-down on Matt Ryan-bashing, so "What Happened to Matt Ryan" got itself a sequel. Like many sequels, it was way more brutal than the original. Reading it, it felt as though Freeman (a sci-fi devotee) had opened up a spaceship airlock and launched Matt Ryan into the deep-space abyss to die a screechingly painful death.
I'll post that segment of Freeman's "10-Point Stance" piece in its entirety below. Needless to say, it has not aged well in the last 13 or so months.
1. Do the Falcons need to find a new quarterback?
It is rare to see a quarterback that so many people once believed was one of the best in the sport fall so precipitously off a cliff. But that is what's happened to Atlanta's Matt Ryan.
Ryan made yet another crappy throw. This time it was in the final minutes of the Falcons' game Sunday against the Buccaneers. It was picked off for his ninth interception in his last six games.
I've always said that Ryan was dramatically overrated, but this is shocking even for critics like me.
So what has happened?
ESPN's Vaughn McClure recently reported Ryan has been overwhelmed by the playbook of new offensive coordinator Kyle Shanahan, but frankly, I find it difficult to believe that a veteran like Ryan could be this overwhelmed by anything.
I really think a longtime scout got exactly right what's happening to Ryan. This is what he told me:
"Matt is lost. He has no confidence. He's telegraphing his throws. He doesn't trust his line. He doesn't trust his wide receivers. I haven't seen a player lose his confidence this fast since Ryan Leaf."
Oh my God…the "L" word.
Whatever the reason, what's certain is that Ryan is wrecked. What the Falcons have to determine is how badly.
Is this a trend? Is Ryan so broken that the Falcons will have to go out and draft another quarterback or find one in free agency? Or does the team see this as a blip?
This choice is not easy. The Ryan sycophants (and they're still out there) will say thoughts of replacing him are ridiculous. But it isn't ridiculous. All of the Ryan excuses are gone now. His offensive line play has not been terrible. He has a running game. He has elite receiving talent. He has everything he should need.
The Falcons are struggling almost exclusively because of Ryan. If this continues, the Falcons will have a brutal decision to make.
Meanwhile, Ryan just threw another pick.
Woo boy, let's just say thank goodness the Falcons didn't consult with Mike Freeman for their roster decisions during the 2016 off-season. I'm also quite curious about how Mr. Quick-With-the-Ryan Leaf-Comparisons Anonymous Long-time NFL Scout is doing these days.
In case you missed it, because I know that was a lot to take in all at once, I just want to repeat that Freeman actually did say "what's certain is that Ryan is wrecked."
What's wrecked is Freeman's ability to discern certainty.
Didn't You Know? Matt Ryan is the Worst
The Falcons then started off the 2016 season with a loss to the Buccaneers, so wouldn't you know it? Freeman took that as a sign that he should triple-down on writing about the awfulness that is Matt Ryan:
Matt Ryan is currently the worst quarterback in his division.
It's true. Look at this list and tell me whom you would take Ryan over:
• Jameis Winston—no.
• Drew Brees—hell no.
• Cam Newton—hell to the naw.
It wasn't long ago when Ryan wasn't just the best in his division; he was seen as the prototypical quarterback for the future. Those days are gone.
Oops. That take didn't age very well either. Four days after that post dropped, Matt Ryan threw for nearly 400 yards and 3 TDs to defeat the Raiders in Oakland. Drew Brees' and Cam Newton's playoff appearances this post-season were "hell no" and "hell to the naw," respectively.
Matt Ryan is a Choker
Of course, as we all know by now, Matt Ryan followed that up by having a fantastic, MVP-winning 2016 season. So that presumably left little room to bash Ryan going forward. No anonymous executives to philosophize about Ryan's regression. No nostalgically recalling a 2008 season during which He, Ryan, was announced by the football gospels as the Savior who would turn water into Matty Ice and bring forth multiple Super Bowls. No definitively stating he's no longer that guy. No saying he's no longer a prototype. No saying he's a replaceable, poor-man's Jameis Winston. No blaming Ryan for any nice-guy head coaches losing their jobs. No harebrained Ryan Leaf comparisons. No certainty of Ryan wreckage.
BUT WAIT, he said, I'VE STILL GOT A STRAW TO GRASP AT!!!
.@mikefreemanNFL has no faith in Matt Ryan, believes the Atlanta QB won't be able to handle the pressure late in the season pic.twitter.com/khHtPwUQDX

— Bleacher Report (@BleacherReport) December 5, 2016
"MATT RYAN WILL BLOW THIS SEASON AWAY FOR THE ATLANTA FALCONS. MARK MY WORDS….HE'S BEEN AWFUL WHEN THE PRESSURE'S ON….THROWING SEASONS AWAY IS IN RYAN'S DNA."
Freeman centered on the only remaining criticism left at the time, really.  Ryan's poor playoff record coming into 2016.
So, hmm, what happened then after the Falcons and Matt Ryan played in a elite form against the Seahawks and Packers, winning both games in convincing fashion and earning the NFC spot in Super Bowl LI?
Dear Matt Ryan: I am sorry for saying you choke in big games.

I was wr…wr…wr…

(Clears throat)

WRONG.

— mike freeman (@mikefreemanNFL) January 22, 2017
I'll say this: It takes a big person to admit that they're wrong; Mike Freeman deserves credit for doing so.
I am also certain that during the course of Matt Ryan's season and post-season, Freeman got wr…wr…wr…WRECKED.
* * *
Now that two years and a few months have passed, maybe it's fair to ask again: What happened to Matt Ryan? Well, it turns out that he became an MVP and an elite passer before our very eyes.
That's what happened to Matt Ryan.
So…
"Do you remember when Matt Ryan was really good?"
Um, YES!!