by Matt Karoly and Raekwon Gilbert
The book on the 2017 Falcons season closed sooner than any of us would care to admit. However, it became clear early on that the football gods were not going to deliver us a fairy tale ending.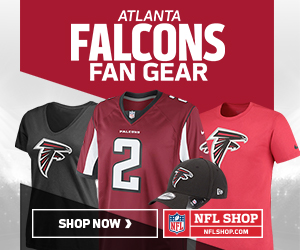 That notwithstanding, the Falcons came within two yards of beating the new NFC Champion Philadelphia Eagles and advancing to their second straight NFC title game. Not bad for a team that "under executed" all season long.
The reality is this team is already built to compete for championships on a consistent basis. They have a top five quarterback, arguably the best receiver on the planet, a top two running back tandem, and an emerging defense. If they stood pat this offseason and solely added players via the draft, the Falcons would still field a playoff contender in 2018.
The hope, however, is Atlanta does make a few calculated moves in the offseason to propel themselves back to the Super Bowl. In this piece, it is our objective to lay the groundwork necessary for the Falcons to get back to Super Sunday.
Coaching Hires
If the rest of the offseason develops the way it has started, Falcons fans should be excited for what's to come in free agency and the draft. You're now probably asking yourself—what are you talking about? Free agency is over a month away (The new league year opens on Wednesday, March 14th at 4 pm ET)!
Well, to that, I say the Falcons already scored their biggest coup of the 2018 offseason. And his name is Greg Knapp.
Atlanta entered this period with very few holes to fill. Outside of potentially having to acquire a replacement for DT Dontari Poe, the Falcons will have their starting lineup intact in 2018.
That said, they did have one very important vacancy on their coaching staff to fill. Thanks to incumbent quarterbacks coach, Bush Hamdan, deciding to take the offensive coordinator job at the University of Washington, Atlanta knew they would need to find his replacement since December.
No offense to Hamdan, but his decision to rejoin the Huskies' staff could ultimately prove to be a blessing in disguise. Hamdan provided very little value as Atlanta's quarterbacks coach as he, along with rookie offensive coordinator Steve Sarkisian, were both very wet behind the ears.
Therefore, the solution to that problem was to bring in a coach with the exact opposite credentials—in other words, one with a vast array of experience. Dan Quinn did that with the hiring of his former colleague.
Knapp offers over 10 years of NFL play calling experience, is fluent in the Kyle Shanahan playbook, and has worked with two of the most accomplished quarterbacks in NFL history in Steve Young and Peyton Manning.
He also has a strong connection to Gary Kubiak, whose coaching tree sprouted the rise of the younger Shanahan. Consequently, if the results of the Sarkisian experiment do not improve in 2018, Knapp would serve as the perfect bridge to Kubiak being brought aboard in 2019.
This hiring is about more than what meets the eye and for that alone, it deserves an A grade.
Free Agency
Moving on to free agency, the Falcons unfortunately will be among the teams with the least amount of cap space in 2018. Currently, the Over The Cap website has a similar projection to the $10.7M number reported a few weeks ago, so for the sake of this discussion, we will use the website's $10.85M number as the starting point for Atlanta's available cap.
The Falcons front office has already made it clear that they are going to prioritize taking care of their own first. That initiative starts with locking up the face of the franchise, Matt Ryan.
A couple weeks ago I took a stab at what his contract might look like and came away with these cap hits. In this scenario, Ryan's new deal (5 years, $150M) would create roughly $2M in additional cap space in 2018, thus bringing Atlanta's total to $12.85M.
The other extension Falcons fans should expect to happen this summer, which will also create additional cap savings in 2018, is the one for blindside protector Jake Matthews. As Over The Cap founder Jason Fitzgerald notes here, any left tackle with a pulse makes $11M per year, so Matthews will be no different.
The Riley Reiff 5 year, $58.75M deal handed out last offseason serves as a good blueprint for an impending Matthews deal, which would lower Jake's current cap hit from $12.5M down to $8.5M. With those two extensions, Atlanta now has roughly $16.85M to satisfy its remaining needs.
The last step before getting to how the Falcons plan to spend that money involves cutting bait with some over-priced players currently on the roster. Potential cap casualties include Andy Levitre ($8.375M cap hit in 2018), Derrick Shelby ($5.75M), Brooks Reed ($5.44M), Levine Toilolo ($4.5M), and Matt Schaub ($4.5M).
Based on their respective roles on the team, the two likeliest to go on this list are Toilolo and Schaub. However, I personally see Schaub sticking around due to his history with Greg Knapp, but I also wouldn't rule out a scenario which involves the Falcons cutting Schaub—the player, thus saving $3.25M, and hiring Schaub—the coach—to become their newest offensive assistant, thus filling the spot vacated by Charlie Weis Jr.
But since that's a bit too bold of a prediction to commit to, we will assume only Toilolo gets the ax this offseason. Now of course, the case could be made that more savings are on the table by renegotiating the contracts of Levitre, Shelby, and Reed; however, there's not a lot of precedence with Dimitroff for that kind of move. Therefore, when all is said and done, the Falcons will be left with $20.35M to spend once they designate Toilolo as a post-June 1 cut.
So, that leaves us with the ultimate question—what does Atlanta do with these funds?
First, it starts with addressing the impending unrestricted and restricted free agents currently on the roster. Of the names on both lists, I consider Ricardo Allen and Matt Bryant locks to return to the team.
To make that happen, the Falcons will have to fork over roughly $6.5M for Allen's second round RFA tender ($3M) and Bryant's one-year deal ($3.5M), leaving them with $13.85M left. Here is how I would allocate the remaining monies to Atlanta's current crop of free agents:
Ben Garland – 2 years $4M; $1.8M cap hit in 2018, $2.2M cap hit in 2019
Garland has been an admirable fill-in along the interior offensive line the past two years. If Atlanta does not find a successor for Levitre post-2018, Garland could serve as an adequate stop gap at left guard in 2019.
Ahtyba Rubin – 1 year $1M (vet minimum)
Assuming Poe priced himself out of the Falcons' market, Atlanta would be wise to bring back Rubin to ensure they have a veteran body next to Grady Jarrett in the event their future rookie draft pick is not ready for a heavy workload on day one.
Kemal Ishmael – 2 years $3M; $1.5M cap hits in 2018 and 2019
Ishmael was Dan Quinn's go-to reserve linebacker down the stretch in obvious running situations. Hopefully, that's not the case moving forward with Pro Bowl middle linebacker Deion Jones making the necessary jump in year three, but this signing has more to do with keeping the special teams unit intact than anything else.
Terron Ward – 2 years $2.5M; $1M cap hit in 2018, $1.5M cap hit in 2019
Seeing as though the original round tender is pushing $2M these days, I think the Falcons would be more willing to spread the cost of a Ward deal over a couple years. And the case for doing so is simple: Ward has performed on offense when called upon and, like Ish, is a core special teamer.
Taking those four contracts into account, Atlanta is now left with $8.55M, which, quite frankly, is not a lot for any more major free agent acquisitions. Keep in mind, the year one cap allotment for the Falcons' 2018 draft class is estimated to be around $5.67M.
That being said, Atlanta should have a few bucks to throw at one shiny, new toy if they so choose. If it were me, being the frugal guy I am, I'd save that money for the future.
Remember, the "if you don't use it, you lose it" principle does not apply to the NFL salary cap. Meaning, if the Falcons decide not to spend their leftover cap space in 2018, it will be carried forward and added to 2019's total where it could then be used to sign the likes of Grady Jarrett, Ricardo Allen, Tevin Coleman, Vic Beasley, or any member of the 2016 class to long-term extensions.
But, if I had to select one player to spend money on, it would come from the free agent tight end pool. Jimmy Graham, Tyler Eifert, and my personal preference Trey Burton are all enticing options the Falcons have to choose from.
The latter makes a ton of sense for both parties. Burton is a versatile athlete who can line up in-line or as an H-back in the backfield, effectively killing two birds with one stone. In addition, he also has ties to Dan Quinn dating back to his Florida Gator days.
On the flip side, Atlanta offers Burton an opportunity to get out of the shadows of Zach Ertz and Brent Celek and serve as the 1b to Austin Hooper's 1a. According to spotrac, the 26-year-old tight end is projected to garner a 3 year, $21M on the open market, which is doable under the Falcons' current budget.
Unfortunately, the Falcons are likely to have stiff competition when it comes to these three tight ends, so they may be forced to turn their attention to another position group in free agency. With Dontari Poe and Adrian Clayborn set to become free agents and a 32-year-old Andy Levitre due to hit free agency in 2019, DT, DE, and iOL make a lot of sense.
Here are some affordable options to keep an eye on come March 14:
Offensive Guard
Justin Pugh – 6'4" 301 pounds; Age: 27.
For some players, where they begin their careers isn't necessarily where they will shine the brightest. New York Giants offensive guard Justin Pugh may be another example of that as he heads into free agency. Though Pugh has started all 63 games he has appeared in, he has also missed 20 games throughout his career due to a variety of injuries. Not to mention, New York shuffled Pugh around quite a bit along the offensive line with his last stop being at right tackle before a back injury ended his season. The former first-rounder could look to start fresh in a new environment like Atlanta where he would have an opportunity to win right away.
Expected Contract – 4 years, $24M (per spotrac)
Other potential fits: Zach Fulton, Josh Kline
Interior Defensive Line
Justin Ellis – 6'2″ 334 pounds; Age: 27
Evidence suggests Atlanta will be in search this offseason for more interior defensive linemen that provide value against both the run and pass. While Ellis doesn't exactly fit that bill, adding a massive nose tackle of his caliber to the middle of the defense could still pay major dividends. This season proved that the Falcons need to acquire better run defenders and pairing Ellis with Jarrett would open up more free lanes for linebackers Duke Riley and Deion Jones to make plays in the backfield.
Expected Contract – 3 years, $16.2M
Other potential fits: Bennie Logan, Jay Bromley, and Beau Allen
EDGE Defenders
William Hayes – 6'3" 278 pounds; Age: 32
After being traded from Los Angeles to Miami during the 2017 season, William Hayes proved that he is still a capable edge defender at 32-years-old, having recorded eight tackles for loss and one sack as a rotational chest piece. According to Pro Football Focus, Hayes also ranked 5th in run stop percentage among all edge defenders in 2017, despite his season being cut short by a hamstring injury. Adrian Clayborn may be looking to cash out on his breakout 2017 campaign, so grabbing a low-risk veteran like Hayes could make up for some of Clayborn's lost production.
Expected Contract – 2 years, $7M
Other potential fits: Jeremiah Attaochu, Trent Murphy, and Cassius Marsh
NFL Draft
Where fans should really expect the team to make most of its upgrades is in the draft. And if we're being honest, that shouldn't be anything knew for Dirty Bird Nation to digest.
Outside of a few timely signings here and there, the majority of Atlanta's roster has been built through the draft. Consider the team's defense as the perfect illustration to that point.
With starting 3-tech Dontari Poe likely a one-hit wonder in Atlanta, the ten remaining starters on that side of the ball have all come via the draft. Look for the Falcons to make it a perfect eleven for eleven by the time draft day rolls around.
In my estimation, defensive tackle should be viewed as the biggest priority going into the draft. Yes, Jack Crawford will provide a lift when he returns from the torn biceps that put him on the shelf for the final 12 games in 2017. However, he's more of a rotational piece than a full-time starter and the Falcons desperately need to find a partner-in-crime for Grady Jarrett to build a dominant defense around. Round one is typically the place to find such a player.
The following are some nice options at 3-tech that might be available when the Falcons are on the clock at pick 26:
Taven Bryan – University of Florida – 6'4" 295 pounds
There aren't many other interior pass-rushers with better upside than Florida's Taven Bryan. Hailing from Casper, Wyoming, Bryan established himself as one of the most underrated chest pieces in the Southeastern Conference in 2017. Blessed with an elite first-step and brute upper-body strength, Bryan has been overlooked among a depleted Florida defense, but recently has caught the attention of many scouts due to his ability to play as both a one-gap interior pass-rusher and two-gap five-technique in a three-man set. Bryan plays with extremely active hands which help him penetrate through gaps, but it is his sudden power which allows him to take control of blockers that impresses me most about his game.
Maurice Hurst Jr. – University of Michigan – 6'2" 291 pounds
Take a look through college football and you'll be hard pressed to find an interior defensive lineman more prepared for the NFL than Maurice Hurst Jr. Consistency has been the name of the game for Hurst ever since he landed in Arbor Ann, Michigan. Turn on the tape and you'll see that Hurst does a great job keeping a low-pad level when bursting off the snap of the ball which allows him to win the leverage game against most offensive linemen. He also does a great job trailing on run plays and not giving up in pursuit of the ball-carrier. During the 2017 season, Hurst went on a dominant 8-game stretch where he recorded at least one tackle for loss per game. The end result gave him 15 tackles for loss and 5.5 sacks within the 8-game stretch. If available, Hurst looks like the best case scenario for the Falcons leading into the draft.
Harrison Phillips – Stanford – 6'3" 303 pounds
Harrison Phillips would be a fit as a one-gap penetrator in Atlanta's even defensive front. Despite his height at 6'4", Phillips does a great job coming in low through gaps with intent to finish the play. At times, there are moments where Phillips struggled to hold his ground in run support while at nose tackle; however, that is not how he would be featured in Atlanta. Weighing in at 303 pounds, Phillips adds more value as a rotational pass-rusher based on his near perfect hand placement he utilizes on passing downs to create pressure on the quarterback. According to Pro Football Focus, Phillips was also the nation's top run-defender in 2017 as he registered 38 run stops. That stat placed him first among all FBS defensive tackles with a 12.9% run-stop percentage. Phillips may not be the sexiest pick, but his production on film speaks for itself.
As for days two and three of the draft, well, that's anybody's best guess. After defensive tackle, there's not a lot of other needs that need immediate attention, but a case can be made that HYBRID EDGE, OL, and NT should be next in line to be addressed (in no particular order). With that said, here are some names with day two grades at those particular position groups:
Hybrid Defensive Linemen
How many 6'6" 277 pound rap producers do you know that destroy quarterbacks for a living? Well that is exactly what The U's Chad Thomas brings to the table as his versatility spans both on and off the field. His ability to line up anywhere along the defensive line while also providing above average run support has many analysts making Michael Bennett comparisons, and rightfully so.
Jalyn Holmes – Ohio State
Ohio State's defensive line was among the most talented position groups in all of college football, boasting names such as Nick Bosa, Sam Hubbard, Tyquan Lewis, and Dre'Mont Jones. As a result, Jalyn Holmes was the forgotten man at times in that rotation which you wouldn't expect from a 6'6″ 280 pound jackhammer like himself. However, Holmes did flash some traits on film that make you think he could add value at multiple DL spots at the next level. He is a balanced edge defender with well-rounded skills against the run and pass.
Hercules Mata'afa – Washington State
College football can sometimes lend itself to players playing positions that don't necessarily fit their skill set. Hercules Mata'afa is one of those players. At 6'2" 253 pounds, Mata'afa was pressed into defensive tackle duties for Washington State throughout the 2017 season, but that didn't stop him from being a productive player. Despite being miscast, Mata'afa was able to display his versatility as a pass-rusher with an array of developed rush moves, all the while having to take on double teams throughout stretches of games. Best suited as a weak-side defensive end in a 43 defense, Mata'afa could potentially be the steal of the draft if he falls to Atlanta's second round pick.
Interior Offensive Linemen
Wyatt Teller – Virginia Tech
If the Atlanta Falcons are looking for a versatile offensive lineman who is light on his feet, possesses a refined technique in both the run and pass, and has a nasty demeanor to finish blocks, then Virginia Tech's Wyatt Teller may be their guy. In 2017, Virginia Tech's roster was filled with talent on both sides of the ball, therefore Teller's production often got overshadowed by his peers. Grabbing a lineman of his caliber in the third round would be a great start to adding more depth and possibly a future starter to their interior offensive line.
Auburn has always been recognized for their rushing attack, thanks to players like Braden Smith who help keep their offense running efficiently between the tackles. Smith is listed at 6'5" 305 pounds as he carries himself light on his feet in order to move defenders with a great solid base. Once Braden gets a hold of his man, that defender is all but assured of going for a ride.
Some players in the NFL are typically better athletes than actual football players and vice versa. Welsh is a small offensive linemen (6'2" 293 pounds) who falls more in the latter category than the former. He possesses refined footwork that allows him to mirror defenders and displays an acute quickness to engage and lock onto defenders with deft hand placement. Grabbing a player like Welsh in the fourth round could be a solid investment towards the future.
Nose Tackles
B.J. Hill – North Carolina
North Carolina State's B.J. Hill is another ideal candidate to play defensive tackle in Dan Quinn's 4-3 under scheme. At 6'2 321 pounds, Hill is a consistent run-defender that anchors himself in the middle of offenses while holding his own against double and sometimes even triple-team blocking. If Atlanta were to make a push for a potential replacement for Dontari Poe and a more ideal candidate to play 1-tech, Hill may be at the top of their list.
Derrick Nnadi – Florida State
The NFL doesn't value the nose tackle position like it used to, but that's not to say Atlanta should refrain from selecting the 6'0″ 318 pound "man amongst boys" from Florida State if he's available to them. Arguably the strongest nose tackle in this year's draft, Derrick Nnadi constantly shows up against the run with great lateral quickness to beat blockers to the punch and the upper and lower-body strength to disengage from blockers and make plays on the ball carrier.
Deadrin Senat – South Florida
Deadrin Senat from South Florida is a player whose name isn't bounced around as much as some of the others at his position. However, on film, Senat plays with great pad level (listed at 6'2" 322 pounds) and understands how to use his leverage against blockers. But above all that, it's his short area burst that impresses me most on passing downs. Senat is constantly able to slip past blockers because of his first-step and ability to move side-to-side, two traits that make him a well-rounded defensive tackle prospect.
Lastly, day three of the draft is typically reserved for depth players and potential future starters. Just ask Ricardo Allen, De'Vondre Campbell, and Wes Schweitzer (side note: Grady Jarrett had no business being a day three pick). And depending on what positions get addressed on day two, those that were not addressed of the EDGE, OL, and NT group may be accounted for on day three.
Or the front office may go in a completely different direction and look for replacements for Taylor Gabriel at WR, Andre Roberts at PR/KR, and later down the road Tevin Coleman at RB. Here are some day three sleepers that fit the Falcon mold:
LB D.J. Calhoun – Arizona State

CB Henre' Toliver – Arkansas
OT Brandon Parker – NC A&T
RB Larry Rose III – New Mexico State
ATH DeVante Kincade – Grambling State
TE Jake Roh – Boise State
OT Greg Senate – Wagner
EDGE Joe Ostman – Central Michigan
CB Arrion Springs – Oregon
DT Mike Ramsay – Duke
S Miles Taylor – Iowa
AJC Photo