By Matt Karoly
Greetings, Rise Up Readers! I am back for another installment of the Mattlanta Mon…wait, today's not Monday!
Instead of continuing the Mattlanta Monday Mailbag series, I decided a bit of a re-branding was necessary with my monthly column this season. Now dubbed Three Questions with Karoly, I will be selecting two questions from you, the people, with the third question being one of my own that I've deemed to be the most relevant in the Falcons community today.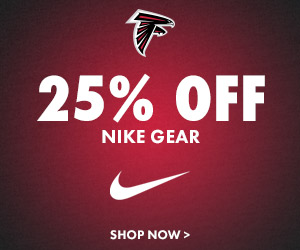 For returning guests, you may notice that this format isn't all that different from my previous two mailbags. Only difference is this restructuring gives me more flexibility with the content and when it gets released.
In case you've missed the first two mailbags, you can read them using the links below.
Now that we got the formalities out of the way, let's get right into this week's questions.
Question #1: How high can Julio Jones climb on the all-time wide receiver list if he plays at a peak level for another five years?
Question for you .. on the all time wide receiver list how high can Julio go if he plays at peak level for another five years.. what records can he break? Can he catch Jerry rice?

— tae 🕸 (@taeman27) August 30, 2018
To no one's surprise, Julio Jones has gotten off to another strong start through the first two games this season. His 15 catches, 28 targets, and 233 yards rank 11th, third, and sixth, respectively, in the NFL.
As I mentioned in my Julio Jones tribute piece this summer, Jones currently holds the all-time mark for receiving yards per game with 95.3. His production thus far in 2018 has remained consistent with that per game average.
Therefore, that brings us to the question at hand. If Julio maintains his peak level of play for five more seasons, where will that put him in the record books?
Julio began the season with 585 catches, 9,054 yards, and 43 touchdowns. Based on that information, the following tables from Pro Football Reference illustrate how far Jet Jones must climb to reach the top 20 in those respective statistics:
Assuming an average of 90 yards per game over an estimated 14 games (two games allotted for injury) per season for the next five years, Jones would accumulate an additional 6,300 receiving yards to his already 9,054 yard tally. That would result in the Falcons superstar surpassing 2018 Hall of Fame inductee Randy Moss for fourth place all-time.
Then, at 33 years old, the great corn-Julio would likely have a few more seasons left in the tank to add to his legacy. When it's all said and done, Jones could wind up only trailing Jerry Rice for most receiving yards all-time.
As for all-time receptions and receiving touchdowns, those are a little less clear to predict. I believe it's likely Julio can reach the 1,000 catch mark, thus vaulting him into the top 15. In order to do so, he'll have to average 80 receptions over the next five years, a more than reasonable feat for a player that's averaged 103 over the last four seasons.
Where Julio really has to turn it up a notch is in the touchdown department. To reach the top 15 there, he'll have to increase his career average of six TD grabs per season to nine over the next five years.
We may be better off accepting the fact that Julio Jones will always be a better receiver between the twenties than in the red zone.
Question #2: Would there be a trade market for Damontae Kazee or Ricardo Allen and would you consider trading one of them in 2019 if so?
@mattkaroly I have a strange scenario question. Say Kazee plays lights out like he did in preseason, which isn't that hard to sell, would there be a trade market for him or Allen and would you consider trading him if the return is worth it?

— Jayce (@32Dirtybird) September 12, 2018
With the Falcons inking Ricardo Allen to a three-year, $19.5 million dollar extension this summer, Atlanta now has their top three safeties under contract through 2020. However, if it wasn't for the season-ending injury to Keanu Neal, it's very possible Damontae Kazee would've been relegated to strictly special teams duties for another season.
Anyone who watched him this preseason knows that would've been a waste of his talent.
So that begs the question, if and when (provided he stays on the field given his violent playing style) Kazee balls out in relief of Neal, what should the Falcons do with their safety group moving forward? Is there a market for either Kazee or Allen on the trade block?
I'll start with the second question. One of the more confusing revelations to come out of this past offseason was the overwhelming indifference teams showed toward the safety position in free agency.
Talented players such as Tre Boston, Kenny Vaccaro and Eric Reid got little to no love on the open market. While Reid remains unsigned due to non-football reasons, Boston and Vaccaro each were forced to sign one-year, $1.5 million deals; hardly a fair salary for such a player.
That being said, I think it would be difficult to find a team willing to trade for Allen given the financial commitment he would now present a team. Kazee, on the other hand, would be the more enticing option, but that brings me back to the original question—what should the Falcons do with their safety group moving forward?
I'm of the mindset that a team should never tear away its depth unless it absolutely has to. If this season has taught us anything, it's that a team must have capable backups in order to survive an NFL schedule.
So if that's not reason enough to keep all three safeties, a second reason would be the impending restricted free agency of incumbent nickel cornerback Brian Poole. I ultimately foresee the Falcons tendering Poole with the second round tag (estimated $3 million dollar value), but on the off chance they elect to trim the fat at Poole's expense, keeping Kazee around to be the team's slot defender in 2019 would prove extremely beneficial.
Keep in mind, second round pick Isaiah Oliver is no sure thing yet.
Question #3: How should the Falcons manage their RB situation moving forward? Keep Freeman; let Coleman walk? Keep Coleman; move Freeman? Keep Freeman and Coleman?
This is one of the hotbed topics being discussed on Falcons Twitter today. With Tevin Coleman set to become a free agent in 2019, most folks want to know what Atlanta will do with their running back situation moving forward.
Did Atlanta's commitment to Devonta Freeman last summer (5 year, $41.25 million deal; $22.047 million guaranteed) foreshadow Coleman's departure in 2019? Or perhaps Freeman's recent injury history opens the door for the Falcons to trade him and re-sign TeCo instead? Or is it actually possible both Freeman and Coleman are Falcons to open the 2019 season?
In order to answer these questions, we must first have a clear picture of the Falcons' cap situation heading into 2019. Currently, I have 33 Falcons locked into roster spots for next season, with Brooks Reed being the only player I have written off as a cap casualty.
After factoring in Grady Jarrett's impending contract extension, the nine projected rookie cap hits for 2019, and 10 minimum salary contracts to round out the roster, Atlanta ends up with a little over $5 million in unadjusted cap space, which is what column one represents.
Column two represents what the Falcons' cap situation would look like if they got extremely aggressive next offseason and restructured a bunch of contracts and let a few players go; namely, Vic Beasley, Matt Bryant, and Matt Bosher.
In this scenario, Thomas Dimitroff and company could have upwards of $32 million left to use at their discretion for players such as Tevin Coleman. It should also be noted this figure does not include any cap carryovers that may exist, so the number ultimately may be a little higher than what I've listed above.
For argument's sake, let's say the Falcons wind up with something in the middle of that spectrum and have $19 million to play with. Does the team use some of those funds to lock up the league's best backfield duo long-term? If that's their priority, then I absolutely think it's doable given those numbers.
I have Coleman in the ballpark of a 4 year, $28 million contract with an $8 million signing bonus. This would put the Falcons on the hook for over $13 million in 2019 at the running back position, which would rank as the most spent in the entire league.
Those arguing that Atlanta should trade Freeman to try and alleviate such a roster imbalance might be shocked to learn that scenario would actually cost more in 2019 than if they just had both under contract. Keep in mind, a player's pro-rated bonus money (in this case, Freeman's $9 million bonus split equally across 2019, 2020, and 2021) accelerates onto the current year's cap in the event of a trade.
Therefore, if we were going with option B (keeping Freeman and Coleman), it makes more sense to re-sign Coleman and wait until 2020 to entertain the idea of moving on from Devonta Freeman.
If it were me calling the shots, I'd choose option A (keep Freeman; let Coleman walk). From a financial perspective, committing over $13 million to the running back position is not the best use of the team's resources. Especially when said team still has holes along the defensive line and a young back seven to retain.
Also tilting the scale in option A's favor is the impressive debut of Ito Smith. The 2018 fourth round pick carried the ball 9 times for 46 yards and a 55% success rate against a respectable Carolina front seven in week two. A few more performances like that will make the front office's decision an easy one come March.
From a football perspective, the Falcons can take solace knowing they've already locked up the more well-rounded running back. Freeman is the better, more elusive runner, and contrary to popular belief, a slightly better pass protector than his counterpart Coleman.
About the only thing that will keep management up at night in regards to letting Tevin walk is Devonta's long-term health. Two years in a row with a nagging knee injury is cause for concern.
However, the team has shown a willingness to draft Coleman's replacement in back-to-back years and they may have hit on one in Ito Smith.
Photo By Mitchell Leff/Getty Images