Can things be both amazing and terrible at the same time?
It seems paradoxical to the point of defeating to try and make a thing both good and bad in order to properly frame it, but such is the difficulty of trying to look at a sports season.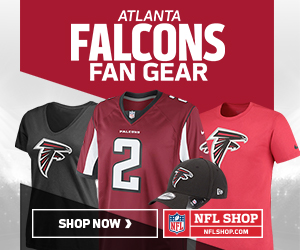 Great things can happen! But, then, it can end in the worst way imaginable. Brighter days ahead! But boy, those scars still burn. What a wonderful time! But, good golly, the way we left things.
The Atlanta Falcons, our dutiful Dirty Birds of the Flowery Branch, had a wonderful 2016 season – the kind of magical campaign that swept us all up in a blissful whirlwind of explosive offense, improving defense, record days and shocking wins.
It was a time of transformation for the Falcons – a stretch where we saw the team change its identity each and every week into that which fits its cheerleader-with-a-chainsaw head coach Dan Quinn – the patron saint of powerful platitudes and pulverizing physicality.
Matt Ryan became the quarterback we all knew he was, but feared he'd moved past after the 2015 season in a striking MVP season. Ryan is now a solidified top-tier QB – one who will most likely slap a ring on his finger before his playing days are done. Really, he's pulled the Elway (picking up fire later in his career) – and may have his best football days ahead of him. How exciting is that?
Julio Jones – oh that mystifying wide receiver – had his strongest season as a Falcon, carving out his place as the league's premiere pass catcher and a generational talent – the heir apparent of Calvin Johnson as the player no one wants to line up against week-in and week-out. His bum toe be forgotten!
The offensive line gelled like it never had – we saw the arrival of Alex Mack lauded as the top free agency move of 2016, young tackles Jake Matthews and Ryan Schraeder take leaps in their play, veteran Andy Levitre shake off the struggles of his mid-career in Tennessee and old Chris Chester put one last season of decent play on the field. Some said Atlanta had the best offensive line in the league when it was all said and done – they were certainly the most lucky (well, until, you know).
Think of the unexpected rise of Cleveland castaway "Turbo" Taylor Gabriel! And of Mohamed Sanu Sr.! Aldrick and Hardy! Young Austin Hooper! The ascension of Levine Toilolo, once a roster bubble player now on a three-year extension! Perkins and Tialavea! The merry band of pass-catchers.
And you can't forget Devonta Freeman and Tevin Coleman, the de-facto running back duo in the league (certainly helped by FB Patrick "Pancake" DiMarco). Freeman played his best football in the latter half of 2016, locking him in as one of the league's best, and Coleman blistered opposing linebackers as one of the scariest vertical catching threats from the RB position. Their blend of talent is inescapable for opposing defenses.
Oh, the defense! Wait, it doesn't stink anymore? What happened?
Quinn happened.
The Falcons had a league-leading sack artist in Vic Beasley Jr. After a rocky first year, the pass rusher defied expectations and gave the Falcons something they haven't had since John Abraham – a consistent, dominant presence on the front seven.
Grady Jarrett! Don't forget about him. The second-year defensive tackle grew and grew to sacking Tom Brady three times on the big stage. Wait, the big stage. Oh no. The fall. 28-3. Ok, ok, go on. Keep moving.
The rookies! Oh man, oh man. The rookies. Deion Jones nearly won Defensive Rookie of the Year and gave the Falcons their best play at inside linebacker in quite some time. S Keanu Neal brought back the fury of William Moore, and he can cover, too! And De'Vondre Campbell! Where did he come from? The Minnesota import showed blazing speed and great improvement over the year at WLB. What a group. Oh, Brian Poole! The UDFA and slot corner extraordinaire! Remember when he sacked the cheese out of Aaron Rodgers? Good times.
We got Sean Weatherspoon back for a few games. How wonderful was that. And, Brooks Reed finally came alive! He can play! And Dwight Freeney! The old spin move still had some shine on it.
K Matt "Money" Bryant was ageless. Matt Bosher will still kick and tackle better than you. And when has Josh Harris ever made a mistake? You tell me.
Oh the wins. The Raiders surprise to etch in win one. The Saints smack-down in primetime at the Super Dome. The Falcons can win in prime time now on the road? Neat!
The record day where Julio devoured the Panthers secondary. Upsetting the Super Bowl champs on the road. Remember 0-6 worries after the Bucs loss?
Then, they were a bad call away from perhaps beating the Seahawks at their nest – you just don't do that. The first Packers win. I was there. The atmosphere was electric. The Sanu touchdown was magical. You can't replicate that. It's the best sports moment I've ever seen. Literally hugged a stranger next to me. What a day.
They just kept getting better after the Chiefs loss. Improving, meshing, clicking.
Thanks in part to the Cardinals, the team secured the two seed. The two seed! Our Falcons!
And, then the red-hot Seahawks came to town. And did nothing. Why? Because the Falcons didn't let them. They were better, and Seattle knew it. Onto the NFC Championship.
Oh, the NFC Championship. That's not typically a fun game to talk about. They were so close to the Super Bowl, and then they fell apart. Would we ever get over that mountain? Would the pain ever go away?
Well, yes. It took four years, three bad seasons and some wholesale changes, but the Falcons made it back. And this time, they won.
But, Aaron Rodgers was coming to town! Did you see how he played up to then? The Falcons had no chance to best A-A-RON.
Held him scoreless through the first half. How about them apples?
The NFC was ours. On to the Super Bowl. On to Brady.
Oh, now this hurts again.
It was really fun for a while! We were blowing out the Patriots! In the Super Bowl! I was planning my celebratory trip to Waffle House. Can't wait to scroll through Twitter and see the joy. Retweets will be at an all-time high.
But, it wasn't to be.
Oh, that's right. The collapse. 28-3 late in the third quarter. Run the ball! Just run it! Oh man. It's setting in now. Overtime. Nothing you can do about it. Better luck next year, kid. Sad.
Trying to come to terms with everything above is exhausting, but we're prepared, aren't we?
2012 copied over into 2016. Pretty much the same season, pretty much the same ending.
What joy turned into such pain. We were so close to the goal. In 2016, even closer!
Watching the Falcons fall in the second half of the 2012 NFC Game at home didn't burn quite as bad as watching them choke away the lead in the Super Bowl. But, it still hurt. And we got over it.
Now, we look back on 2012 as a great year. We came so close, but it was the last great year in the Smitty era. All those former Falcons we loved – that was their last hoorah. It's bittersweet now. 2013 and 2014 stung badly.
But in came Quinn, and now, the sordid Super Bowl doesn't feel like it'll be an ending.
2016 was the year where, up until December, all Falcons fans would have been more than happy with a playoff berth. No one expected a Super Bowl. Even in the divisional round of the Seattle game – we knew what a great spot we were in, but we would have moved on after the loss if it had gone that way. 2017 was the banner year – that's what we were looking to. The future!
But, then we put together two incredible weeks of football, and, two week after, one amazing half and a pretty ok third quarter.
But then the collapse happened.
We peaked too early, didn't we? We weren't ready to get that far. We got to the doors of a championship and realized we didn't have the key.
Same thing happened in 2012, didn't it? Got to the door of the Super Bowl, didn't have the key. And thusly, it remained shut.
The Patriots had the key. They had it before the game started. We thought and hoped and prayed we might. But, alas, it wasn't meant to be.
Football is a game where lots of little decisions all build up into a huge one. The Falcons might have lucked their way into a Super Bowl if they'd run the ball late. They wouldn't have earned it fully – the second half play wasn't to where the Patriots were. Football is a four-quarter game. We only deserved it for a half.
The Patriots won the second half, making it an Even Stevens affair. And, then, the coin flipped the Lombardi to Foxboro. Nothing you can do.
It hurts – of course it hurts. But 2016 was an amazing year. But, it wasn't *the year.* It won't be the season we tell our grandkids about and reminisce with Falcons fans on fifty years from now.
It'll come. Maybe this year. Maybe in four years. Maybe right before Matt Ryan retires. But, it'll come.
Why? Because of Dan Quinn. Because of who Ryan is now. Because of Julio. Because of Trufant, Vic, Rocky and the defense.
Falcons fans don't know it yet, but our team just became a perennial contender. We're the new Patriots, the new Steelers, the new Packers. We're going to be talking about the joys of winning for a long, long time.
We've got the next great head coach, a rejuvenated front office and a franchise quarterback entering his second wind. We've got a stacked roster, a great supporting staff and one of the best owners in the league. Better days quite literally are ahead.
I know that changes for a lot of teams. You have to let the good times roll before they, once again, roll away. But, because of the hand we've been dealt, a lot of our previous problems have gone away. We're now on easy street. We're going to win a lot of games in 2017, 2018 and beyond. We're not going to go without playoff football for quite some time.
Because of Quinn. Because of who Ryan is now. Because of Julio. Because of Trufant, Vic, Rocky and the defense.
Our time is coming. It hurts that we got so close, but dad gum it, it's on the way.
I'm a big Predators fan. Watching them go to the Stanley Cup finals was a magical moment. If they lose, I don't want to lose the specialness of watching them surround their Western Conference Championship trophy in celebration. It'll be a hard finals, and maybe they'll pull it out.
If they don't? They've got a great coach, a young, hungry roster and a wonderful GM. Better days are ahead for the Preds, too (but, it'd certainly be nice to go ahead and bring back Lord Stanley's Cup now).
It reminded me of watching the Falcons take the NFC. What a great day that was.
We finally got over the 2012 hill. It took some time, some patience, some pain. But we made it.
I'm excited for the day we get over the 2016 hill. It'll take some time, some patience, maybe even some pain.
But we'll get there.
Why?
Because, as we've learned with this Falcons team, they'll eventually find the key.
Photo from Variety