Good day, Falcons faithful!
On Saturday, I shared part one of our trade machine hypothetical scenarios: possible moves that the team could make to better themselves.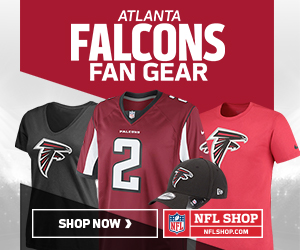 Today comes part two: the big daddies that won't happen but golly, they'd be interesting.
I write a disclaimer: no, I'm not suggesting these are for sure going to happen or that I think they will. I'm not that insane. But, hypothetically, they *could.* No, none of them involve Matt Ryan or Desmond Trufant. I'm not a moron.
So, without further ado…
GOIN' OFF THE RAILS ON A CRAZY TRADE
The Falcons send their 2017 first rounder, their 2017 second rounder, CB Jalen Collins and a 2018 conditional pick (second or third) to the Houston Texans for DE J.J. Watt
Woah, nelly! An improbable-yet-interesting trade!
Yes, in this hypothetical scenario, the Falcons trade a good chuck of top picks and a promising young corner to the Houston Texans away to get perhaps the best pass rusher in football.
The Houston Texans saw last season that their defense, even without J.J. Watt, could be the league's most dominant unit. OLB Jadeveon Clowney and OLB Whitney Mercilus would give any team nightmares as a pass rushing tandem, and they certainly did in 2016.
Watt, a first-ballot Hall of Famer, has been the face of the Texans franchise for a few years now, but with the team desperately needing a quarterback, perhaps Houston would be willing to give up the premiere pass rusher in exchange for a bushel of picks and Jalen Collins, who could help the team weather the loss of CB A.J. Bouye. Plus, Watt's back problems could make the Texas a bit leery to turn this offer down outright.
The Falcons get a hopefully healthy Watt, who paired with Beasley, could be the best tandem of pass rushers in the NFL. The Texans can finally try to settle their quarterback position this year once and for all, and can still add a few impact bodies with an extra first and third rounder. And, they get Collins, who can help their secondary. It'd be a tough one for Houston fans to swallow on paper.
The Falcons send their 2017 first and second rounders and a 2018 second round pick to the New England Patriots for TE Rob Gronkowski and FB Glenn Gronkowski
Gronk to Atlanta? Why not! Hypotheticals don't need reasons!
In this scenario, the Patriots just saw they can win a Super Bowl without star TE Rob Gronkowski. Gronk, still the premiere player at the position when he's healthy, has had back troubles like J.J. Watt, which could motivate the trade-happy Bill Belichick to get what he can in case Gronk's back issues don't go away to the degree like they'd hope.
The Falcons decide to buffet their offense with one of the elite offensive players in the league, who with Austin Hooper, could devastate opposing NFL defenses. They decide to part ways with the top two picks in this year's draft, giving New England back the picks they've traded away recently. Tom Brady would likely miss his old pal Gronk, but he'd be okay without him.
Matt Ryan, on the other hand, would love having a healthy Gronkowski to throw to, giving him far-and-away the best tight end he's had since Tony Gonzalez.
This would be one of those "so-crazy-it-could-actually-happen" trades.
Oh, and we also get his brother, Glenn. Can't have too many Gronks.
The Falcons send their 2017 first round pick, their 2017 second round pick, their 2018 first round pick and CB Jalen Collins to the Cleveland Browns for the number one overall pick (aka, DE Myles Garrett)
Bang!
The Falcons go on the clock with a major trade with the Cleveland Browns. The Browns, who have become big on acquiring draft picks as of late for moneyball reasons, decide to take on a handful of top draft picks from the Falcons, as well as CB Jalen Collins, and give Atlanta the top pick in this year's draft.
This move is essentially for the rights to draft DE Myles Garrett, a promising pass rusher who could be the next star in the league at the position. Pairing Garrett with Beasley would give Quinn a younger, perhaps better version Michael Bennett/Cliff Avril in Atlanta.
Collins heads to Clevleand where he can have a chance to perhaps start next to Joe Haden, and the Falcons decide that this year's second and next year's first are price enough to draft Garrett and put him on Quinn's defense.
The Falcons send DT Ra'Shede Hageman and a 2018 conditonal pick (fourth or fifth) to the Oakland Raiders for TE Lee Smith
This is only crazy because of the name involved – I doubt many of you would expect Ra'Shede Hageman to be traded.
Well, I mean, I don't either, but we're playing hypotheticals, here!
In this scenario, the Oakland Raiders, who need some help at defensive tackle, throw a fourth rounder the Falcons' way to add Hageman to their defensive rotation.
Hageman came on at the end of last season for the Falcons and played some good ball, but he's a free agent after this season, and there are no guarantees he will stick around, being a player drafted by a different coaching staff and someone who may want to push for a starting role elsewhere.
This one is kind of interesting, and could really also perhaps happen. It's not that crazy in concept, but it would be kind of wild to see Hageman go elsewhere. We'd certainly miss him, but the team could a guy like TE Lee Smith to help the passing game if Jacob Tamme doesn't return. Also, Smith is on a crowded depth chart with Raiders TEs Jared Cook and TE Clive Walford.
This one isn't as crazy as the first three, but that's because this next one is a doosey.
The Falcons send their 2017 first rounder, their 2017 second rounder, DE Adrian Clayborn and CB Jalen Collins to the Seattle Seahawks for DE Michael Bennett and TE Jimmy Graham 
Mega-mondo-blockbuster alert!
In the biggest trade in Falcons history and the biggest trade in the NFL in years, the Falcons send two first rounders, DE Adrian Clayborn and CB Jalen Collins to the Seattle Seahawks for DE Michael Bennett, TE Jimmy Graham and a 2018 second round pick.
Yowza.
The trade essentially adds to veteran pieces to the Falcons in Bennett and Graham, who immediately slot in as starters and contribute immensely in their respective roles. The Falcons road back to the Super Bowl is made firmer by these additions. Bennett loves Dan Quinn, which would likely help a trade of this size happen.
Clayborn and Collins would play substantial snaps for the Seahawks, Collins perhaps the heir apparent for CB Richard Sherman if indeed those trade rumors are true. And, the Seahawks get two first rounders to rebuild their offensive line.
No, this isn't going to happen, but it certainly *could* happen, and would kind of make sense in a way.
Also, I can't resist the idea of Bennett and Graham, two long Falcon foes, joining forces in Atlanta. Can't resist it.
Author's note: I love Jalen Collins and hope he is a Falcon for a long time. Please don't hate me, Jalen, for trading you so many times. Ditto for Clay and 'Shede. All love.