Hi-ho, Falcons fans!
Still jazzed about that Dontari Poe contract? Me too. It's awesome.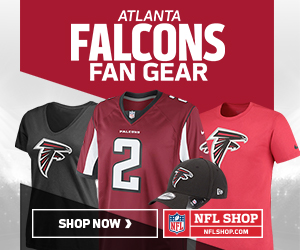 Free agency is just about over now, but draft season is ahead of us, as is "pre-draft NFL trade" season. It's less of a thing, but trades do tend to happen this time of year.
So, could the Falcons pull any off? Maybe? I've speculated a few reasonable ones off the top of my head that could work for part one of this two-part series.
REALISTIC SCENARIOS
The Falcons trade their 2017 fifth rounder and a conditional 2018 pick to the Cleveland Browns for TE Gary Barnidge
In this scenario, GM Thomas Dimitroff hops on the line with Sashi Brown of the Cleveland Browns to make a deal for Cleveland's veteran tight end. Barnidge has been an excellent tight end over the last couple of years, posting up a 1,000+ receiving/nine touchdown season in 2015. He struggled in 2016 at no fault of his own, with the Browns struggling to establish a consistent presence at the quarterback position.
So, the Browns are trying to rebuild their team through the draft primarily, and they're making their roster progressively younger each passing season. Why not pick up two draft picks for Barnidge and take a younger tight end to grow with your new quarterback?
Dimitroff sees a Falcons team that, right now, doesn't have a true starting tight end with experience. TE Austin Hooper is the ideal candidate to become that guy and played well in his rookie season, but the team is missing its Jacob Tamme-type – Matt Ryan has always enjoyed having a quality veteran tight end around, and right now, his most senior tight end on the roster is Levine Toilolo.
So, the Falcons in this scenario cough up their fifth rounder this year and a conditional pick in 2018 (a fifth or a sixth depending on if the Falcons make the playoffs). Barnidge joins the fray at a relative low cost, giving the Falcons a nice pair of starting tight ends, with Toilolo and Joshua Perkins rounding out the group.
The Falcons send their 2017 fourth rounder to the Cleveland Browns for G John Greco
Dimitroff, in this scenario, calls his old pal Sashi Brown to talk about a veteran guard on the Browns' roster who has suddenly fallen out of the starting lineup.
The Browns acquired G Kevin Zeitler in free agency, and extended G Joel Bitonio for the next several years, giving the team bookend guards on their offensive line. G John Greco has lost his starting spot, and it's not likely a veteran player of 31 who's been starting for years would be interested in riding the bench in 2017.
Greco is a solid player, and he only would count $975, 000 against the cap in 2017 before becoming a free agent in 2018. I saw Scott Carasik float his name, and it looks like he'd be a great fit for what the Falcons need at the moment.
So, the Falcons send a fourth rounder to the Browns for Greco – it's a mid-rounder for a rental at the right guard position – one of the vital parts of the offense the Falcons can't afford to throw duct tape on.
Greco can slot next to his old teammate C Alex Mack at RG and give the Falcons another veteran member of their offensive line. He's familiar with the zone scheme, which makes him a nice fit in Atlanta.
The Falcons may wish to deal with right guard further down the road, and Greco would be an inexpensive guy to put on the tight cap, and if he plays well, can be signed to an extension to hold down the spot for the next few years. Losing a fourth would be a little tough, but the Falcons would settle an important spot on their offense with a mid-round draft pick the only price.
The Falcons trade RB Terron Ward to the San Francisco 49ers for WR DeAndre Smelter
This would be a bottom-of-the-roster shuffling move, but would be beneficial for both teams.
Thomas Dimitroff hits up the new San Francisco 49ers GM John Lynch and swaps two reserves who both could gain a lot from going to different teams. And, both really do make a lot of sense.
RB Terron Ward will forever be the RB3 on Atlanta's roster unless injury strikes, and with the team showing interest in RB Rex Burkhead in free agency, it may signal they are looking to upgrade the position. Ward is a very serviceable backup runner, but perhaps his main champion with the Falcons, former OC Kyle Shanahan, is now with the Niners as their head coach.
WR DeAndre Smelter, on the other hand, is a big-bodied receiver who in college was known for his speed and ability to create separation on routes. He's a local guy out of Macon who played at Georgia Tech for his college ball. He's had a rough start to his NFL career, essentially redshirting his rookie year and struggling to get playing time under Chip Kelly in 2016. He's a guy that has no ties to this current Niners regime, and is a possible cut target come training camp. And, the Niners have a new logjam at receiver after the team signed a bevy of new talent.
So, the Falcons and 49ers swap out Ward and Smelter, giving both players a good chance to stick around where they land. Ward can be the new RB3 behind Carlos Hyde and Mike Davis in San Fran, and he can help his new teammates learn Shanahan's scheme. Smelter can compete for a role with the Falcons, maybe even winning the WR5 job and getting a fresh start to his career in familiar confines. It'd be a win-win for both teams.
The Falcons trade a 2017 fifth rounder and a 2018 sixth rounder to the Jacksonville Jaguars for MLB Paul Posluszny
I see you a Paul, and I trade you a Paul.
The Falcons need another presence at the middle linebacker position, with starter Deion Jones and special teams guy/reserve LaRoy Reynolds the only true middle linebackers on the roster.
The team lost Paul Worrilow to Detroit in free agency, and it really wouldn't hurt them to get a nice backup who has game experience.
Enter Paul Posluszny.
The longtime Jaguar has been a staple on their defense, but he'll turn 33 in the middle of the season next year and will be a free agent in 2018. He's made a home in Duval, but perhaps he'd want out to play for a contender after the 2017 season, especially with rookie ILB Myles Jack likely pushing him for playing time this coming season.
Say in this scenario, the Falcons want a proven name to back up Jones and are willing to part with a fifth to do so. They call up old Falcons friend, GM Dave Caldwell, and offer to take Posluszny for a fifth this year.
The Jags get another mid-round draft pick to play with, and the Falcons get a veteran guy to fill Worrilow's role on defense on a team that can win now.
The Falcons trade a conditional 2018 pick for TE Austin Seferian-Jenkins
This trade feels so right that I'm nearly convinced it might happen.
TE Austin Seferian-Jenkins came into the NFL with loads of potential, and flashed his size and athleticism with his first few seasons with the Tampa Bay Buccaneers. Though, a misfortunate DUI arrest led to his release from Tampa Bay. He was picked up on waivers by the Jets, where he currently sits.
It's unknown as to how Seferian-Jenkins fits in with the new offense in New York, but there's no denying his potential and the work he's already put on film. Seferian-Jenkins' old college coach, Steve Sarkisian, is now with the Falcons as their offensive coordinator, and he could put in a good word with the front office for his former Washington Huskie to join the Falcons.
Seferian-Jenkins had an advocate coming into the league with CB Desmond Trufant, and he'd very much benefit from the brotherly atmosphere Atlanta has created. Plus, how cool would it be to see Seferian-Jenkins and Sarkisian, who have both struggled with alcohol-related issues, get back on the map together in Atlanta?
It'd be a great story, but it could also give the Falcons a lethal set of athletic tight ends and a new, dangerous red zone target. Seferian-Jenkins can play ball – we know that for sure. He's had some health issues, but if he can mesh into Atlanta's culture and stay on the field, he'd be a home run pickup. He is suspended for the first two games of the 2017 season for violations, but the team could weather that absence.
The condition: a fifth if the team makes the playoffs in 2017, a sixth if they don't.
So, those are the reasonable trades I could think of. Next time, the crazy, off the wall, I beg your pardon trades that are super fun.
Yes, one of them involves J.J. Watt.
See you next time.