Hello, Rise Up Readers, and a Happy May to you!
This week, we will be recapping the Falcons offseason thus far, breaking down the new acquisitions, a few burning questions and even an early projection for the final offensive roster spots (hint: Matt Ryan makes the roster).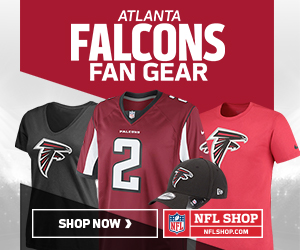 We will focus more on incumbent player performances closer to training camp, but for now, we'll spend a lot of time with our new Falcons, and a few familiar faces.
So, let's get started, shall we?
NOTABLE ADDITIONS: OC Steve Sarkisian, WR Andre Roberts, FB Derrick Coleman, FB Soma Vainuku, G Hugh Thornton, G Sean Harlow, RB Brian Hill, TE Eric Saubert, T Andreas Knappe
NOTABLE DEPARTURES: OC Kyle Shanahan, G Chris Chester, FB Patrick DiMarco, TE Jacob Tamme, WR Aldrick Robinson, T Tom Compton, WR Eric Weems
O, SHANNY, WHERE ART THOU?
The leading story this offseason was obviously the Super Bowl collapse, but not soon after that was the departure of OC Kyle Shanahan, who finally landed a head coaching gig after orchestrating the 2016 league-best Falcons offense. He was on the fan's hot seat after week one, ironically, and had fans in tears when he took the head gig in San Francisco – the NFL in a nutshell.
Shanahan was known as a savvy play-caller who knew how to use the personnel on the Falcons' offense as his chess pieces, more than often calling "Checkmate!" on more than one defensive coordinator last fall. Shanahan loved three tight end sets, his two back stable (RB Devonta Freeman and RB Tevin Coleman, arguably the best one-two punch in the league) and placing Julio Jones all over the field.
Now, the offensive coordinator running the Falcons' offense is Steve Sarkisian, a bright offensive mind known for his college resume. He's coming off a one-game stint in Alabama as its offensive coordinator in the National Championship, where his team also suffered a late collapse. Must be in the air.
Sarkisian's knowledge of the game and play calling are not in question – he's a proven talent who could thrive with the personnel he will have in Atlanta. But, off the field, he has publicly struggled with alcohol-related issues, which haunted his head coaching tenure at USC.
Sarkisian has baggage, but he's been able to get help for his vices, which is obviously far-more important than anything related to Falcons football. Nick Saban felt comfortable bringing him on to his carefully-curated staff at Bama, and was primed to offer him the offensive reigns. So was Dan Quinn, who advocated for Sarkisian's hiring in Atlanta. If both Saban and Quinn are comfortable with Sarkisian's hiring, that should bode well for his tenure. Plus, Atlanta's culture is supporting and familial – offensive assistant Matt McDaniel was able to settle his alcohol-related issues by being a part of Atlanta's "Brotherhood."
On the field, Sarkisian will reportedly run an offense similar to Shanahan's in order to keep the ball rolling with what found success with the personnel at hand in 2016. So, still expect a zone-blocking scheme, plenty of time on the field for Freeman and Coleman and the continued feeding of one Quintorris Lopez Jones.
How will it all work? Well, the band is primarily back together on offense, which will help Sarkisian in his first season with the Falcons. The biggest obstacle will be easing him in to the role once the season begins – fans should still expect crafty play calling that plays to the strengths of those on the field, but perhaps not quite the level of trickery that befuddled defensive coordinators under Shanahan. Sarkisian will need a little time to really get his feet under him in Atlanta, as all new offensive coordinators do, but once he does, his hiring could pay off big time for a league-leading offense looking to keep the pedal on the gas in 2017.
GUARDIANS OF THE MATT-LAXY
Keeping Matt Ryan upright is, y'know, kind of important.
With G Chris Chester riding off into the sunset, the team has a glaring hole at right guard, and right now, there is no clear frontrunner for the job. It will be the competition of camp, with second year man G Wes Schweitzer, G/C/DT/DDS Ben Garland, new draftee G Sean Harlow and former Colt G Hugh Thornton all potential candidates to replace Chester as a starter.
Who's got the edge?
Popular consensus is Schweitzer, who was rumored to be pushing Chester for the starting role last summer and is clearly a popular guy among the coaching staff. Quinn recently commented that the guard was having "the offseason of his life" – not a bad guy to be slinging compliments your way. He's had a full season to be groomed for the role, and if he can continue to improve in his pass protection (an issue seen on tape in the 2016 preseason), the role very well may be his for the taking. It would be an impressive career leap for the sixth rounder. Playing between Alex Mack and Ryan Schraeder certainly helps.
Garland is a jack-of-all-trades, and he absolutely could win the job. He's Mack's primary back-up and a decent-enough defensive contributor, which may make the team hesitant to remove him from those duties. But, if he earns the job, it'll certainly be worth losing his versatility in reserve roles.
Harlow comes with the new draft class – the team spent a fourth-round pick on him, and he's a Sarkisian guy (Sark recruited the young OL out of high school), but he's coming off a collegiate career playing tackle, and might be a bit too raw to start on Day One. But, we all said the same thing about De'Vondre Campbell last year, so you never now. For now, he's probably a guy to be developed for more down the road.
One new OL that has fans intrigued – UDFA OT Andreas Knappe – the Danish UConn guard who has confirmed the Falcons would have picked him in the draft if they had kept one of their sixth or seventh round picks. The sharp interest in the offensive lineman shows the team has plans for him this season, so perhaps he could be groomed to be the new swing tackle, a position the team needs a guy for.
NEW GUYS CATCHING ON
The team doesn't have too much turnover in the pass-catching game. TE Jacob Tamme and WR Aldrick Robinson are the two major losses, though TE Austin Hooper looked ready by the end of 2016 to assume starting duties. Robinson's contributions will be hard to replace, with his status as a dangerous deep threat with established chemistry with Matt Ryan. WR Eric Weems was nonexistent in the offensive plan for his last two years in Atlanta, though his unique impact on special teams and in the locker room is irreplaceable.
The team brought in WR Andre Roberts to be a Weems-esque presence. He had a nice year with the Lions last season, and will likely be the established WR6 going forward who sees more time on the field than Weems did. Some posturize that Roberts will be the new WR5, but in this offense, I'd imagine the team would want to replace Robinson with another vertical threat.
Where the presumed sixth spot at WR goes is a mystery: it could be any of "Scrappy Doo" Nick Williams, 2015 seventh round pick Devin Fuller, French signee Anthony Dablé, UGA track star Garrett Scantling, UDFAs Deante Burton, Reginald Davis III and Josh Magee or journeyman B.J. Daniels. So, it's, forgive the pun, a toss-up.
Right now, let's speculate Fuller and Williams have the edge, with UDFA Burton, who has impressive highlights of his hands in college already displayed on the Falcons Twitter, the wild card.
Tight end wise, the team added TE Eric Saubert via the draft, who figures to be a developmental guy in year one. Look for Hooper, re-signed TE Levine Toilolo and Sark guy TE Joshua Perkins to be the main trio in 2017. What happens with TE D.J. Tialavea, a talented blocking tight end who had a touchdown in 2016, is also something to monitor this summer.
RUN DTB
The Falcons running back stable is set for 2017 – Devonta Freeman and Tevin Coleman will continue to do their thing, with fifth round pick, Wyoming RB Brian Hill, likely the third RB for 2017 and beyond.
Hill is an aggressive runner with great production in school, and could factor in as a goal-line option early in his career, outside of a special teams player. What his drafting means for RB Terron Ward, who has been reliable as a third running back, is yet to be seen. Ward would make a roster elsewhere if he does not make the Falcons final 53.
DIMARCO? I KNEW THAT MAN
Losing FB Patrick DiMarco hurt like a thousand blisters in March, but the team has already brought in three potential fullbacks to compete for the role – former Seattle FB Derrick Coleman, former Texans and USC Trojan Soma Vainuku (a Sark guy) and Citadel FB Tyler Renew.
Coleman has started for a Super Bowl team and has obvious ability, and he has connections to Quinn, who lobbied for his signing. Vainuku has played in a Sarkisian offense, which may give him an edge with the offensive coaching staff and Renew, the wild card, has ability as a blocker and a pass-catcher, and has perhaps the highest ceiling of the three.
Right now, let's say the job goes to Coleman in a close battle due to his starting experience, with Renew a practice squad guy who may win the job down the road.
PAY THE MAN!
Two names to watch in regard to extensions before the season — RB Devonta Freeman and QB Matt Ryan. Freeman's incoming pay day feels more "when" than "if," with owner Arthur Blank saying Freeman will be taken care of this offseason. He's one of the NFL's most complete backs, and while some think the team may let him walk, all signs point to him being the back of the future for Atlanta (and that's a very good thing).
For the reigning MVP, an extension for his great season is a strong possibility and has been hinted at for quite some time. It could come this season, allowing Ryan to focus in on his duties and freeing him from contract talks mid-season. Again, this is when, not if.
WR Taylor Gabriel, OT Jake Matthews and G Andy Levitre all have contracts that the team may want to explore extending during the season, but don't expect those to come this summer.
PROJECTED OFFENSIVE ROSTER PRE-TRAINING CAMP
QB (2)
QB Matt Ryan
QB Matt Schaub
RB (4)
RB Devonta Freeman
RB Tevin Coleman
RB Brian Hill
FB Derrick Coleman
OL (9)
OT Jake Matthews
OT Ryan Schraeder
OT Andreas Knappe
G Andy Levitre
G Wes Schweitzer
G Sean Harlow
G/C Ben Garland
G Robert Leff 
C Alex Mack
WR (6)
WR Julio Jones
WR Mohamed Sanu Sr.
WR Taylor Gabriel
WR Justin Hardy
WR Andre Roberts
WR Devin Fuller
TE (4)
TE Austin Hooper
TE Levine Toilolo
TE Joshua Perkins
TE Eric Saubert
Practice Squad Holdovers
TE D.J. Tialavea
WR Deante Burton
FB Tyler Renew
C Cam Keizur
QB Alek Torgerson
25 TOTAL ROSTER SPOTS
Next Wednesday, we'll have our look at the defense. Takk Season is upon us.
What do you think of the Falcons offense heading into 2017? Sound off below.