The Atlanta Falcons are coming off a closer-than-comfort win over the Chicago Bears to open up the season, and nothing follows up a heart-pounder like a Sunday Night Football visit from ole A-a-ron Rodgers and the Green Bay Packers, who are seeking revenge after getting trounced by the Birds in the NFC Championship.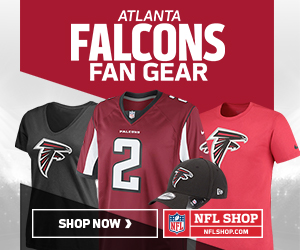 The Falcons aren't facing the horrifying potential of starting the year 0-2 after their last-second victory Sunday, which makes the Pack matchup less of a do-or-die situation. Rodgers looked like his old self for the most part against their opener against Seattle, but the Packers' offensive line did him no favors against Seattle's infamous front seven. Though, Green Bay's defense looks improved, even if they were going against the Seahawks' infamously bad offensive line.
So, how will this newest meeting between the Birds and the Pack come out?
Series Record: Green Bay leads the series 17-15-0
LAST TIME ON FALCONS/PACKERS: Oh, buddy, the last time. The Atlanta Falcons shocked the league by assailing the steaming-hot Green Bay Packers on national television in the NFC Championship. Somehow, someway, the Falcons' defense stymied Rodgers and company, holding them to a goose-egg at halftime and 21 points in total. Julio Jones single-handedly devoured the Packers' beat-up secondary, with the offense putting up a commanding 44 points on the unit in total. The steamrolling led Atlanta to the Super Bowl, which, I mean, didn't go well. But, the NFC Championship smashing of the rival Pack was the crowning jewel of the 2016 season. The team also met in the 2016 season, a to-the-wire meeting that saw Atlanta win in familiar confines 33-32.
THE WHOLE WHEEL OF CHEESE: The big story this game will be the continued effort of the Falcons' defense to slow down Aaron Rodgers and the Pack O, who now has two fresh tight ends in Martellus Bennett and Lance Kendricks at his disposal and a rising running game led by Ty Montgomery. Rodgers was knocked around a little bit by the tidal wave that is Seattle's defensive front due to a less-than-stellar offensive line, which has held the league's best QB back at times in the past. RT Bryan Bulaga ailing and potentially missing the Falcons game could be a major factor in Atlanta's effort in knocking Rodgers off the spot. The Falcons offense was the story leaving Chicago (over-reactions all around), but the story this Sunday will be Dan Quinn slowing down Rodgers. If the Atlanta offense is still getting its bearings under it, making the Packers great uncomfortable will be paramount. It's a big reason why the Falcons got to Super Bowl 51.
SMOKED LIKE GOUDA: Julio Jones, not of Earth, scares other teams when it comes to the idea of having to go against him. Also: Dan Quinn loves teambuilding, water is wet, I love a good Coke Float and Freddie Falcon is covered in feathers. Obvious statements need not be mentioned. But, outside of the lightening-frenzy-mayhem madness Jones put upon the poor Panthers last season, no team bore the brunt of the wide receiver's freak physicality like the Packers did in the NFC Championship. Jones toasted the group for nine catches/180 yards and two touchdowns, including that one play where he did a very bad thing to the now-released LaDarius Gunter and an even worse thing to Damarious Randall. The Packers are better/healthier in their secondary than in that game, adding CB Kevin King and SS Josh Jones via the draft and bringing back CB Davon House into the fold. The Packers will look to their front seven to get pressure on Matt Ryan to limit the Falcons' passing game. If they give Ryan time in the pocket, though, an old terror will visit the Packers secondary once more, and it might not really matter who they added/got back. Julio has always had a strong taste for cheese, after all.
MILKING THE HOT TAKES: The Falcons offense was a major bugaboo for fans Sunday against Chicago, with no one happy to see the Atlanta run game not as potent as it was where we left it and Julio Jones not the offense's focal point for the day. That's understandable. It was also not super fun to watch G Wes Schweitzer struggle so in his NFL debut (though he was going up against a particularly strong defensive lineman in Akiem Hicks). But, one game is one game, it would behoove Atlanta fans to give Schweitzer and OC Steve Sarkisian a little breathing room, particularly the latter, considering Atlanta still scored 24 points on the road and moves the ball relatively well in the passing game. The Falcons' running backs Devonta Freeman and Tevin Coleman both showed off their raw instinct and talent behind an offensive line that was doing its best to ward off a surging Bears front seven, so once the offensive line gets more comfortable, dare I say it, everything should be fine, and maybe, just maybe, they'll only a small step down from the 2016 group, and Schweitzer just might be okay after all.
STRONG TASTE: The Packers' defensive line might be much better this go-around. DT Mike Daniels continues to be one of the toughest pills to swallow for offensive linemen, second-year DT Kenny Clark should improve, new rotational piece DT Quinton Dial is a nasty presence and rookie DE Montravius Adams has his fans (though he's very unlikely to play Sunday). Behind them, stalwart pass rusher Clay Matthews is older, but can still present problems, and OLB Nick Perry had a strong 2016 campaign. All in all, Daniels is the guy to be worried about, particularly if Dom Capers shifts him over to go up against Schweitzer. The new RG will have his hands full regardless, and it'll be up to Atlanta's offensive linemen to be on their best behavior when this improved Packers front hits Mercedes-Benz Stadium.
SAY CHEESE: The Packers offensive line will have their own problems to deal with. If Bulaga misses, look for Vic Beasley to target reserve RT Kyle Murphy. The Pack's interior offensive line is lesser after T.J. Lang left in free agency, with veteran Jahri Evans taking his place at RG, Corey Linsley at C and Lane Taylor at LG. It's not scrub central, but this is a more vulnerable group that could see primary interior rushers DT Grady Jarrett, DT Dontari Poe and DL Jack Crawford getting to Rodgers early and often if the trio is on their game. DE Adrian Clayborn and DE Derrick Shelby could also slide inside to help (a spot Clayborn played well in during the regular season Packers match-up). If that group has a strong day and Beasley's able to take advantage of Bulaga's potential absence, Rodgers won't have an easy time avenging their NFC Championship loss.
AGED TO PERFECTION: The heavyweight battle Sunday will be against Rodgers, his wideouts and the Falcons' secondary. CBs Desmond Trufant and Robert Alford will take on two of the better receiver combos they'll see this season in WRs Jordy Nelson and Davante Adams, while Randall Cobb, Geronimo Allison, Jeff Janis and Trevor Davis will all likely have roles in the passing game in some way, shape or form. CB Brian Poole and the safeties Ricardo Allen and Keanu Neal will also be tasked, of course, in stopping Rodgers' onslaught of receiving options. Ty Montgomery also helps in the pass game, and as we mentioned, he's got Bennett and Kendricks at his disposal now. The passing attack from Green Bay and the Falcons' passing defense are on a collision course for fireworks. Trufant being able bounce back quickly from a lesser week one performance post-injury will be important for this to tilt in the Falcons' favor.
STILL A GOOD SLICE: For this week's undercard, the Falcons' special teams are going to need to be as tight as a ziplocked bag if they're to prevent the Packers from gaining good field position. Matt Bosher's leg will dictate a good range of that, but don't count out the threat of Trevor Davis as a returner. He's fast, and he landed a big return on the Falcons last regular season. Jeff Janis is listed as their main kick returner, and he's got experience at the spot. Limiting the Packers from obtaining solid field position should be a huge focus for Keith Armstrong's unit, though shaking off the penalties that plagued the group Sunday at Chicago will also be atop the list. It wouldn't hurt to see WR Andre Roberts, Atlanta's main returner, have a good day, either.
WHO'S QUESO-SO: The Falcons left Chicago virtually free from any injuries, and could see RB Brian Hill return from his ankle injury and new special teamer Jordan Tripp back from his concussion he sustained while a Packer. For the Packers, Bugala's status is in flux, and OLB Ahmad Brooks is in the concussion protocol. The rookie DL Adams is likely to be out with his foot injury. CB Damarious Randall left with cramps Sunday, but returned. Bulaga's status will be the main headline going into the game.
A BRIE-F PREDICTION:  The Falcons got the best of the Packers in grand fashion the last time they visited the ATL, but expect this early season bout to be evenly-matched. Rodgers will make his plays, as will Ryan, but with this being a big she-bang for Atlanta hosting its first regular-season game in the new Mercedes-Benz Stadium, a place the Falcons have had the chance to play in and the Packers have not, expect emotion and the atmosphere to be firmly on the Falcons' side. Rodgers will have to wait to get his revenge (though, if we're honest, what he did to the team from that 2010 playoff game up to last year shouldn't make him that mad in terms of Atlanta getting closer to evening the ledger). Look for Julio and Devonta to have big days, and the Falcons get to a hard-fought 2-0. 31-28 Atlanta
Listen to our ATL/GB Rise Up Reader Podcast with Setting the Edge's Justis Mosquesa here. 
Photo from AtlantaFalcons.com