Ladies and gentlemen, your Atlanta Falcons are 3-0.
It's a good thing! The Falcons, coming off the worst ending to a season ever, have won two of their eight road games, and have beaten Aaron Rodgers, to start the year. The offense has put up 30 or more the last two games, and the defense is finally starting to come together. Though, they're a bit nicked up right now on both sides of the ball, and a surprising 2-1 Buffalo Bills team is set to make the trip to Mercedes-Benz Stadium.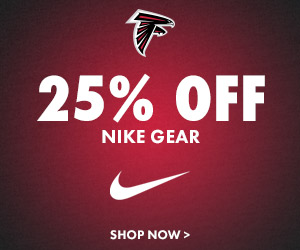 So, before the early bye week, the team will close out the quarter mark of the season with a home stand against the stampede. How will they fare? Let's take a look-see, shall we?
Atlanta leads the series 7-4-0.
Last Time on Falcons/Bills: One of the few bright spots of the doom-and-gloom 2013 campaign came from the Falcons game against the Buffalo Bills in Toronto, Canada. Both teams were aggressively bad, and took each other to overtime, where a Matt Bryant field goal gave the Falcons a narrow 34-31 win. Guys like Tony Gonzalez, Steven Jackson and Antone Smith scored touchdowns for the Birds that day. Makes you a bit nostalgic, eh? No word if the team made a celebratory run to Tim Hortons after.
The Big Corral: The Buffalo Bills are not one of the games you'd look at on the Falcons schedule and be overtly-worried about, particularly with this being at home. The Bills have beaten the hapless Jets and shocked the upstart Denver Broncos last Sunday, and were only able to put a field goal on the Carolina Panthers in their only 2017 loss so far. Are the Bills a team that could take Atlanta four quarters? It's hard to say. Their win against the Broncos last week was pretty shocking, and makes you vastly reconsider what kind of opponent this could be. The key to this game will be stopping all-star RB LeSean McCoy and containing mobile QB Tyrod Taylor. The Falcons' offense should be able to get to work on Buffalo's defense, particularly if DT Marcell Dareus misses Sunday. Even if Dareus plays, the Falcons have proven to be far-too explosive on home turf on the offensive side of the ball. The key will be the defense containing McCoy – a threat between the tackles and in the air – and Taylor, who is always capable of cracking off a big play. Maintain those two, and the Falcons should be able to claim their fourth win of the season.
Quick Draw: A fast start – that's what will give Atlanta the start they need. They've scored on each opening possession this season (the last two games, they've opened the game with touchdown drives), and it could be trouble for Buffalo if Atlanta gets out ahead early. Setting a tone offensively is how this Falcons team lives and dies. If the Birds ever get hit in the mouth (err, beak) early, it usually makes for an interesting afternoon. It's better for all of our collective health for this game to be one of the calmer ones this season, and Atlanta certainly has the possibility to take care of business early Sunday and put Buffalo away. It certainly won't be easy, as it never is, but if the offensive line can ward off Buffalo's respectable pass rush (led by DEs Jerry Hughes, Shaq Lawson and OLB Lorenzo Alexander, each of whom have two sacks on the season), it should be smooth sailing.
This Field Ain't Big Enough for the Both of Us: The Falcons defense has a big job Sunday – taking care of Shady McCoy. LeSean McCoy is still one of the best all-around running backs in the NFL, and the Falcons have still been trying to work out the kinks in their run game this season. Buffalo doesn't exactly have a counter-runner to McCoy like the Falcons have seen against Chicago and Detroit, but they do have former Falcons FB Patrick DiMarco paving the way for Shady to do his thing. It'll be big for Grady Jarrett, Dontari Poe and the Falcons run defenders to set the tone early and not let McCoy get into a rhythm. OC Rick Dennison will no doubt try to get McCoy active in the passing game, where the Falcons do tent to struggle. Theo Riddick and Ameer Abdulluh did a large chunk of their damage against the Birds this way Sunday, so though the Bills lack an understudy as talented as McCoy, it'll be big for Atlanta to limit him early and force the Bills to go to the air, where they have far-less potent talent. Tyrod Taylor is another guy to watch – he's not one of the league's best QBs, but he can use his legs rather effectively, and if you give him the opportunity, he's likely to take it. If Taylor gets loose, he's as dangerous as anyone at the position. Stopping McCoy and forcing Taylor to stay in the pocket will be two big steps for the Falcons' defense.
Open Range: It'll be interesting to see how FS Damontae Kazee responds to starting Sunday, with FS Ricardo Allen all-but-assured to miss with a concussion. Kazee put promising reps on the field during the preseason, and the team has peppered him into three-safety sets here and there to give him some opportunities. He had two tackles in the season opener and forced a fumble on a return. He's been active all season, and the Falcons will look to rely on him in a big way Sunday to help limit the Bills.
Monitor Every Part of the Buffalo: A sneaky grouping the Falcons will need to be careful about Sunday will be Buffalo's secondary. Let's break it down: FS Jordan Poyer – he's had a really strong season so far for Buffalo, notching 18 tackles, two sacks, five pass deflections and one interception. His running mate, SS Micah Hyde, gives him a nice complement on the other side. Hyde excelled in Green Bay and played the Falcons twice last year. Their corner duo is also underrated – rookie CB Tre'Davious White has seven pass deflections and a pick to go with his 16 tackles, and trade-acquired CB E.J. Gaines has similar stats – just two-less PDs. This secondary has yet to let up a passing touchdown this season, but they've yet to go up against a
Snake-bit: The Bills could be without two key figures Sunday – LT Cordy Glenn and DT Marcell Dareus – who have dealt with various ailments. Both could hypothetically heal up before then, but if they are out, look for Atlanta to take advantage of Glenn's absence, and the run game to be far-more profitable than if they were going up against Dareus. For Atlanta, Vic Beasley and Courtney Upshaw don't look like they'll be back this week, and Ryan Schraeder is iffy as he tries to exit the concussion protocol. Ricardo Allen is new to it, so he will miss. Julio Jones will be limited this week with a sore back, but he should be good to go, if not quite at 100-percent. Other than that, everyone should be ship-shape.
Round Up a Prediction: Should is a funny word. This should be a good home win for the Atlanta Falcons to get them to 4-0 – their offense should have little-to-no trouble moving the ball on Buffalo's defense, and their defense shouldn't be too overwhelmed by what Buffalo has to throw at them. Stop McCoy and Taylor, and the Bills could be in for a long afternoon. Atlanta is usually good for about a couple of sound thumpings a season, and this should be one of them. It should be. It *should* be. Should. 37-21 Atlanta
Photo from Sporting News