On Sunday, the Falcons will begin their march back up the Super Bowl hill in the Windy City against the Chicago Bears, a team looking to prove they're more than their shaky roster and warm-seated coaching staff, for their season opener Sunday.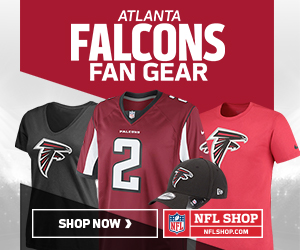 The Falcons need to win this game, and win it commandingly, to set a pace for the season. Da Bears are a lesser team, though they have a formidable presence on the ground, a decent-enough front seven and have home-field advantage.
Series Record: Chicago leads the series against the Falcons 14-12-0.
LAST TIME ON FALCONS/BEARS: QB/Noted Sexy Man Jay Cutler and always dangerous RB Matt Forte trounced the hapless 2014 Falcons at the Georgia Dome in a midseason bout. No player who scored for the Bears that day (Cutler, Forte, TE Martellus Bennett, K Robbie Gould, WR Josh Morgan) is still with the team.
BEAR AND THE BIG BLUE STORY: The Falcons offense in its Steve Sarkisian debut against a decent-enough Bears front seven will be what we're all waiting to see. How will Matt Ryan look? Will the play calling be as inventive/effective? How will new starting guard Wes Schweitzer fare? Can T Jake Matthews take the leap to elite status? Is this TE Austin Hooper's season to shine? Is Turbo healthy? Is Julio Jones going to make someone cry? These are the ponderings of the Dirty Bird faithful. Though, remember, through one week of the NFL season last year, we still considered the Falcons' offense problematic. Funny how quickly that changed. So, read into this – or don't read into it at all. And, don't be worried if it looks like Sarkisian is still working out some kinks in his play calling.
TOO MUCH TO BEAR?: The Bears are going to pound the rock hard on Sunday, with the trio of rising second year RB Jordan Howard, rookie RB Tarik Cohen and former Rams RB Benny Cunningham a great first test for Dan Quinn's run defense. The Bears interior defense is nothing to shake a stick at, with G Josh Sitton, G Kyle Long and C Cody Whitehair a quietly great group to run through. Don't kid yourselves in thinking the Bears are going to rely on the arm of Mike Glennon in this match-up – they're going to run the ball until they can't. If the Falcons can limit the run early, things get tricky for Chi-town.
SWEETER THAN HONEY: Watching the Bears secondary try to stop a fresh Julio Jones will be a sight to see. I'm not saying it's going to be like the 300-yard game Jet Jones posted on those poor Panthers last season, but this is the worst secondary old Julio has seen in quite some time. CB Prince Amukamara is a solid player, but he can't handle Julio by himself. They'll have to bring FS Eddie Jackson back to stop Jones, but have you ever tried to stop rain from falling on your house? Ok yeah that's pretty much what this is going to be like. After that Super Bowl, this will be a palette cleanser.
KODIAK MOMENT: The big battle to watch Sunday will be rookie DE Takk McKinley versus LT Charles Leno Jr. McKinley will get his first action of the year against the Bears blind side blocker, who was recently offered a lucrative contract extension. How McKinley does against his first quality left tackle in a real game situation will be a good barometer to see where he's at in his development. He's flashed speed, a nasty bull rush and a fighter's spirit in preseason reps, and if he can do that consistently Sunday against a freshly-paid left tackle in his reps, that will bode well for his 2017 futures.
GRIZZLY UNDERCARD: TE Austin Hooper going up against the Bears' solid linebacking core of LB Danny Trevathan and LB Jerrell Freeman (who both signed with Chicago in 2016) will be an intriguing match-up. It'll also be fascinating to see two guys linked to Atlanta in Trevathan and Freeman through a "what-if" mirror – if either of those had signed with the team, it's doubtful the Falcons would have drafted LB Deion Jones. Talk about a Twilight Zone scenario.
AYE, BOO BOOS: The Falcons are relatively healthy, with WR Taylor Gabriel taking game reps in Week 3 of the preseason, indicating he'll be ready to suit up and go full speed. LB LaRoy Reynolds was placed on IR earlier this week, which was the team's biggest injury going into the season. FS Damontae Kazee is practicing with an ankle injury, but should be ready to go. RB Brian Hill will likely be inactive with his ankle problem. For Chicago, the snake has bit a little harder. G Kyle Long's status is up in the air – if he misses with his ankle problem, look for either C Cody Whitehair or reserve player Hroniss Grasu to fill his place. Starting OLB Pernell McPhee, a key contributor in the pass rush, had right knee surgery in late July. His status is also in flux, though the Chicago Tribune notes that his snaps would likely be limited if he plays. LB Danny Trevathan is recovering from his 2016 season-ending knee injury, though he's more likely to play than the names above. Chicago's top CB Prince Amukamara is also ailing with an ankle injury, and would see either Kyle Fuller or Bryce Callahan fill his spot. WR Markus Wheaton looks to miss after breaking his pinkie in August. If all four of the questionable names miss Sunday, Chicago will be in deep trouble.
DOWN THE KERMODE?: While the Falcons should be the favorites in this match-up, this has the makings of a classic trap game. The Bears are at home, looking to rebound after a nasty 2016 season that saw QB Jay Cutler released and their intriguing defense marred by injuries. Third-year coach John Fox is on the hot seat, and QB Mike Glennon will be trying to prove to everyone he's worth starting. Rookie QB Mitch Trubisky will be breathing down his neck all season. Every team is going to give Atlanta their best shot this season, and Chicago is no exception. Chicago's ground game could be electric this season with that interior line, and if the Falcons struggle against the run and allow Chicago to bleed the clock, this could be closer than expected, particularly if the offense is still getting into its 2017 groove. Losing the opener to the Bears with Green Bay coming to town next week would not be an ideal start for this team.
A BEARY GOOD PREDICTION: The Falcons will get their first win after the 28-3 Super Bowl collapse that leaves most of us in night sweats. It'll be a pretty good day for the offense as they get in rhythm for the season under a new coordinator, and an encouraging one for the budding Falcons defenders. Julio Jones nabs two touchdowns if Amukamara misses, Robert Alford nabs his first pick of the season on Glennon, and Jordan Howard will see the end zone at some point for Chicago because it's not like Atlanta for a running back to go scoreless. 31-17 Falcons
How do you think Sunday's bout with the Bears goes? Let us know below.