By Matt Karoly
On Saturday evening, former Falcons tight end Tony Gonzalez will reach the pinnacle of his profession as he is officially inducted into the Pro Football Hall of Fame.
And while Gonzalez played 12 of his 17 seasons in Kansas City, Dirty Bird Nation proudly calls the greatest tight end one of their own and for good reason. Gonzo ranks first in receptions (409), third in yards behind Jim Mitchell and Alge Crumpler (4,187), and tied for first in touchdowns (35) by a tight end in Falcons history. All of this despite Gonzalez playing in 55 and 28 fewer games than Mitchell and Crumpler, respectively, in his Falcons career.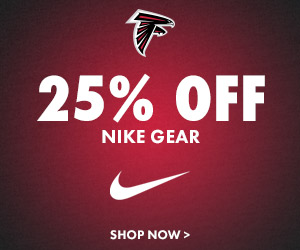 So while you may not like it, Chiefs fans, you're just going to have to deal with it. Tony Gonzalez is an Atlanta Falcon and just as much a part of our history as he is yours.
Don't believe me? Just ask the NFL, who decided to schedule the Falcons — not the Chiefs — in the Hall of Fame kickoff game; an honor typically reserved for one of the teams who has a player being inducted during the weekend's ceremony.
So now that we established that, let's look back on Tony Gonzalez's five-year Falcons career as we count down his top five moments in the red and black.
5. Falcons @ Jets, December 20, 2009 — Tony's game-winning TD on 4th & goal preserves the Falcons first back-to-back winning seasons in franchise history
Following a successful rookie season in the Matt Ryan era, Thomas Dimitroff recognized a need at tight end for his young franchise quarterback. Prior to Gonzalez coming on board, the best Atlanta had to offer at the position was Justin Peele.
Therefore, Dimitroff exchanged a 2010 second round pick with his friend Scott Pioli for the Hall of Fame-bound tight end. Needless to say, the Falcons came away big winners in the trade and realized immediate dividends. (Kansas City went on to select Alabama CB Javier Arenas with the Gonzalez pick whereby Arenas lasted just three seasons in Kansas City before being traded to Arizona in 2013)
No moment encapsulated that more than Gonzalez's game-winning touchdown against the Jets in week 15. With the win, Atlanta moved to 7-7 on the year and, more importantly, kept their hopes alive for back-to-back winning seasons for the first time in franchise history. (Atlanta went on to finish the job with wins against the Bills and Buccaneers in weeks 16 and 17, respectively)
4. Falcons vs Patriots, Sunday Night Football, September 29, 2013 — Tony's efforts fall short despite setting a Falcons career-high in receiving yards
There has been much debate this offseason following Rob Gronkowski's retirement as to who the greatest tight end of all-time is. But to me, that argument has always been silly.
Why you ask?
Well, look no further than the tight end matchup in week four on Sunday Night Football in 2013 between Tony Gonzalez and…Michael Hoomanawanui.
That's right, Hoomanawanui was pressed into starter's duties in place of the injured Rob Gronkowski that night, a common theme during Gronkowski's nine-year career. In all, the former 2010 second round pick missed 29 out of a possible 144 games.
Know how many games Gonzalez missed in his 17-year career? Two. Two freaking games out of a possible 272!
And he wasn't just limping through games just to say he did. No, the game against New England was proof of that.
In his 258th game of his 17th NFL season, Gonzalez set a Falcons career-high with 149 yards on 12 receptions and chipped in two touchdowns. And even though the Falcons fell short in their comeback attempt, one record was set straight in the contest.
Tony Gonzalez, not Rob Gronkowski, is the greatest tight end of all-time.
3. Falcons @ Redskins, October 7, 2012 — Tony shoulders the load catching a Falcons career-high 13 passes as Atlanta remains unbeaten
This moment has sentimental value for a couple of reasons. One, because I was in attendance for the game and two, because of the ramifications of the contest.
With the win, the Falcons remained unbeaten and improved to 5-0 on the season, which believe it or not, set the record for best start in franchise history. None of that would have been possible without Tony's efforts.
Gonzalez logged a Falcons career-high 13 catches for 123 yards and the incredible touchdown shown above with Pro Bowler Lorenzo Alexander draped over him. But Alexander wasn't the only Pro Bowler Tony got the better of in the game.
Gonzalez also managed to outduel long-term adversary London Fletcher on more than a few occasions. In an interview with Peter King in 2013, Tony went on record to say his battles with Fletcher make up his greatest personal rivalry.
It's safe to say he got the better of that rivalry in 2012.
2. Falcons vs Eagles, Sunday Night Football, September 18, 2011 — Tony's one-handed highlight reel TD spoils Michael Vick's return to Atlanta
In what could have amounted to Mike Vick's homecoming party in Atlanta as the Eagles starting quarterback, the night instead belonged to Tony Gonzalez and the Atlanta Falcons. Atlanta would rally from down 31-21 in the fourth to defeat Philadelphia by a score of 35-21.
But prior to the fourth quarter rally, Tony gave us one of the best catches you'll ever see and one in which he admitted was the greatest in his illustrious 17-year career. Gonzalez would later add another touchdown to open the third quarter as he finished the game with seven catches for 83 yards and the aforementioned two touchdowns.
1. Falcons vs Seahawks, January 13, 2013 — Tony receives his first and only taste of playoff glory
Last but certainly not least, the moment that led Gonzalez to Atlanta in the first place — the postseason. In his 12 years with the Chiefs, Tony only made the postseason three times, coming up empty on each occasion.
He would go on to double his career playoff output during his time in Atlanta. However, up until his sixth and final postseason berth, Gonzalez's teams were a combined 0-5 in January.
Then came 2012 and the divisional round game versus the Seahawks. In the first half, it appeared Gonzalez would cruise to his first postseason victory.
But in typical Falcons fashion, the team surrendered its 20-0 halftime lead only to win in epic fashion with Gonzalez making the play of the game to put the offense in position for the game-winning field goal.
Unfortunately, Tony's magical run would come up "10 yards short" in the next round against San Francisco. But that shouldn't take away from what Gonzalez accomplished in his 17-year career.
He left the game second in receptions (1,325), sixth in receiving yards (15,127), and eighth in receiving touchdowns (111). As far as tight ends are concerned, only Antonio Gates has more touchdowns than Gonzalez as Tony holds the record in the other two categories.
Beyond that, he was a part of the greatest stretch in the Falcons 53-year history, delivering the franchise some of its most iconic moments. He also deserves some credit for the development of Matt Ryan in the franchise quarterback's formative years. For that, we are forever grateful for Tony Gonzalez and fortunate to have witnessed his greatness in a Falcons uniform.
Congratulations to Tony on his induction into the Pro Football Hall of Fame Class of 2019.
Photo By Daniel Shirey-USA TODAY Sports