By Matt Karoly
Julio Jones has dominated the headlines in recent weeks for his absence during the Falcons' offseason program. On Monday, General Manager Thomas Dimitroff issued a statement on behalf of the team to acknowledge Jones's unavailability for mandatory minicamp.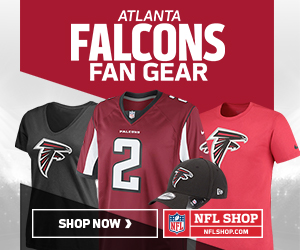 But I'm here to remind everyone, especially the absent-minded fans out there (I'm looking at you, Mike Bell), that none of what happens in May and June matters. What matters is what Julio accomplishes between the white lines on Sundays in the fall and winter.
And if anyone deserves the benefit of the doubt, it's Quintorris Lopez Jones. After all, he's earned that right from us over his seven-year career.
But don't take my word for it. The evidence speaks for itself.
Let's start with Julio's place in Atlanta Falcons history. Through 95 career games, Julio ranks second in the franchise record books for receptions (585) and yards (9,054), trailing only his former teammate Roddy White in both categories (808 and 10,863, respectively, in 171 games).
Julio's 43 touchdown receptions are also not that far behind Roddy's franchise mark of 63. Therefore, if Jones keeps up his current trajectory (six per season), he'll own that record in addition to the reception and yardage records by the 2021 season.
For some, that would be enough to cement a player's worth. However, Julio's value stretches far beyond the city of Atlanta; it permeates through the entire league and its history.
No wide receiver has dominated the game more efficiently than Julio Jones has in his first 95 contests. His yards per route run, yards per game average, and three 250+ yard outings support that conclusion.
Since Pro Football Focus began tracking the stat in 2006, only eight receivers have finished a season with a 3.0 yards per route run average. Julio is the only one to have more than one such campaign; for the record, he has three.
Sound familiar? Well, that's because this isn't the only time we've used those words in reference to Jones. He is also the only player to have three 250+ yard receiving games in league history.
The preceding two stats speak to Julio's efficiency and dominance. But if that's not enough, number 11 has also proven to be extremely consistent as evidenced by the following two records.
Jones currently holds the mark for highest yards per game average in league history with 95.3. In addition, he is one of only two receivers – Marvin Harrison being the other – to post four consecutive 1,400 yard seasons.
Efficient. Dominant. Consistent. Those are just a few of the words to describe the type of player Julio Jones is.
To get the full picture, though, one must see Julio in person to witness all that he brings to the table. With that said, I present to you, with help from my pal Carlton, the ultimate Julio Jones mixtape.
2011: Julio Jones Breaks Out in Indianapolis
After missing the previous two games due to injury, Julio returned in a major way and delivered the break out game of his rookie season. Despite only touching the ball five times (three catches, two runs), Jones made the most of his opportunities, cashing two in for scores including the one pictured above.
To this day, I still don't know how he managed to make this grab, but it was at this very moment I learned to expect the unexpected from number 11.
2012: Julio Jones Was Unstoppable in the NFC Championship Game
If the game versus the Colts was Julio's coming out party, then consider the 2012 NFC Championship Game his coronation as one of the league's next great receivers. Jones was virtually unstoppable in this contest as evidenced by his 11 reception, 182 yard, and 2 TD stat line.
No catch encapsulated that better than the one he had over 49ers cornerback Tarell Brown to give the Falcons a 17-0 lead.
2013: Julio Makes Circus Catch while Breaking his Foot
In 2013, Julio would pick right up where he left off in 2012. However, Jones's torrid five game stretch to start the season – 41 catches, 580 yards, 2 TDs – was eventually cut short in week five when he broke his foot versus the Jets.
But before going on IR for the season, Julio managed to give us this highlight reel grab while breaking said foot. Oh what could've been in 2013.
2014: Julio Roasts One of the Game's Bests
As the great Ric Flair (noted Falcons fan) once said, "to be the man, you got to beat the man." And on this day in 2014, it was Julio Jones who beat "the man," also known as Patrick Peterson.
Jones lit up the All-Pro cornerback to the tune of 10 catches, 189 yards, and this sweet back shoulder TD. If you recall, Peterson did a lot of talking leading up to this match-up; as for Jones, he let his game do the talking for him.
2014: Julio Torches the Packers Secondary on the Frozen Tundra
Fast forward just one week and Julio Jones was at it again, this time on Monday Night Football in Green Bay. After the Falcons got behind 31-7 at the half, Jones did everything in his power to make the game respectable in the second half.
Ultimately, Atlanta lost 43-37 thanks to their 32nd ranked defense, but Julio made his presence felt, establishing a new career high in receiving yards with 259 – the first of his three 250+ yard games.
2015: Julio Jones Spoils the Panthers Undefeated Season
The Falcons did not have much to play for in this week 16 contest. On the flip side, their opponent, the Carolina Panthers, did as they rolled into the Georgia Dome with a 14-0 record.
And had it not been for Julio Jones, they very well could have walked into Super Bowl Sunday a perfect 18-0. Instead, Julio took his game to new heights (literally) as he skied over Luke Kuechly and Kurt Coleman to record the game-winning touchdown and spoil Carolina's undefeated season.
2016: Julio Jones aka Mr. 300
Jones entered the 2016 season with a brand new nickname (Jet Jones); however, on this day, a more appropriate nickname befit Mr. Jones. That's because Julio became the sixth member of the prestigious 300 yard receiving club with his 12 catch, 300 yard performance.
Just when you thought he couldn't top his most recent performance versus Carolina, Julio sets new career highs on his way toward leading the Falcons on a Super Bowl run.
2016: Julio Jones Takes the Falcons (and LaDarius Gunter and Damarious Randall) on a Ride to Super Bowl LI
And speaking of Super Bowl runs, Julio was not about to let his team be denied the second time around. Consider his statistics in two career NFC Championship games.
20 receptions. 362 yards. 4 touchdowns.
That's Jerry Rice-level stuff…except Jerry wishes he could do the things Julio did to Gunter and Randall on this play. It also should be noted Jones did all this with a bunion (bone protrusion) on his big toe.
And people want to question his loyalty to the team?
2016: The Catch That Will Live in Falcons Infamy
A Julio Jones mixtape would not be complete without including the catch that will live forever in Falcons infamy. For reasons we won't get into, this catch did not seal a Super Bowl victory the way it should have, but by golly, find me another receiver that can make this catch.
I'll wait.
2017: Jones and the Falcons' Offense Take Flight vs. Tampa Bay
When the Falcons offense needed a jump start in 2017, who did the team turn to? None other than the incomparable Julio Jones.
Jones answered the challenge by way of a 12 catch, 253 yard, and 2 TD performance against a Buccaneers team that was simply outmatched. Heck, even gravity had no answer for Julio as he suspended himself in mid-air en route to his second touchdown.
As is the case with Matt Ryan, the Falcons have been relevant for the last five to ten years because Julio Jones is on their team. He is the engine that powers Atlanta's high octane offense.
So when Jones "voices" his displeasure regarding his contract, the team is best served to acquiesce. Precedents, such as renegotiating a contract with three years remaining, need not apply to players of his stature.
Because at the end of the day, there's only one Julio Jones and all of Dirty Bird Nation should be extremely fortunate to have him.
Photo by Scott Cunningham/Getty Images