You know how the next two weeks are going to go.
"You know how those Falcons always fold in the playoffs!"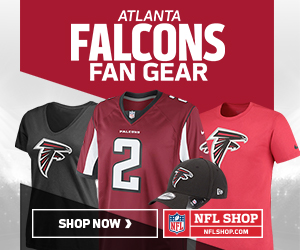 "Matt Ryan? More like Matt Cryin' 'cuz he choked away another playoff game!"
"Wait, the Falcons are in the playoffs? Well, they'll lose early, I bet."
"Wait, Matt Ryan is an MVP candidate? What has he done?"
"What's an Atlanta Falcon?"
Look, we've been here before, and we've had our share of disappointments regarding the p-word: playoffs.
The Atlanta Falcons in the Matt Ryan era are 1-4 in the playoffs: the victory against the Seahawks in 2012's "Saved by Matt Bryant's Beautiful Leg" game, the losses against Arizona, Green Bay, New York and San Francisco in that horrible "10 yards away from a Super Bowl" game that effectively led to the downfall of Mike Smith's tenure as head coach.
2013, 2014 and 2015 led to 4-12 (the season best forgotten), 6-10 (the Carolina smackdown to end the late division push), 8-8 (5-0 to oh no). No playoffs. Lots of heartbreak and headaches, though – we had plenty of that.
2016 started with a bad Buccaneer beat-down – the kind that has you dreading the season ahead. But, in a black hole literally and figuratively, the Falcons found hope. They found a historic offense led by the rightful MVP of the league. They found a young, opportunistic defense housing the NFL sack leader and two defensive rookies of the year candidates. They saw draft picks begin to finally come into their own. They saw good players become great ones. They withstood critical injuries at starting positions. They saw a coaching staff pull the locker room together into a "Brothership."
In short: every worry post-week one dissipated into the Georgia air. Now, the Birds are back in the postseason.
Really, no one could've expected the team to hold the division title and a two-seed in August. Carolina was going to be too tough. New Orleans was still New Orleans. Tampa Bay was on the up-and-up. The "Matt Ryan is the fourth-best QB in the NFC South" days of old.
But, those days are no more. At the helm is Matt Ryan, te rightful heir to the MVP throne. His numbers this year are the best of his career (4,944 yards, 69.9% completions while throwing his least number of passes since 2009, 38 touchdowns, seven interceptions), and he's got the best offensive line and group of weapons in his arsenal since 2012.
Ryan is in the second wave of his career – he's spent 2016 wheeling-and-dealing on some of the league's better defenses (Denver, Carolina, Seattle, Arizona, Tampa Bay), and he's playing at a different level then the team's last post-season berth.
His team is a far-different team than his last playoff crew as well. Only seven players remain on the roster from that run – Ryan, Julio Jones, Jonathan Babineaux, Sean Weatherspoon (on IR but a constant, welcomed presence on the sideline), Matt Bryant, Matt Bosher, Josh Harris).
Outside of the team's two franchise faces, Babs and the special teams unit, these Falcons have never played together in January. They've never gone through a post-season together, let alone a winning season. This is a series of first for this squad, and how they'll fair is an unknown as we await the team's first playoff game of under Dan Quinn's watch.
The factors that plagued the Falcons in their former playoff runs are not the problems of this team. These Falcons don't fall off after a strong first half – quite the opposite, really. They tend to have their strongest play in the third quarter in close games. The pass rush is more alive with this team than it was during the Smith era – OLB Vic Beasley Jr., DE Adrian Clayborn and DE Dwight Freeney give the team a trio of lethal pass rushers. All three have had nicks and bruises over the last two months, but two weeks of rest should leave all three decently prepared to get the job done.
Both this team and the 2012 team had solid secondaries, though rookie strong safety Keanu Neal has shown a knack for covering the tight end – something that plagued that 2012 team when going against Seattle and San Francisco. Top tight ends Jimmy Graham and Jason Witten are possible opponents for the Birds in the playoffs.
The linebacking play is surer with this team, with rookie middle linebacker Deion Jones a threat in the run game, in coverage and as a ballhawk. Weakside rookie LB De'Vondre Campbell also aids in speedy coverage play and against the run.
This offensive line gels better than any since 2012, and the run game is perhaps the most potent in Ryan's tenure as a Falcon. RB Devonta Freeman and Tevin Coleman are both healthy and are ready for January football. They've both been a threat running between the tackles and as a passing option, with both having 50+ yard runs for touchdowns in the last two games. And, of course, the receiving core is as deep as it has been since 2012: Jones, Mohamed Sanu Sr., Taylor Gabriel, Justin Hardy, Aldrick Robinson and Nick Williams make a dangerous wideout group, and TEs Austin Hooper, Levine Toilolo, Joshua Perkins and D.J.Tialavea have all made contributions this season and have scored in the end zone.
But, no team is perfect. See the defense. The team's red zone defense, run defense, coverage of slant routes and knack for letting star tight ends still have big days will have to be tightened up in order to stop the fearsome offenses that lurk in the shadows. Aaron Rodgers, Russell Wilson, Dak Prescott, playoff Eli Manning and Matthew Stafford are all possible opponents and have all found great success in 2016.
Ezekiel Elliott, Odell Beckham Jr., Jordy Nelson, Ty Montgomery, Doug Baldwin and Golden Tate are a few possible offensive threats who could cause problems.
A possible road to Houston could be: home vs. Seattle, away vs. Dallas. Or, home vs. Green Bay, away vs. Dallas. Or, home vs. Seattle, home vs. Green Bay. Or, home vs. Seattle, home vs. New York. All of the scenarios above are dogfights. And, if the Super Bowl is meant to be, New England, Kansas City and Pittsburgh are potential foes standing between Atlanta and the Lombardi.
In short: the Falcons are better than they ever have been in the Matt Ryan era, but it's going to be tough for any team in the playoffs this year on the road for glory.
These Falcons can't let the past dictate their future. The failures of yesteryear don't impact the fortunes of tomorrow. Ryan's mistakes can't be allowed to hold him from future successes. 10 yards away can't stay the story we tell our Falcons-loving grandkids of the Falcons of our era.
The team has been given an extraordinary window in a fascinating NFL year – their draft picks, free agency acquisitions and coaching hires have paid off, and they're once again contending in a season where no one truly knows who will be left standing when it's all said and done.
One thing is for certain: Dan Quinn's Falcons are a different team from the Mike Smith Falcons, and how they'll fare is completely and totally up to them.
It's a grand mystery waiting to be unfolded very soon. Until then, let's hope the team rises up and seizes the moment.
As we learned after the heartbreaking San Francisco NFC Championship loss, you'll never really know how long 10 yards really is, or when you'll be there again.
For more Falcons news and analysis, follow @RiseUpReader on Twitter.