Greetings Rise Up Readers, it is I, Evan Birchfield, here with the first of my Fantasy Football articles in 2018. Following a rather slow offseason, and with the NFL Draft now over, we can look forward to the regular season.
If you recall, last year I would do a weekly article with my projections of how Falcons players would perform for that week. This year I'm going to continue doing the same, with the addition of my projection for the top 10 NFL performers for that week, per position. For this article, I am going to give a top 5 per position (PPR) heading into Training Camp.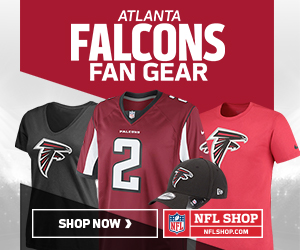 With that being said, let's get started!
NFL Quarterbacks
1.) Aaron Rodgers – GB
Green Bay Packers quarterback Aaron Rodgers had a rough 2017 season, as he missed nine games due to a broken collarbone. Even with such a down season, Rodgers still managed a 16 touchdown, 6 interception season, which was good enough for 29th overall. With the addition of TE Jimmy Graham, who is a huge red zone target, I expect Rodgers to bounce back in 2018.
2.) Carson Wentz – PHI
Carson Wentz may have had to watch his team win the Super Bowl from the sidelines, but he still managed to finish 5th overall for quarterbacks, even though he only played 13 games. If it wasn't for Wentz's knee injury in 2017, he would've finished as the top fantasy football quarterback. The good thing for Wentz is the offense didn't have any big losses this offseason, but they did add two new weapons in WR Mike Wallace and rookie TE Dallas Goedert.
3.) Tom Brady – NE
Age doesn't seem to matter in regards to New England Patriots quarterback Tom Brady, who finished 3rd overall in 2017. I'm not sure that Brady will remain in the top 3 in 2018, but I don't expect him to finish outside of the top 10 quarterbacks. Brady and the Patriots will get back WR Julian Edelman who was out for 2017 with a torn ACL injury, and the selection of RB Sony Michel in the 2018 NFL Draft should help the Patriots develop a run game, opening up the pass. The only concerns I have with Brady, is that he will have two new offensive tackles protecting him, in rookie LT Isiah Wynn and former 49ers RT Trent Brown.
4.) Deshaun Watson – HOU
I must admit; Houston Texans quarterback Deshaun Watson is my under-the-radar quarterback in 2018. Up until his off the field injury in Week 9, Watson was 2nd in points for quarterbacks. The only things that worry me about Watson in 2018 is how he will bounce back from the torn ACL injury, and how he'll do in having three new offensive linemen protecting him. His injury in 2017 may scare off some owners in your 2018 league draft, which could make him a steal in later rounds. With a plethora of receiving options, I'm all in on Watson in 2018.
5.) Russell Wilson – SEA
Even though the Seattle Seahawks refuse to get their quarterback Russell Wilson some offensive line protection, he still managed to finish as the best fantasy quarterback in 2017. The only reason I don't have Wilson higher is the losses of TE Jimmy Graham and the still-questionable offensive line that results in Wilson running for his life. The Seahawks may finally have a reliable run game which could open up the pass, in large part thanks to selecting RB Rashaad Penny in the first round of the 2018 NFL Draft.
[Editor's note: WHERE'S MATT RYAN, EVAN!?!?]
Running Backs
1.) Todd Gurley II – LAR
In 2017, Los Angeles Rams' running back Todd Gurley II finished 2nd overall in rushing yards and reception yards for running backs. Overall, Gurley finished as the top fantasy football running back in 2017 with 383.3 fantasy points. What I like about Gurley in 2018 is not only is he a dual threat running back, but he's not really sharing carries. Gurley is one of the few "Bell Cow" running backs in the NFL, and I expect him to remain at the top in 2018.
2.) Le'Veon Bell – PIT
Taking Pittsburgh Steelers' running back Le'Veon Bell may be the safest pick you can make at running back. In the last four years, Bell has finished as a top-5 running back three times. In 2017, Bell finished third in touchdowns and yardage by a running back. Gurley and Bell are more 1A and 1B in my opinion.
3.) David Johnson – AZ
There's not much to say about Arizona Cardinals running back David Johnson in 2017, as he missed most of the season with a wrist injury. Now that he is healthy again, his fantasy owners will be hoping that Johnson can return to his 2016 form, where he finished as the top fantasy football running back. With a new quarterback in 2018, I expect he'll get enough carries to return to his 2016 form.
4.) Ezekiel Elliott – DAL
Dallas Cowboys running back Ezekiel Elliot has performed as a top running back since his first season in 2016. Zeke's 2017 season has slowed by a 6-game suspension, and he still managed to finish 10th in rushing yards, and 11th in rushing touchdowns. With Dak losing some of his offensive targets this season, the Cowboys will likely rely on Zeke even more in 2018.
5.) Alvin Kamara – NO
If you're playing in a PPR league, Alvin Kamara is likely to be off the board early. The New Orleans Saints running back finished 2017 as the 3rd best fantasy football running back, where he had the 2nd most receiving touchdowns by a running back. The 4-game suspension for RB Mark Ingram will only help benefit Kamara in 2018.
[Editor's note: A SAINT!?!?!]
 Wide Receivers
1.) Antonio Brown – PIT
There may not be a more reliable wide receiver in the NFL than Pittsburgh Steelers' Antonio Brown. Brown has finished as the top fantasy wide receiver every year, since 2014. There's not much more to add, just draft him.
2.) DeAndre Hopkins – HOU
Houston Texans WR DeAndre Hopkins finished 2017 with the most targets and touchdowns by a wide receiver. In the past, fantasy owners had to be cautious about taking Hopkins because of the Texans quarterback situation. As long as QB Deshaun Watson is healthy, you may see leagues where Hopkins is the first wide receiver off the board.
3.) Michael Thomas – NO
New Orleans Saints wide receiver Michael Thomas may not be a big name, but in the fantasy football world he has been reliable. Thomas has finished as a top 7 fantasy wide receiver in each of the last two seasons. He finished 2017 with the 3rd most receptions, and the 6th most receiving yards. As the primary receiving target for QB Drew Brees, 2018 could be Thomas' breakout season.
4.) Odell Beckham Jr. – NYG
After missing a majority of the 2017 season with injury, New York Giants wide receiver Odell Beckham Jr. should return to being a dominant fantasy WR option in 2018. While there were rumors lingering that Odell could be traded or holdout for a new deal, his presence at offseason workouts is a good sign for his season's outlook.
5.) Julio Jones – ATL
Atlanta Falcons wide receiver Julio Jones should be much higher on this list. The problem is, he only had 3 touchdowns in 2017. Although not entirely his fault, fantasy owners will likely be hesitant to take Julio above some of the other names listed, due to the lack of receiving touchdowns. As someone who finished 2nd in receiving yards and 9th in receptions, Julio remains an elite WR who will hopefully score more touchdowns in 2018.
[Editor's note: JUUULLLIIIOOOOOOOOOOOOOOO]
Tight Ends
1.) Travis Kelce – KC
Kansas City Chiefs' tight end Travis Kelce had a fantastic 2017 fantasy season, finishing as the top fantasy tight end by a wide margin. Kelce should legitimately challenge Rob Gronkowski to be the first tight end selected in 2018 fantasy drafts. The only question is how the Chiefs new starting quarterback Patrick Mahomes will influence Kelce's fantasy numbers this season.
2.) Rob Gronkowski – NE
If you miss out on drafting Travis Kelce, you're basically getting a 1B in New England Patriots tight end Rob Gronkowski. When Gronk plays, fantasy owners know they are going to benefit off his production. The issue is, will he stay healthy? Gronk hasn't played a full season since 2011.
3.) Zach Ertz – PHI
Philadelphia Eagles' tight end Zach Ertz had a huge 2017 season, which should carry into 2018. Ertz finished with the 3rd-most touchdowns and receptions by a tight end in 2017. With the core of the Eagles offense still intact, expect another excellent year from Ertz this upcoming season.
4.) Evan Engram – NYG
If there was one positive for the New York Giants in 2017, it was tight end Evan Engram. Aside from having an excellent first name, Engram finished his rookie season with the 5th most receiving yards, and 7th most touchdowns by a tight end. Given the Giants offense improves, Engram should finish again as a top 5 tight end in 2018.
5.) Jimmy Graham – GB
At this point in the tight end ranking, it's basically a toss-up. I went Jimmy Graham solely because of logic. As a Seahawk in 2017, Graham finished with the most touchdowns by a tight end with 10. Now with the Green Bay Packers in 2018, Graham should be looked at often by QB Aaron Rodgers
Kickers
1.) Greg Zuerlein – LAR
2.) Matt Bryant – ATL
3.) Justin Tucker – BAL
4.) Stephen Gostkowski – NE
5.) Jake Elliott – PHI
Defense
1.) Los Angeles Rams
2.) Jacksonville Jaguars
3.) Minnesota Vikings
4.) Philadelphia Eagles
5.) Houston Texans
So that's it on my probably, way-too-early 2018 fantasy football rankings. As we get closer to draft season, I'll be sure to post more specific articles, focusing on particular positions. As always, you can find me on Twitter at @EvanBirchfield.