Hi.
We haven't chatted since, well, y'know.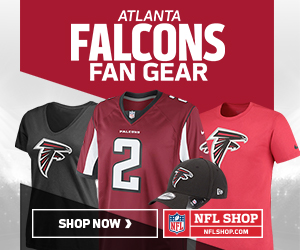 Look, I'm not going to sugar coat it for you. We lost the Super Bowl in heartbreaking fashion, and there ain't no fixing it. It's over, done, kaput.
But, as badly as Sunday's flap burns a hole in our red and black hearts, the future is incredibly bright for this organization. And, that's not a vapid attempt at blatant optimism – there are bountiful reasons to be excited about the future of this franchise. Seriously! We're not lying! You can stop crying now!
The wound of Super Bowl 51 is going to take some time to heal, but the loss isn't a slammed door, it's a minor setback to a major step forward for the team. No one expected this Falcons group to nearly claim a Lombardi, and it's not wrong at all to think this team, with another draft class and free agency haul, can be even better than its 2016 counterpart. Again, not trying to emptily make you feel better here – just happily stating the facts.
So, here are three reasons why you should hold your head high, Falcons brethren. And no, as many times as you wish for them to run the ball, it's not going to happen. It's over. Step away from NFL Game Pass. Rewinding doesn't help. It's over.
The team's Recent Penchant for Bringing in Top-Flight Talent Isn't Going to Disappear
This is the obvious one. The Atlanta Falcons have become somewhat of draft aficionados under the Dan Quinn regime. The 2015 and 2016 classes have both been stellar, producing guys like Vic Beasley Jr., Jalen Collins, Tevin Coleman, Justin Hardy, Grady Jarrett, Akeem King, Terron Ward, Keanu Neal, Deion Jones, Austin Hooper, De'Vondre Campbell, Wes Schweitzer, Devin Fuller, Brian Poole, Joshua Perkins and Sharrod Neasman.
I can't impress on you how rare that is to get that many contributors in two draft classes. Just imagine what Quinn and company can do with another.
And, look at the free agents/trades/wavier pickups we've added in recent memory: Alex Mack, Mohamed Sanu Sr., Taylor Gabriel, Andy Levitre, Jacob Tamme, Derrick Shelby, Adrain Clayborn, Brooks Reed, Ben Garland, Courtney Upshaw, Dwight Freeney, Aldrick Robinson, C.J. Goodwin, LaRoy Reynolds, Philip Wheeler, Sean Weatherspoon, Joe Vellano, Nick Williams, Deji Olatoye and D.J. Tialavea.
They did that in *two seasons,* and in season two, fielded a team that went to a Super Bowl.
It helps that the strong core of Matt Ryan, Julio Jones, Devonta Freeman, Desmond Trufant, Robert Alford and Jonathan Babineaux was here before the new crew arrived, but man oh man, this roster went from shambles to strength in a really quick amount of time. How? Keyed-in drafting and smart free agent pickups. So, 2017 is a chance to restock and reload. The first two rounds have been pretty encouraging.
The team has plenty of cap to work with to extend guys and sign new ones, and the brain trust is still in place to get the team important pieces on both sides of the ball.
The roster today is good enough to make the playoffs again. Another offseason of talent infusion, and this team could enter perennial contender status.
The Coaching Staff Will Have Fresh Blood
With OC Kyle Shanahan and a handful of his assistants headed to the Bay Area and DC Richard Smith's departure from his position and his status with the team in flux, we know the coaching staff is going to have a fresher look than expected come fall.
Shanahan was replaced by former Washington head coach Steve Sarkisian, who will hire a new quarterbacks coach and saw Keith Carter promoted to running backs coach (vet Bobby Turner headed to San Fran with Shanny). The only returning coaches on offense at the moment are OL coach Chris Morgan, TEs coach Wade Harmon and
On defense, there is no defensive coordinator hired as of press time, though DBs coach Marquand Manuel is the favorite for the job, with Defensive Passing Game Coordinator Jerome Henderson and LBs Jeff Ulbrich also in the mix for the job. If one of them gets bumped up, they'll need a replacement. Henderson is also on San Francisco's radar for their vacant defensive coordinator position.
So, there will be fresh voices in the coaching room, which may seem daunting to the idea of a Super Bowl return in 2017, but actually, fresh opinions can allow for new growth and new fixes for old problems.
The Falcons, under Sarkisian, may not be the explosive unit they were in 2016, but with growth on the defense, they won't need to be. The Falcons found success simply outscoring teams in 2016, but when they fell short of scoring 30 points, they only won once (at Denver). This should be a focus for the new coaching staff, and perhaps fresh voices in new positions, particularly on the defensive side, can help craft a more balanced team that won't require a 30+ performance from the offense every week to maintain victories.
On defense, Dan Quinn will more than likely be still calling plays in 2017, and a fresh face at the top of the defense could continue its improvement.
The Schedule Isn't Horrible at First Glance
The Falcons' schedule in 2016 was a raging gauntlet of pain and misery, yet they pulled a Super Bowl berth out of it. Go figure.
In 2017, it's less bad, not easy, but less bad.
The team is playing a first place schedule, which means rematches with Green Bay (home) and Seattle (away) are in the cards. They also get Dallas (thankfully at home) and still have to contend with the rest of the NFC South, where Tampa Bay is rising, Carolina is eager for a comeback and New Orleans still has Drew Brees and Sean Peyton, along with a handful of dangerous offensive weapons.
But, after that, it's really not *that* bad.
They'll get the Bills, Dolphins and Vikings at home – all very winnable games – with road trips to New England, Detroit, Chicago and New Jersey (to take on the Jets) in the works.
It's very likely they can get the trip up to Foxboro out of the way first to start the season in a Super Bowl rematch, and while that game certainly won't be easy, they'll have added motivation to avenge their big game loss. The road schedule, sans Seattle, isn't as daunting as it was this year, and the home games are all certainly winnable.
Really, the Falcons will have a fighting chance in every game they play this season, and stand to win a good bunch of them.
It's never easy to win a football game in the NFL, but with the schedule a bit lighter in 2017, it's reasonable to think the team could go anywhere from 10-6 to 13-3. A losing season would be a major shock. Barring major injury, January football is very much something to look ahead to.
I was originally going to do five reasons, but these three reasons pretty much encompass why brighter days are over yonder for the Dirty Birds.
As Rafiki says, the past is in the past. We can't change what happened in the Super Bowl, as bad as it stings and as bad as we wish we could. Learn from it and move on.
Look at the 2013 Broncos — they were an offensive juggernaut with a fine-enough defense, went against a strong defense and got embarrassed on the world stage. Then, two years later, they came back with a monstrous defense and a fine-enough offense and won the Lombardi.
And, lest I remind you what happened the last time a Dan Quinn team lost in the playoffs in heartbreaking fashion? 2012 (we beat them). The Seahawks won the big one the next year.
It's possible, folks, as long as the team pushes to get better.
We're 10 times better off than most NFL teams – we have a strong, young core that can only be built on. Shanahan's departure will be filled in by personnel and the decision by Sarkisian to maintain Shanny's system. All systems go.
So, y'know, we're going to be okay. We didn't win the Super Bowl this time around (*sniffles*), but all indicators point to us making another run for one in 2017.
Photo from AtlantaFalcons.com