Flash-forward with me to February 2018.
It's Super Bowl Sunday. Your friends are coming over for the big game, you've got the pre-shows on while vacuuming the living room. Pizzas will be arriving soon. Kickoff's in a little bit.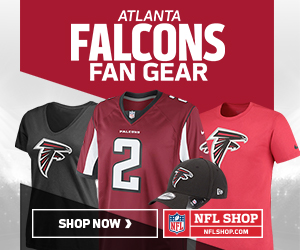 Who's playing?
Of course the Patriots. Bleh, forget those guys. They're here every year. Went 13-3 in the regular season, Belichick never sounded happy about it, waltzed through the playoffs (well, the Steelers gave them a run for their money in the AFC Championship, but of course, Brady weapon number 145 came down with that one catch they won't stop playing on ESPN).
The other team?
The Atlant…wait, no, no. That was last year.
This year, it's the New York Giants. They pulled their typical "get a wild card spot and bounce everyone in your way in the NFC playoffs" thing. That defense is stout. The Falcons? They had a great year. Top seed in the NFC. 12-4! But, y'know, the divisional game against the G-Men was close as can be.
But of course, OBJ had that incredible haul in on third and long that set the Giants up for the game-winning field goal. It would have helped if the Falcons had been able to get in field goal range the drive before, but gracious, that Giants defense was a clamp. Even in the new stadium!
Oh well. C'est la vie. Always next year, right?
Ok, ok, ok, breathe. I don't possess the ability to see into the future. I'm not even that great of a guesser. But, you know this could happen, right?
Maybe not like that above. Maybe it's in the NFC Championship, where the Birds have to go up to Lambeau for Rodgers' Reckoning of Revenge. Maybe they get back to the big game, only to lose to the AFC team at the last minute. Maybe they don't even make the playoffs.
Hey, maybe they win the whole thing! The Warriors did it after their humiliating collapse. Nobody makes 3-1 jokes anymore! I could go without a few 28-3 jokes myself. Like, none anymore. That would be good.
With the new season looming, it's time to deal with the word of the day: expectations. Right now, you know where they are. I know where they are. Dan Quinn knows. Matt Ryan knows. Julio, Turbo, Vic, Tru, Rocky and Takk know. Freddie Falcon knows. Uncle Arthur knows. The dude dispensing the cheap soda at Mercedes Benz Stadium knows.
If the Falcons don't avenge their 2017 Super Bowl loss, it'll widely be considered a disappointing season.
Let's just get it out there – we expect a ring. We got hosed; the dreams of Lombardi snatched from us unceremoniously by the greatest quarterback/head coach combo of all time. It blows chunks all over the cloth backseat of the car not to be able to win the Super Bowl – particularly to lose it in such a way that inspires your rivals to meme the stuffing out of your Twitter feed (yes! 28-3! Funny haha! You are a clever one! Funny LOL!)
Sadly, the scars of February aren't coming off anytime soon. The only balm for the burn is winning in February. That's the only way. But, it might not happen.
My fear of the Falcons' future in a post-28-3 world doesn't come with a Super Bowl slump. No, no, this team is very good – top-to-bottom. Young, hungry, talented. Not much turnover from the 2016 roster, and more experience for all the key players – particularly on the big stage.
I don't fear a big collapse – I fear a small one.
It's the moment of brief timidity in a close game – one where the team begins to get nervous about getting out of Dodge with the win. It's when caution ends up being the millimeter difference between victory and defeat, and we're on the bad side of it because "look at what happened last time!"
The worst thing the Falcons could do in 2017 is get antsy when it's close, and they've got the lead – to play scared in brief moments. The looming phantom of February will be there at every step, whether we want to admit it or not. Quinn is the fiery, beloved motivator and team culture captain who can sustain a blissful career as a head coach in Atlanta. He's on track to be the best one.
But, in order for he, his coaching staff and his roster to slap a red-and-black diamond-studded ring on their finger next spring, they've got to get past the Super Bowl when it matters – when it gets close, and they've got the opportunity to screw up again. That's the test. That's the final challenge.
What will you do when you have the distinct opportunity to make the same mistake?
The Falcons' mantra is "fast and physical." They want to be rabid dogs, but that committal to attack in all moments probably cost them the Super Bowl. Now, it's not *all* that – the defense collapsed like a toothpick Eiffel Tower when Brady starting getting hot. They didn't have to blow the lead. The offense had also gotten stagnant in the second half – they had done enough not to outright blow the game until that fateful drive, but they weren't doing themselves any favors. Tevin Coleman going out also dealt a blow to the creativity of the offense. It just wasn't one thing. They know that.
But, it'll be that one drive that haunts them. It'll be that one drive that gets the foreheads and palms sweaty when the pressure gets tight in a playoff game next year. The right way to handle it is to stick to the plan. Don't get scared – keep your eyes on the prize, and don't let caution be the lead weight that sinks the S.S. Dirty Bird.
But didn't sticking to the plan cost us a ring? In a way, sure. Situational football is smart until it isn't. It's tremendously safer, but it's not full-proof. The Falcons learned a heck of a lesson that night – don't let team mentality dictate decisions when common sense should. Duly noted. But, attacking is what got them there, right? Well, kind of. It's about balance — knowing when to bite and when to bark.
When it's time to attack, attack. Don't play scared with the lead. Mike Smith made a career of doing just that in big games, and look how it turned out for his squads. All love to Smitty, but you want to know why the Falcons didn't go to the Super Bowl in 2012? They pulled the opposite Shanahan. They got soft when they should have stayed firm. And it cost them.
Quinn is the exact opposite. He's going to charge his troops until the enemy is completely gone-zo. But, when that goes a hair too far, you get February. You get sent home with the metaphorical silver medal. You get a foot to the face.
For the Falcons to reclaim the victory that was all but theirs, they're going to have to win the little moments – the biggest battles for a team that blew a Super Bowl in little moments. Little brush strokes that paint the big picture.
They need to keep attacking – never getting soft – but also, they need to be mindful that sometimes, you've got to coast to get over the hump. That's not an easy distinction, but it'll be the kind of decision made to decide how 2017 goes, more than likely. If the Falcons can overcome the little details, they can sure get back to the Super Bowl and clean up the mess they left behind the last time they were there.
With this staff and roster, I've got all the faith in the world.
But, they might not. History isn't on their side, nor is an improving NFC South and NFC in general.
This is where we come in – the fans.
How are we going to take this season? Are we going to sit with baited breath, chalking off each potential victory as a mere step toward the Super Bowl? Each exciting touchdown, each big sack-fumble on defense, each game-winning field goal as nothing more than another notch in the bedpost until we reach the top? All the excitement just raising us higher to the inevitable end?
Quinn's mentality for his guys is to focus on the now. Win the division. Then, worry about what comes after. They take it a game at a time instead of trying to chew on too much at once. When you eat, it's best not to rush through your meal. When you do that, you could choke at worst. At best, you won't enjoy your food. You'll get your nutrients and survive, but you won't enjoy the flavor. Savor the bites of the food you love. Because, no matter how good or bad the meal is, when it's gone, it's gone.
The only way to get it back is to regurgitate what was once there – to puke up the past and try to recreate what's impossible to recreate.
So, fans, for us. Let's just enjoy the moment. Reset. Win the first game against the Bears, celebrate it, and go into week two. How 'bout it?
The fun realization is that we've re-entered having a good team after three years of not having a good team. Actually, for the first time in forever, we've got a great team. Maybe even the best team in the NFC. Heck, if the Patriots step back, maybe the NFL. Enjoy that.
Quinn and Thomas Dimitroff have assembled some Monstars, and some skilled ones at that. But, with contracts expiring, players always getting older and injuries always lurking, that could change one day. It might not be tomorrow, or next season, or five season from now, but one day, this roster won't be what it is now. We'll go back to a period of lean. Don't make every season without a Super Bowl a lost one, particularly with this team.
Yes, February is still there. It won't go away. For all we know, we could only have a fall and a winter to dwell in the stink of last season before having it washed away with a Super Bowl win. For all we know, the team could have two or three more years before getting back and winning it. For all we know, they might get one or two more shots, and won't finish the deal. For all we know, they may never be back.
One thing I do know is that, in about a month or so, the Falcons will be in Chicago, playing the Bears, trying once again to climb up that ladder we've never seemingly been able to get to the top of. Sure, they'll talk about the big game on the broadcast, but I'll still have fun. Hey, maybe I won't even think about the playoffs just yet. Or even the October slate. The Bears aren't bad, you know.
Hey, look at Beasley go!
Eat Free!
And Takk's out there – not looking bad!
Oh, Julio, what a catch!
Matt's got it going again, you can tell!
Not bad protection from the o-line at all – Chicago's defensive front seven is nothing to sniff at.
Oh gracious, Trufant nearly had that pick.
Oh, will they stop talking about the Super Bowl already, it's like…TOUCHDOWN! SANUUUU!
Did you see that? He completely got free from the coverage – Sark's calling a nice game so far!
Good win, good win.
Who do we play next week again?
As it should be.
Photo from Sports Illustrated