Can we get a Christmas do-over? Falcon fans awoke Christmas morning, digging out from the wrapping, and dirty dishes. The feeling of emptiness set in. But, fear not, Falcon fans.
No need to wait a year for that playoff spot we had hoped to find under the Christmas tree. We only have to wait a little while longer!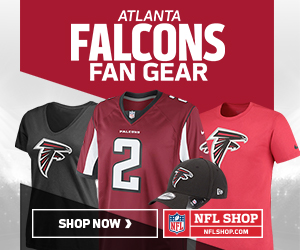 It's back on! There's another party invite that just arrived in the mail. On New Year's Eve, no less. Time to find your Sunday best. What better way to celebrate the end of this regular season than with one final home game under the bright lights for a chance to go to the playoffs? What a way to start off the New Year! Get your party hats on! Horns and noisemakers welcome. Get ready to go, because the Falcons have been given one more chance.
Now, some Falcons fans may be sitting back, getting ready for the New Year feeling of "fool me once, shame on me, fool me twice (O.K., more than twice), shame on you." But let me try to convince you to wipe those bad thoughts away. Why not start the new year on an upswing? There's enough negativity to go around for miles.
So, let's get going with that new exercise plan, and eating better. Stop procrastinating. Improve your mental skills. Take some chances. Meet new people. Dare I say, strive for greatness!
I believe some of the things that Falcon fans will do to improve themselves going into the new year, we can ask the same of our Falcons.
Eating better – this goes straight to the Falcons offense. Matt Ryan and company haven't lived up to the lofty offensive expectations. Scoring seemed a formality during last season. Improved play calling, and flow is desperately needed.
Stop procrastinating – It's week 17. If not now, then when?
Improve your mental skills – Let's eliminate the fumbles. No more dropped passes. No more penalties. No more unforced errors.
Take some chances – Throw the deep ball. Jump the out route for an interception. Blitz. Force turnovers.
Meet new people – Hello LA Rams, we're the Atlanta Falcons. Yes, we're a little shy. Hello Philadelphia Eagles. Yes, you're right, it's chilly in Philly this time of year. So nice of you to invite us over for some hot cocoa.
Strive for greatness – Shoot for the stars! All in! Why not get to the postseason, and make another run? The NFC has been wide open all year long.
One other small ask I'd like to not ignore. Can we hold NFL referees to the same standard? Is that too much to ask? A new year is upon us. What is a catch? What is a penalty? What is a touchdown?
As a certain running back sat beneath the pile after being tackled. "Let me move this foot off me." "Fifteen yard penalty for unnecessary roughness!" What???? Flying by the seat of your pants in an understatement. The officiating was horrid in week 16 for the Falcons/Saints tilt. But as bad as it was, the Falcons have to focus on what they can control. Get that self improvement plan going, and all will be right in the world. Baby steps.
The Falcons have been needing to clean things up all season. Their Christmas do-over has arrived. Get it going, or go home. There are no more excuses, but there will also be no need to apologize for making the postseason.
All any team would ask at season's end is to have the ability to win a home game in the final game of the regular season to get in. It's right there for the taking; it's time to stop giving! No more penalties, no more dropped passes, no more fumbles. We've heard this swan song before. So, just as you change the station from Christmas music that we've endured for the last few weeks leading up to the holidays, let's change the station on inconsistency. How about some hip-hop? A little R&B? That's more Atlanta's style. Things are returning to normal. I feel so much better. This is how we start the new year!