By Matt Karoly
*jukebox begins to play*
It's just another Mattlanta Monday. I wish it was Falcons Sunday. 'Cause that's my fun day. My I don't have to run day. It's just another Mattlanta Monday.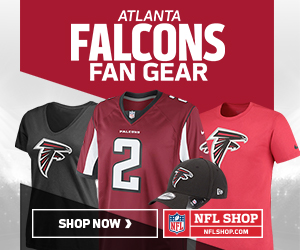 Greetings, Falcons fans near and far! I am back for another installment of the Mattlanta Monday Mailbag where I answer your Atlanta Falcons questions and even answer a few of my own that I've thrown out to the Falcons Twitter-verse.
If you missed volume one of my new column, you can read it here. We've got a great Q&A for you this month, so let's get right to it.
Question #1: Will Matt Ryan be inducted into the Hall of the Fame?
@mattkaroly you think matt Ryan will be in the hall of fame one day?

— tae (@taeman27) August 3, 2018
To answer this question, we must first know what quarterbacks are already enshrined in the Pro Football Hall of Fame and, secondly, breakdown what each enshrinee has in common. In other words, what does the voting committee look for in their quarterback candidates?
Presently, there are 28 quarterbacks that have been inducted into the Hall of Fame. They are the following:
Sammy Baugh (playing career: 1937-1952; year enshrined: 1963) – 1937, 1942 NFL Champion
Bob Waterfield (1945-1952; 1965) – 1945, 1951 NFL Champion
Sid Luckman (1939-1950; 1965) – 1940-1941, 1943, 1946 NFL Champion
Otto Graham (1946-1955; 1965) – 1950, 1954-1955 NFL Champion
Bobby Layne (1948-1962; 1967) – 1952-1953, 1957 NFL Champion
Norm Van Brocklin (1949-1960; 1971) – 1951, 1960 NFL Champion
Y.A. Tittle (1948-1964; 1971)
Bart Starr (1956-1971; 1977) – 1966-1967 Super Bowl Champion
Johnny Unitas (1956-1973; 1979) – 1970 Super Bowl Champion; 1958-1959, 1968 NFL Champion
George Blanda (1949-1975; 1981) – 1960, 1961, 1967 AFL Champion
Sonny Jurgensen (1957-1974; 1983) – 1960 NFL Champion
Roger Staubauch (1969-1979; 1985) – 1971, 1977 Super Bowl Champion
Joe Namath (1965-1977; 1985) – 1968 Super Bowl Champion
Fran Tarkenton (1961-1978; 1986)
Len Dawson (1957-1975; 1987) – 1969 Super Bowl Champion
Terry Bradshaw (1970-1983; 1989) – 1974-1975, 1978-1979 Super Bowl Champion
Bob Griese (1967-1980; 1990) – 1972-1973 Super Bowl Champion
Dan Fouts (1973-1987; 1993)
Joe Montana (1979-1994; 2000) – 1981, 1984, 1988-1989 Super Bowl Champion
Jim Kelly (1986-1996; 2002)
John Elway (1983-1998; 2004) – 1997-1998 Super Bowl Champion
Steve Young (1985-1999; 2005) – 1988-1989 (backup QB), 1994 Super Bowl Champion
Dan Marino (1983-1999; 2005)
Warren Moon (1984-2000; 2006)
Troy Aikman (1989-2000; 2006) – 1992, 1993, 1995 Super Bowl Champion
Ken Stabler (1970-1984; 2016) – 1976 Super Bowl Champion
Brett Favre (1991-2010; 2016) – 1996 Super Bowl Champion
Kurt Warner (1998-2009; 2017) – 1999 Super Bowl Champion
As you can see, in most cases, one of the prerequisites for Canton is an AFL, NFL, or Super Bowl title next to one's name. The only Hall of Fame quarterbacks without a ring are Y.A. Tittle, Fran Tarkenton, Dan Fouts, Jim Kelly, Dan Marino, and Warren Moon.
But in each of their cases, they had other accomplishments that allowed them to stand out from their peers. Here are the notable accolades for the six ring-less Hall of Fame quarterbacks:
Y.A. Tittle – NFL record for most passing touchdowns in a game (seven); 7x Pro Bowler; 4x First-team All-Pro; 1963 AP NFL MVP
Fran Tarkenton – 9x Pro Bowler; 1x First-team All-Pro; 1x Second-team All-Pro; 1975 AP NFL MVP
Dan Fouts – 6x Pro Bowler; 2x First-team All-Pro; 2x Second-team All-Pro; 1982 PFWA NFL MVP (side note: Redskins kicker Mark Moseley won the AP NFL MVP award in 1982…the 80s were a weird time)
Jim Kelly – 5x Pro Bowler; 1x First-team All-Pro; 2x Second-team All-Pro; 4 straight AFC titles
Dan Marino – 9x Pro Bowler; 3x First-team All-Pro; 4x Second-time All-Pro; 1984 AP NFL MVP; 1983 NFL Offensive Rookie of the Year
Warren Moon – 9x Pro Bowler; 1x First-team All-Pro
Here is how Matt Ryan's resume compares through 10 seasons:
Matt Ryan – 4x Pro Bowler; 1x First-team All-Pro; 2016 AP NFL MVP; 2008 NFL Offensive Rookie of the Year
Based on this data, five Pro Bowl nominations and at least one first-team All-Pro selection appear to be the magic ingredients in solidifying one's case on the ballot. Say what you will about Pro Bowls, but they matter in the grand scheme of things. And as it stands now, Matt Ryan is one shy of joining this exclusive fraternity.
Statistically speaking, I don't believe Ryan will have any problems checking the necessary boxes. Marino (61,361), Moon (49,325), Tarkenton (47,003), and Fouts (43,040) currently have more passing yards than Ryan's 41,796 and Matt also trails Marino (420), Tarkenton (342), and Moon (291) in terms of touchdown passes (260).
However, even the most modest of projections for Ryan's remaining years should vault Matty Ice ahead of all the ring-less quarterbacks in those categories except for potentially Marino, with Marino's touchdown mark being the one that may be out of reach.
What was once a foregone conclusion that only a Super Bowl title could deliver Matt Ryan a gold jacket, this exercise has proven that not to be the case. Simply put, if Ryan maintains his consistent level of play, history says a Hall of Fame speech is in his future.
Question #2: How big of a role does Greg Knapp have in the offense?
@mattkaroly how big of role does greg Knapp have in the offense..

— tae (@taeman27) August 8, 2018
Admittedly, 2017 was one of Matt Ryan's worst years from a statistical standpoint. He had his lowest completion percentage since 2011, his lowest yardage total since 2010, and fewest touchdown passes since his rookie year.
As we know, the numbers don't tell the full story of what Ryan and the Falcons underwent last year. Breaking in a new offensive staff is never easy. When that offensive staff has a rookie play caller and rookie QB coach, it's even more difficult.
Fortunately, the University of Washington provided the saving grace the team needed when they plucked QB coach Bush Hamdan away. Enter Greg Knapp.
I've said it before and I'll say it again, Knapp represents the biggest acquisition for the Falcons this offseason. Why do I say that with such confidence?
My team's biggest offseason addition was a coach (Greg Knapp). https://t.co/q1ZfYofpBs

— Matt Karoly (@mattkaroly) July 25, 2018
It's because, aside from Kyle Shanahan walking through that door again, there's not a coach available right now that's a better fit for this offense than Knapp.
Some may recall that this isn't Knapp's first go-around with the Falcons. His first stay came in 2004-2006 as the team's offensive coordinator, where he helped guide Atlanta to three straight rushing championships.
It was also then when Knapp worked with Alex Gibbs for the first time. Gibbs, the godfather of the zone blocking scheme, helped popularize the scheme the Falcons use today with Mike Shanahan in Denver in the mid-90s.
So it's worth repeating; no one without the last name Shanahan is more equipped to teach this offense than Knapp. And that's exactly how we should view him in this situation as the Falcons' quarterback coach: as a teacher and mentor.
Much to the chagrin of some, Steve Sarkisian will continue to call plays for the Falcons in 2018. The only difference is he now has the luxury of an experienced mind who knows the system like the back of his hand to bounce ideas off of. He didn't have that last year with Hamdan.
Knapp will be in all game planning meetings and as the quarterbacks coach, he'll be the eyes of Sarkisian and the ears of Ryan, breaking down coverages and getting to know the likes and dislikes of the quarterback. Expect the Falcons to be much better at in-game adjustments with Knapp on board.
As the old saying goes, two heads are better than one.
Question #3: Should the Falcons run more 3-4 on defense?
It is. I think I'll write about this in more detail in my next mailbag piece. https://t.co/u3s2QkInuA

— Matt Karoly (@mattkaroly) August 13, 2018
Before we begin, a little backstory on the 4-3 under defense is necessary. The defense rose to prominence in the late 70s at the University of Arkansas under famed defensive coordinator Monte Kiffin.
At Arkansas, there was a young coach serving as a graduate assistant by the name of Pete Carroll. It was there that Carroll developed an affinity for the scheme and learned everything about it.
Fast forward nearly forty years and the 4-3 under delivered a Super Bowl title to the Seattle Seahawks. The hope now is it'll do the same for the Atlanta Falcons.
So, what makes the scheme so special? The Ringer's Danny Kelly (formerly of SB Nation's Field Gulls) said it best:
The 4-3 Under, in its simplest terms, is a gap control system meant to stop the run and to pressure the passer. For the most part, each lineman and linebacker is responsible for one gap – this makes each player's responsibility fairly cut and dry and eliminates a lot of reads and thinking from the game.
The last part of that excerpt is especially critical — [it] eliminates a lot of reads and thinking from the game. This is the spark behind Dan Quinn's affection for drafting great athletes.
The thought process is if a great athlete is allowed to showcase his full range of athleticism by virtue of a simplified scheme, then good things are going to happen for that player and team (think Deion Jones every time he plays the Saints).
Now I know what you're thinking.
If the scheme is so great, why would we want to mess with it by experimenting with more 3-4 looks? Well, because at its core, the 4-3 under is just an inverted 3-4 defense. Consider the defense's alignment on the field:
If the SL (SAM Linebacker) moved a yard closer to the line of scrimmage, which in a lot of cases we've seen from the Falcons, what separates this from being a 3-4 defense? Answer…not much.
Essentially, the Falcons would be asking De'Vondre Campbell to rush the passer more in these hypothesized 3-4 looks, which is what they've said they wanted to do anyways. And quite frankly, I think they have to do that if they want to manufacture a consistent pass rush this year.
For some teams, committing five players to the rush could be seen as a liability, but not the Falcons; not with their litany of coverage options—the key cog of it all being Deion Jones.
Jones's speed in the heart of the zone allows the Falcons the luxury of sending Campbell loose. Factor in Desmond Trufant, Robert Alford, Keanu Neal, Ricardo Allen, Brian Poole, and now the emergence of Damontae Kazee, and Atlanta will be just fine locking down the back end while Grady Jarrett, Vic Beasley, Takk McKinley, Jack Crawford, and De'Vondre Campbell go hunt the quarterback.
This is something the Falcons have experimented with during the preseason and parts of last regular season. One can only hope it becomes a bigger part of their repertoire moving forward.
Photo By Getty Images