By Matt Karoly
It's just another Mattlanta Monday. I wish it was Falcons Sunday. 'Cause that's my fun day. My I don't have to run day. It's just another Mattlanta Monday.
Thank you to "The Bangles" for providing that wonderful intro and thank you to the fans for your participation in what will become my new column of the 2018 NFL season.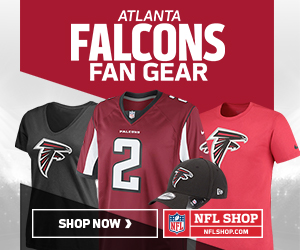 Simply put, this column will serve as your sounding board on the Rise Up Reader platform to have your questions heard and answered. Now I may not get to all of your questions on here, but fear not, because there is another vehicle where that can occur; that being the Rise Up Reader podcast.
With that said, be sure you are tuning in to every episode and don't forget to hit the subscribe button; that's important. It is there where our team of podcasters will also have the chance to answer your questions and give a fuller, more long-winded response.
For now, though, I'll do my best to answer your very best on anything and everything Atlanta Falcons related. So, without further ado, let's get to this month's Mattlanta Monday Mailbag questions.
Question #1: Will Julio Jones be there for the beginning of training camp?
Will Julio be there in the beginning of training camp?

— Justin Brian (@Jus10bdmd) July 9, 2018
This is a question I know has been on the minds of many Falcons fans, myself included, since mini-camp concluded in mid-June. In case you've been living under a rock, Julio Jones has opted not to participate in any official offseason activities up to this date. The prevailing thought is that Jones wants an update to his contract that still has three years left remaining; although, you won't hear that from him.
As a result, this has put the front office in a bind as there are other players—namely Grady Jarrett, Jake Matthews, and Ricardo Allen—that have contracts set to expire before Jones's. Management has continued to stress that those three contracts are the organization's top priorities at the moment, which is why news came out recently via Jeff Schultz that the Falcons do not plan to reward Jones with a new deal this offseason.
Instead, what we might see is some cap gymnastics in the form of either incentives or a restructured bonus to make Julio happy in the short-term, while having very little impact on the current cap. If it were up to me, I'd rip up Julio's old contract right now and give him a brand new 5 year, $85.8 million ($56M guaranteed) deal which would rightfully make him the league's highest paid receiver.
There are two reasons why I'd do this. The obvious one is that Julio has outperformed his current deal while the other reason is more forward thinking and involves getting in front of the impending Odell Beckham Jr. payday that awaits the star-studded receiver in 2019.
As for the precedent this might create, my response: there's only one Julio Jones.
Question #2: What's the defense's ceiling?
What's the defense's ceiling? #MattlantaMondayMailbag

— Cory Woodroof (@CoryWoodroof47) July 9, 2018
In 2017, we saw the Falcons defense take a step toward being one of the better defenses in the league as they landed in the top 10 in both yards per game allowed (9th) and points per game allowed (8th).
However, upon doing a deeper dive, they were not nearly as good when it came to the efficiency metrics like yards per drive (20th) and points per drive (18th). Couple that with the defense being second-to-last in time-of-possession per drive and dead last in plays per drive, and it was clear this unit was more of the bend-but-don't-break variety rather than a legitimate top 10 group.
In order for that to change in 2018, two factors need to be present.
The first and most important one involves the play of the defensive line. The front four needs to set the tone and be able to control the point of attack, forcing opposing offenses into unfavorable down and distances. If they can do that, Atlanta has a wealth of coverage options on the back end that rival the "no fly zone" secondary of the Super Bowl-winning Denver Broncos.
Secondly, the other reason the Falcons defense struggled from an efficiency standpoint was due to their lack of takeaways. Atlanta finished T-27th in that category last season. For comparison sake, the team was only middle of the pack in takeaways during their 2016 Super Bowl season; however, their 2016 differential was a +13 improvement over 2017's.
Most of that should even out as the team regresses to the mean from their disastrous turnover luck in 2017. But on the flip side, with Quinn placing such an emphasis on the ball, the defense needs to generate more turnovers than they have thus far in order to reach their full potential.
If the Falcons defense can accomplish those two things, they have legitimate top-10 potential with the ability to climb even further in those rankings.
Question #3: Outside of Matt Ryan and Julio Jones, who are the Falcons most indispensable players?
Admittedly, questions were hard to come by in the debut edition of the Mattlanta Monday Mailbag. However, I expect that to change once training camp heats up and the 2018 roster rounds into shape.
But rather than stop the party here and deprive everyone of more content, I decided to take this time to give a more elaborate answer to the question I posed on Twitter:
I got a question. After Matt Ryan and Julio Jones, who is the third most indispensable player on the #Falcons roster? I'll go with either Alex Mack or Grady Jarrett.

— Matt Karoly (@mattkaroly) July 10, 2018
For me, it was a toss-up between Grady Jarrett and Alex Mack, two very popular choices among the fan base. So that begs the follow up question; why Jarrett or Mack?
As I alluded to earlier, the play of the defensive line is among the biggest question marks facing the 2018 Atlanta Falcons. Due to cap restrictions, the team was forced to let defensive linemen Adrian Clayborn and Dontari Poe walk in free agency.
Clayborn and Poe were responsible for a third of the defense's total quarterback pressures a season ago, per PFF. To make up for the lost production, Quinn and his staff are relying on three unknowns — Jack Crawford (only played four games last year), free agent addition Terrell McClain, and rookie third round pick Deadrin Senat — to fill the void.
While that doesn't exactly sound promising, the job becomes much easier when you consider who will be lining up next to them roughly 75 percent of the time. The coaching staff is counting on Jarrett to continue his progression into a Pro Bowl-caliber defensive tackle while also developing into one of the leaders of this defense. And given the drop off behind him, the team can't afford to be without Grady for long stretches of time.
Speaking of drop offs, it doesn't get much bigger than going from one of the game's best centers in Alex Mack to a backup level player in Ben Garland. That's not meant to be a knock on Garland either, but rather a compliment to Mack.
Since the moment he signed his 5 year, $45 million deal, Mack has been one of the Falcons' steadiest performers, elevating the offensive line from pedestrian group into a top-5 unit almost over night. He also has been one of the primary catalysts for Matt Ryan's continued success, not only from a protection standpoint but also from a game management standpoint, as Ryan ceded all line call responsibilities to Mack upon his arrival.
According to respected NFL mind Gil Brandt, Mack ranks as the ninth greatest center of all-time. So not only would Mack be hard to replace on the Falcons, he'd be hard to replace in the history of the league.
If I had to throw out one more name as far as most valuable to the Falcons, it would be Keanu Neal. Players like Neal are becoming the status quo in today's game.
Whether he's lined up as a slot defender, box safety, the occasional single high look, or dime linebacker, Neal's versatility on this defense cannot be overstated. And that's without even mentioning the role he plays as the "enforcer," striking fear in opposing ballcarriers' minds.
While Deion Jones gets the bulk of the attention from the 2016 draft class, Neal is without a doubt the more well-rounded player and the harder to replace on the Falcons defense.
Well, folks, that's a wrap on volume one of the Mattlanta Monday Mailbag. Be sure to tweet your Falcons questions using the hashtag #MattlantaMondayMailbag as I will be back next month to answer them in volume two.
Photo by Steve Dykes/Getty Images