By Matt Karoly
Thanks to an economic shutdown not seen since the 1920s, Americans have been forced to live life day-by-day since mid-March. When it comes to writing about the Falcons, however, that's never really been my M.O.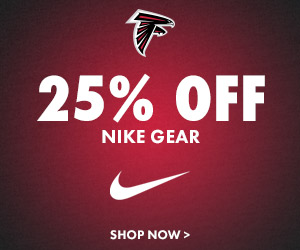 So throwing conventional wisdom aside for a second, allow me to peer into the future and examine how the NFL's COVID-19 protocol will impact the Falcons' 2020 roster construction. With rosters projected to cap out at 80 players, preseason games canceled, and no more than 14 padded practices between now and week 1, the undrafted free agents (UDFAs) stand the most to lose from pandemic football.
According to ESPN's Field Yates, close to 31% of the NFL's active roster population in 2019 was comprised of UDFAs. Players like Keith Smith, Sharrod Neasman, Jaeden Graham, Matt Gono, and Olamide Zaccheaus contributed to that statistic for the Falcons last year.
And that trend expected to continue for Atlanta in 2020 following an offseason that saw the team sign 20 UDFAs to their 90-man roster. But given the new 80 player mandate, it is very likely that half of those college free agents will be gone before they ever participate in a single padded practice. A sad reality for a major part of NFL workforces this year.
So what does this mean for the Falcons roster construction in 2020? Well, when push comes to shove, NFL teams — not just the Falcons — are expected to retain veteran holdovers rather than turn to undrafted rookies due to the lack of offseason preparation time.
Rewind three months ago, I identified five UDFAs that had the best chance of making the Falcons' 53-man roster. Let's revisit those selections and see where their future now stands prior to training camp.
WR/PR/KR – Chris Rowland
With the Falcons electing not to bring back WR Justin Hardy and PR/KR Kenjon Barner in the offseason, two spots opened up for an UDFA to grab. And a popular candidate to do so has been Tennessee State WR Chris Rowland.
The 5-foot-8, 170 lb. dynamo turned heads in 2019 after breaking Jerry Rice's 35-year-old record for most receptions in a season by an HBCU WR with 104. But it wasn't just Rowland's receiving ability that placed him on the Falcons' radar. Rowland also made his mark in the return game as he notched 46 punt returns for 543 yards and one touchdown to go along with 74 kick returns for 1,689 yards and another score. For those accomplishments, Atlanta heavily courted Rowland in the eighth round and offered the former Tennessee State Tiger $80K in guaranteed money, by far the most of their UDFA class.
When I think of Rowland and his fit with the Falcons, I am reminded of Atlanta's 2019 sixth round pick Marcus Green. Green, who had $148K in guarantees as a draft pick, was brought in to fill the same role that Rowland will now compete for. The only difference is Green had a typical offseason and five preseason games to leave his mark on the coaching staff. Unfortunately, Green failed to do so and ended up being cut, but at least he was given a fair shot at the job.
I'm afraid Rowland will not be given such an opportunity with so few practice reps and zero preseason games on the calendar. With that said, don't be surprised if the team plays it safe with Christian Blake or Brandon Powell as the sixth wide receiver to open the season.
TE – Jared Pinkney
Tight end is a position group that has undergone significant turnover this offseason. Two-time Pro Bowler Austin Hooper cashed in on a market-setting contract in Cleveland while TE2 Luke Stocker was made a cap casualty, leaving Jaeden Graham as the only returning TE in 2020.
Expectations are high for former first round pick Hayden Hurst, who the team acquired via trade from the Baltimore Ravens at the start of free agency. But given the uncertainty at the position, the Falcons could benefit from a veteran addition with someone like Delanie Walker being a fun option.
However, due to the team's cap limitations both in the present and future, the team will likely stick with the youth movement at TE, which leads us to the former Vanderbilt Commodore. Jared Pinkney entered the 2019 college football season with an outside shot at being the first TE off the board. But thanks to poor play calling and QB play, Pinkney's stock bottomed out in 2019, leaving him a part of the undrafted ranks.
In the end, that could prove to be a blessing in disguise as Pinkney enters an ideal situation for playing time in Atlanta. The biggest competition he will face at TE3 is XFL signee Khari Lee, who has not been on an NFL roster since October of 2018. So despite the unusual offseason circumstances, Pinkney — who I liken to former Colts TE Marcus Pollard — represents the best shot of the UDFAs to make the team.
OT – Evin Ksiezarczyk
Contingent on dark-horse challenger Matt Gono winning the LG competition, the Falcons could be in need of a new swing tackle in 2020. And out of the UDFA options, Buffalo's Evin Ksiezarczyk projects as the most pro-ready of the bunch, having a resume that includes 39 career starts at left tackle with All-MAC honors to boot in his junior and senior seasons.
But despite a decorated college career, Ksiezarczyk's tape study showcased a player that will struggle to handle the speed of NFL pass rushers as he transitions to the next level. Therefore, the reduced offseason program significantly hurts his chances to make the Falcons' 53-man roster in year one.
With that said, I'd expect the legendary John Wetzel to earn the swing tackle role in the event Gono starts at left guard.
LB – Jordan Williams
Much like tight end, linebacker is another position group that has many new faces heading into 2020.
Exiting the building were tenured Falcons in De'Vondre Campbell and Kemal Ishmael and taking their place are Mykal Walker and Deone Bucannon. Rounding out the notable offseason moves at LB, former Falcon LaRoy Reynolds returns to Atlanta after a two year absence to recapture his role as the lead dog of the special teams unit.
In addition, 2018 sixth round pick Foye Oluokun enters his third season with the team poised for a starting role in 2020, one in which he proved capable of handling at the end of last season.
Outside of drafting Walker, though, the additions of Bucannon and Reynolds are nothing more than vet min signings. Meaning the opportunity still exists for an UDFA to steal a spot away from the aforementioned veterans.
And the one who could rise to the occasion is Baylor's Jordan Williams. Williams was the heart and soul of Matt Rhule and Phil Snow's (now the head coach and defensive coordinator, respectively, of the Carolina Panthers) defense at Baylor as he served as a season-long team captain for the Big 12 runners-up last year.
In Williams, the Falcons are getting a 'backer that fits the archetype of what we've come to expect from the position during Quinn's tenure — undersized, fast, and packed with playmaking potential. He profiles best as a weak-side LB but, as is usually the case in these types of situations, his play on special teams will ultimately determine his future with the team.
I would say keep an eye out for Williams on that side of the ball, but the reality is we won't get a chance to evaluate him given the current climate. Hopefully Williams catches the eyes of the coaches, though, because a cost-controlled linebacker could help answer some of the Falcons' salary cap questions beyond 2020.
CB – Ty Hall
When it comes to cornerback, the Falcons would be better served adding a veteran to the mix rather than another rookie, especially after moving on from their previous top three CBs (Desmond Trufant, Robert Alford, and Brian Poole) over the last two offseasons. But assuming that's not an option, Wyoming's Ty Hall makes sense for a couple reasons.
The first reason involves the nickel cornerback job. With Dan Quinn saying Damontae Kazee will remain at safety moving forward, Atlanta has only one NCB option that is considered a lock to make the team and that is Kendall Sheffield. But with Sheffield also expected to play a major role in the base defense, the Falcons would be wise to add another slot defender to the roster for depth. Insert Hall.
The other reason Hall makes a good bit of sense is his return ability. As previously discussed, the Falcons have to find a new return man for the fourth consecutive season after they decided not to retain Pro Bowl alternate Kenjon Barner. In 2017, Hall received honorable mention in the Mountain West at kick returner after ranking among the best in the nation in yards per return average (33.9) while also becoming the first player in program history to record two kick return TDs in a single season.
Consider the former Wyoming Cowboy a dark-horse for the job despite special teams coordinator Ben Kotwica not mentioning Hall by name in the return battle.
53-Man Roster Projection Version 2.0
Version 1.0 can be found here.
QB (2): Matt Ryan, Matt Schaub
RB/FB (5): Todd Gurley, Brian Hill, Ito Smith, Qadree Ollison, Keith Smith
WR (6): Julio Jones, Calvin Ridley, Russell Gage, Laquon Treadwell, Olamide Zaccheaus, Brandon Powell*
*The Falcons signed Powell to their practice squad on September 2, 2019, stashed him there until November 2nd, at which point he was elevated to the active roster for the remainder of the season. Clearly the current coaching staff felt a certain way about the 2018 UDFA despite there not being a clearly defined role for him last season. Well, that all changes in 2020 with the vacancy at returner. With Powell representing a more seasoned version of Chris Rowland, the abbreviated offseason could give "BP" the edge here.
TE (3): Hayden Hurst, Jaeden Graham, Jared Pinkney
OL (9): Jake Matthews, Jamon Brown, Alex Mack, Chris Lindstrom, Kaleb McGary, Matt Hennessy, Matt Gono, Justin McCray, James Carpenter*
*James Carpenter has a $250K roster bonus tied to whether or not he is on the 46-man active roster. So while it's unlikely the team can move on from the contract of the Brown vs. Carpenter loser, it's in their best interest to have Carp be the game day inactive in order to recoup $250K on the 2021 cap.
DL (10): Takk McKinley, Grady Jarrett, Tyeler Davison, Allen Bailey, Dante Fowler, Marlon Davidson, Charles Harris, John Cominsky, Deadrin Senat, Steven Means
LB (5): Deion Jones, Foye Oluokun, Mykal Walker, Deone Bucannon, LaRoy Reynolds
CB (5): AJ Terrell, Isaiah Oliver, Kendall Sheffield, Blidi Wreh-Wilson, Josh Hawkins*
*2019 fifth round pick Jordan Miller will be serving a three game suspension to open the 2020 season and therefore will not count against the team's 53-man roster while on the Reserve/Suspended List. XFL signee Josh Hawkins is the likely beneficiary and will serve as Miller's placeholder for at least the first three weeks.
SAF (5): Ricardo Allen, Keanu Neal, Damontae Kazee, Jaylinn Hawkins, Sharrod Neasman*
*Neasman's versatility to play both safety spots as well as his special teams prowess wins him the final spot over an UDFA like Ty Hall.
Specialists (3): Josh Harris, Younghoe Koo, Sterling Hofrichter
Photo by Charles Pulliam