By Matt Karoly
We have officially arrived at another checkpoint on the NFL calendar. On Thursday, the NFL unveiled the 2020 regular season schedule slated to kick off in Kansas City on September 10th. Or will it?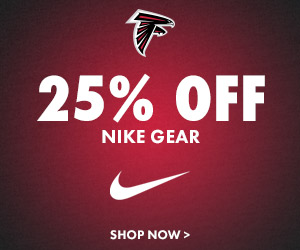 Despite the league offices going through with the schedule release, it could prove to be a fool's errand in the end as the corona virus currently holds the fate of the free world. Without testing or a cure by September, the NFL's 101st season is very much in jeopardy.
But rather than dwell on it, let's break down what could be for the Atlanta Falcons in 2020. If projected win totals are any indication, the Brotherhood is going to have their work cut out for them.
So let's get into it…
Week 1 – vs Seattle (Projected uniform: Black on Black)
For the first time since 2016, the Falcons open the season at home as they welcome their cousins, the Seattle Seahawks, to town. This is the second consecutive year the teams will meet in Atlanta with Seattle getting the better of their kin last year, 27-20.
However, a major reason things will be different this time around is the man under center for the Falcons. Matt Ryan missed last year's contest with an ankle injury, and while Matt Schaub did light up the stat sheet in relief, it was ultimately the offense's slow start that contributed to their downfall.
Something tells me Matty Ice and company get off to a blazing start this time and never look back.
Prediction: Win
Week 2 – at Dallas (Projected uniform: Gradient)
Week two has been a stressful week for Falcons fans the last couple years as the team has stared down the barrel of the dreaded 0-2 start. Fortunately, that will not be the case in 2020 thanks to their opening weekend win over the Seahawks.
And it's a good thing, too, because Atlanta is scheduled to face off against an offensive juggernaut in Dallas. This is a bad matchup for the Falcons and their young secondary so early in the season as they prove to be no match for Dak Prescott, Amari Cooper, Michael Gallup, and CeeDee Lamb.
Prediction: Loss
Week 3 – vs Chicago (Projected uniform: Black on White)
This could wind up being a revenge game for the Falcons if Nick Foles enters Atlanta as the Bears' starting quarterback. But regardless of who the QB is, look for Atlanta to get back into the win column in week three.
Despite having talent on all three levels of their defense, Chicago's lackluster offense figures to be their undoing in 2020 as they sink closer to the league's cellar. Robert Quinn probably wishes the coin flipped the other way after this game.
Prediction: Win
Week 4 – at Green Bay on MNF (Projected uniform: All White)
In one of two primetime games on the docket, Atlanta travels to Green Bay on Monday Night Football in early October. To be brutally honest, this was one of the hardest games to predict.
I fully expect the Packers to be a prime regression candidate in 2020 following a 13-3 season in which they went 8-1 in one possession games. Not to mention, their draft strategy was all sorts of confusing.
But in the end, it's hard to bet against Aaron Rodgers in Lambeau on primetime so the Packers get the slight edge here.
Prediction: Loss
Week 5 – vs Carolina (Projected uniform: Black on Black)
The great unknown here is rookie head coach Matt Rhule and how quickly he adapts to the NFL. On offense, the Panthers have legitimate talent in Christian McCaffrey, D.J. Moore, Robby Anderson, Curtis Samuel, and Teddy Bridgewater. That skill group could compete with most in the NFL.
However, the talent drops off considerably when we look at Carolina's defense, which is a prime reason why they became the first franchise since the merger to use all their draft picks on that side of the ball. With no proven pass rushers or defensive backs, expect Ryan and the Falcons offense to have a field day in week five.
Prediction: Win
Week 6 – at Minnesota (Projected uniform: White on Black)
For whatever reason, Mike Zimmer has always had the Falcons' number. So despite the roster turnover the Vikings underwent in the offseason, don't sleep on the remaining talent making noise against Atlanta in 2020.
Not to mention the Gary Kubiak effect is very real (sobs incessantly). With that said, Minnesota makes it five straight over the Falcons dating back to 2014.
Prediction: Loss
Week 7 – vs Detroit (Projected uniform: Black on White)
Like Dan Quinn, Matt Patricia enters the 2020 season firmly on the hot seat. Both coaching staffs will be fighting for their livelihoods each week.
This game also serves as a "what could have been" had Dan Quinn hired his former Seattle colleague Darrell Bevell as his plan B to pilot the Falcons offense instead of settling on Dirk Koetter (with Gary Kubiak being plan A, of course). While not a fan of hiring Bevell at the time, hindsight has proven me wrong.
He and Matt Stafford formed a fruitful partnership in 2019 with Stafford experiencing his greatest statistical campaign in terms of DVOA before going on the shelf with a back injury in week nine. Bevell's offense in Detroit is everything we want the Dirk Koetter offense to be — heavy play-action usage and tons of shot plays.
But despite having the superior play caller, talent prevails in this matchup.
Prediction: Win
Week 8 – at Carolina on TNF (Projected uniform: White on Black)
Don't hate me, but I originally marked this game down as a loss. Despite their flaws, I could see the Panthers scratching and clawing their way to five or six wins, especially if the youth on defense comes together sooner than later.
But after further consideration, I just don't see how Carolina slows down Julio Jones and Calvin Ridley. Don't make me regret this, Dirk.
Prediction: Win
Week 9 – vs Denver (Projected uniform: Throwbacks)
In a game originally scheduled for play across the pond, Atlanta gets the benefit of another true home game in 2020 thanks to the pandemic suspending international travel. That's music to the players' ears.
On the flip side, what hasn't been friendly to the Falcons are contests against AFC foes. Under Dan Quinn, Atlanta is a putrid 7-13 (2-8 at home) in regular season out-of-conference games.
Consider the moves the Falcons' first AFC opponent made during the offseason — Jurrell Casey at DT, AJ Bouye at outside CB, Graham Glasgow at OG, Melvin Gordon at RB, and a stellar draft class headlined by WRs Jerry Jeudy and KJ Hamler. If you couldn't tell, the Denver Broncos are my sleeper team in 2020 provided starting QB Drew Lock holds up his end of the bargain.
And for the purposes of this exercise, I anticipate that he will. But if there's another game on the calendar I could go either way on, it's this one.
Prediction: Loss
Week 10 – BYE
Also known as a stress-free weekend watching The Masters.
Week 11 – at New Orleans (Projected uniform: White on Red)
After the bye, things start to pick up on the Falcons' schedule.
In five of their last seven contests, Atlanta has two dates with New Orleans, two with Tompa Brady, and a road game versus the defending champs. That seven game stretch will, in all likelihood, determine the Falcons' playoff chances.
In 2019, the 1-7 Falcons shocked the world when they went into the Superdome as 14-point underdogs and knocked off the 7-1 Saints. History tells us that was an outlier and won't happen again.
During the Matt Ryan era, Atlanta is 4-8 in the Big Easy and, unfortunately, I think their record drops to 4-9 in such contests after week 11.
Prediction: Loss
Week 12 – vs Las Vegas (Projected uniform: Black on Black)
Outside of the now Tom Brady-less AFC East, it's not a stretch to say the AFC West is the second worst division in the conference. Therefore, the Falcons should theoretically be able to salvage a .500 record in the four games.
The Raiders present a favorable matchup at home for the Falcons in week 12. Whether it's Derek Carr's (or potentially Marcus Mariota's) unwillingness to be aggressive downfield or Oakland, er, Las Vegas's lack of pass rush and quality cornerbacks, there's not many reasons to feel threatened by Gruden's gang.
So unless Josh Jacobs runs wild, look for the "Back in Black" Falcons to put a beatdown on the relocated "Silver and Black."
Prediction: Win
Week 13 – vs New Orleans (Projected uniform: Gradient)
Despite the earlier loss to New Orleans, Atlanta has played the NFC South incredibly tough — 18-12, to be exact — under Dan Quinn. I don't expect that to change in 2020, even if it is Quinn's swan song with the team.
Mark Atlanta down for another signature win over New Orleans in their "Rise Up" red jerseys.
Prediction: Win
Week 14 – at Los Angeles Chargers (Projected uniform: All White)
This should be an interesting matchup for a couple of reasons. Much like the Falcons, the Chargers have made a habit in recent years of finding creative ways to lose football games. Look no further than last year's Denver game for proof.
The question now is whether that bad luck gets left behind as the Chargers enter a new era of football in So-Fi Stadium. Rather than reload for one last run with 38-year-old Philip Rivers or, better yet, sign Cam Newton, the Chargers decided to roll with Tyrod Taylor and sixth overall pick Justin Herbert at quarterback. For a team built to win now, that is a very questionable decision.
And one that will likely cost them this game as well as many others in 2020. Bring on the full rebuild in Los Angeles.
Prediction: Win
Week 15 – vs Tampa Bay (Projected uniform: Throwbacks)
The media darlings of 2020 make their much-anticipated trip to Mercedes-Benz Stadium in week 15. It'll also be Tom Brady's first trip back to Atlanta since he won Super Bowl LIII in February 2019.
Ideally, playing the new look Bucs earlier in the year would have been more beneficial for the Falcons due to the presumably shortened offseason. For the first time in his 20 year career, Brady embarks on a new challenge as he transitions from the Patriots' Erhardt-Perkins offense to Bruce Arians's Air Coryell attack. Therefore, a slight learning curve should be expected.
But by week 15, all of that stuff should be old news. Tampa Bay had the league's 5th ranked DVOA defense in 2019 and now they are going to pair it with a star-studded offense guided by arguably the greatest QB of all-time.
Sorry Falcons fans, there's more TB12 heartbreak in our future.
Prediction: Loss
Week 16 – at Kansas City (Projected uniform: White on Black)
I'll keep this one short and sweet. Chiefs win.
Prediction: Loss
Week 17 – at Tampa Bay (Projected uniform: All White)
As we enter the final week of the regular season, there's a very good chance the Bucs are sitting pretty at 12-3. Therefore, not a lot could be at stake for them in this game with the elimination of the second seed bye.
So with Tom Brady and the starters resting, the Falcons take advantage to win the finale and improve to 9-7.
Prediction: Win
That begs the question — will a 9-7 record be good enough to make the playoffs in 2020? It's very possible now that the NFL has adopted a 14-team playoff format. But if the Falcons want to be safe, it would benefit them to win a couple of the toss-up games mentioned earlier (i.e. Packers, Vikings, and Broncos).
In the mean time, let the media fixate on the Saints and Bucs. After all, the Falcons do their best work when they fly under the radar and have low expectations.
Call it the Falcon way. Chalk it up to Atlanta sports. Quite frankly, it doesn't matter what it's called, because as Rich McKay said, "we're in the business of winning football games," and if the Falcons do just that, nothing else matters.
Photo From Jason Getz-USA TODAY Sports