With the NFL trade deadline charging full-steam ahead and the Atlanta Falcons still very much a playoff contender, it'd make sense that the team would at least kick around the can on potential NFL trades before next week's deadline.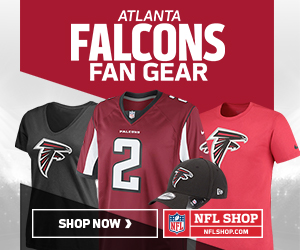 The Falcons have added veteran DT Ahtyba Rubin and fan favorite OLB Sean Weatherspoon over the last week, but with this team struggling on offense and still not to where they want to be on defense, it's not out of the realm of possibility to think the team pulls the trigger on a trade.
Don't expect anything massive, but with Quinn and Dimitroff no stranger to making these types of decisions if they feel they're warranted. There is also no speculation that the Falcons are on the market, so consider this just speculation for now.
So, here are three guys that, hypothetically, the Falcons could bat their eyes at over the next week.
The Trade that Could Actually Happen
San Francisco 49ers DE Aaron Lynch for a 2018 conditional seventh
After the Falcons decided to let Dwight Freeney go in the offseason (he's just signed to join the Seattle Seahawks), it appears the team has found favor with their edge group. It's a pretty solid one – Vic Beasley, Adrian Clayborn, Brooks Reed, Takk McKinley, De'Vondre Campbell, Courtney Upshaw and Derrick Shelby can all be found rushing off the edge in any given formation. But, right now, the team only really has one strong pass rusher in Beasley – all of the others are good, but are inconsistent. The team can get creative with ways to affect the QB – like drumming up pressure from the interior with Grady Jarrett and Dontari Poe, throwing blitzes from the corner spot or from the LBs and, if all else fails, just bringing the house and crossing their fingers the QB doesn't have a quick release.
The Falcons could stand to use another edge presence, though the pickings are slim.
One guy stands out, though – DE Aaron Lynch of the 0-7 San Francisco 49ers.
Lynch, a 2014 fifth round pick by the Niners, made in the Trent Baalke era, hasn't lived up to his 2015 season by any means (posted while Jim Tomsula was head coach, a man who oversaw him as he was drafted as the DL coach before being promoted), he has seen two different defensive coordinators over those two years. Since Tomsula left town, his sack rate (averaging about six a season) dropped substantially (averaging about one a season). He has been hit with a four-game suspension once, which could also have him in a bit of a doghouse.
He's practically a non-factor for the 49ers now, a guy from a former scheme who looks to bolt when his contract is up in 2018.
Atlanta should consider maybe throwing a conditional seventh San Francisco's way to see if they can help build him back up into a solid rotational piece. Clayborn and Upshaw are free agents in 2018, Reed and Shelby both are due for massive cap hits after the season (if you haven't checked, the Falcons cap is tight in 2018) and could be due for release.
Quinn is known as the great pass rush whisperer, and maybe he could help Lynch cooking again after a season-and-a-half of subpar play. He's not going to be a world-beater, but he's young, and could provide a little more variety to the team's edge group. He can also play outside linebacker, and you know how much Quinn loves versatility. And, if Lynch performs to the point where a return would be warranted, the Falcons would probably be able to secure him for the future.
This could be a cheap move could do some immediate good for a team needing any and all extra sparks in every phase of the game.
The Other Responsible Ones (we're scraping the barrel right now)
Colts WR Donte Moncrief for conditional 2019 pick (fifth or sixth rounder)
If the Falcons don't think they can keep Taylor Gabriel when he hits free agency in March, Moncrief would be a decent replacement for WR3 if the team can sign him. Moncrief has deep ball ability, and while not as fast as Gabriel, is a little bigger and could factor to be more of a red zone target. For now, having Moncrief with this deep receiving group would be the kind of coup that could make them, even with a so-so scheme, pretty darn hard to stop.
Cardinals DT Corey Peters for a conditional 2018 sixth rounder
Bring him home, TD! Peters is a reliable rotational guy who is scheduled to hit the market in 2018. The Falcons could bring Peters back into the fold to help at the now-thin DT spot.
Giants DT Jay Bromley for a conditional 2018 seventh rounder
Bromley has not lived up to his third-round status, and is a member of the 1-6 Giants, who need the picks they can get for 2018's draft. He could be a reclamation project for Atlanta/cheap depth to acquire at this point in the season.
The This is A Speculation Article So Why Not Make a Far-Out Suggestion?
Cardinals WR Larry Fitzgerald for a 2018 fourth rounder
Want to make a Hail Mary move to help make the offense the most explosive roster in the NFL? Trade your 2018 fourth rounder to Arizona for the rights to Larry Fitzgerald for the rest of the 2017 season. With Carson Palmer and David Johnson both ailing, the Cardinals may not be able to give Fitzgerald the sendoff he so richly deserves. Though, a trade to Atlanta could increase his chances of one last postseason and would give Atlanta a true mismatch nightmare on offense. With Julio, Sanu, Turbo, Hardy *and* Fitzgerald, who do you cover? This will not happen, but man, if it did, talk about the change in tone for what this offense could throw at you (depending on if Steve Sarkisian can get things figured out).