Finally, we've made it.
It's draft day, and you're probably sick and tired of these mock drafts already, but if you're reading this, it's already too late. The months of waiting are about to come to a close, but not without one last shot in the dark at who will join The Brotherhood in the 2017 draft. Here are Cory and I's final guesses after a wild week of trade rumors.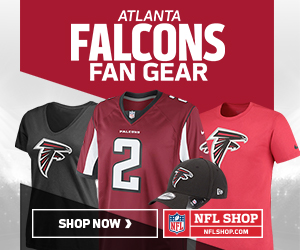 Cory: ROUND 1 – DE – Derek Rivers – Youngstown State
I can't figure this stupid pick out, nor do I think anyone needs to. What happens will happen. My gut tells me they pick Rivers. They looked at him early on, and I don't think the team's probable top two players – OLB Haason Reddick and G Forrest Lamp – will be there at 31.
Rivers is fast and physical (yes, yes, I know), and the young pass rusher has been vocal of his interest in joining Atlanta.
"Even if the Falcons hadn't gone to the Super Bowl last year, I know I would be with an organization with awesome coaches," Rivers told ESPN's Vaughn McClure. "I love their coaching staff. I just love the vibe that they have. They are some of the coolest coaches that I've ever met. I'd be totally comfortable and super excited. I'd give my all anywhere, but when you love your coaches, you give an extra amount of effort because you don't want to disappoint them."
I've thought about Rivers ever since I read this, and he was the pick in my last official mock draft for Rise Up Reader. I've wafted in recent days to S Justin Evans after the report the team really likes him and wants to run a three-safety set, but I don't know, something about Rivers feels right.
And, really, isn't that all anyone can really go on at this point?
Mike: DB – Budda Baker – Washington
Watch Budda Baker and you'll see a guy that would be a perfect fit as Atlanta's new starting free safety. As much as I love Ricardo Allen, Baker is gifted in ways that Allen is not. A ballhawking, rangy, hard-hitting playmaker is exactly the type of player I envision Dan Quinn wanting as a free safety, and Baker is likely the closest thing to Seattle's Earl Thomas in this draft.
With the Falcons rumored to want to run three-safety sets this season, this pick makes a ton of sense as it will not relegate Allen to the bench and waste a good player. Baker will add another physical presence to the secondary while helping to produce more turnovers. Often compared to Arizona's Tyrann Mathieu, Baker plays much bigger than his size would indicate and will make a big impact on the defense from day one.
ROUND 2 – FS – Marcus Maye – Florida
Looking at their visit schedule, there are no players right now they've been reported to talk to who fit the late-second round mold outside of OLB Duke Riley, and he's reportedly not known for being a superior athlete, which makes me curious. DE Tarrell Basham is the one they've done heavy looks into, but with Rivers, they can't double up at pass rusher (or can they? I don't know).
So, I'm going with Marcus Maye, who Pete Schrager recently mocked to them in the second, and I'm not above cheating off of someone's mock draft if they've got an ear to the ground.
Maye is a Quinn guy, and it would reunite him with his Florida teammate, SS Keanu Neal.
And, it would fit that itch for the team to add a free safety for a triple-safety set.
So, April showers bring Maye flowers. Sorry.
Mike: G – Dan Feeney – Indiana
In my opinion, the Falcons absolutely have to come away with a capable starting right guard in this draft. If Feeney is still here at this point in the draft, this should be a no brainer. Behind Forrest Lamp, he is the best guard in the class. A perfect fit for the outside zone blocking scheme Atlanta runs, Feeney would be penciled in as the starting right guard from day one and put the Wes Schweitzer/Ben Garland competition to rest.
In order for Matt Ryan to repeat his MVP success, he's going to need rock-solid protection up front. Adding a guy like Feeney, who has only given up one sack over the last two seasons, will undoubtedly help there.
ROUND 3 – T – Julie'n Davenport – Bucknell (via trade – sending their 2017 fourth rounder to a team)
I'm going to guess the Atlanta Falcons pop up a few spots in the third round to grab Davenport, who they've spent a lot of time with in the draft process (they worked him out for two hours. That's got to mean something, right?).
I think Davenport is the last call for starting right guard in the draft. The team likes him a lot and may be comfortable putting him in competition with Wes Schweitzer and Ben Garland for the RG spot. If he doesn't win outright, he can revert to being the top swing tackle on the team and can be groomed for more in the future, which isn't a bad thing at all with a third round pick.
Isaac Asiata is a guy they've spent time with that they might not have to pop up for, so watch that. But, I think they'd want Davenport after going defense in the first two rounds.
So, no fourth rounder for me, because I think getting Davenport takes that. But if it doesn't and Davenport comes naturally at in the third round…
Mike: DE – Tarell Basham – Ohio
The Falcons are deep at defensive end, but they lack upside outside of Vic Beasley. That ends with the Basham pick. This is a guy who's raw but will come in and add some power and speed to the Falcons' pass rush packages right away. In 2017, Basham would be a useful part of the rotation but could be in line for a starting job if the team moves on from Adrian Clayborn after this year. If Basham reaches his full potential, he could be a guy that averages around eight sacks per year while adding physicality and an edge-setting presence to the line.
ROUND 4 – LB – Tanner Vallejo – Boise State
I maintain the team loves Tanner Vallejo, after giving him lots of attention in the past few weeks. He's got the athleticism Quinn loves, and can step in and do what he's asked (which I'm kind of unsure of).
Mike: TE – Jonnu Smith – Florida Atlantic
The Falcons elected not to retain incumbent starter Jacob Tamme after he had season-endig shoulder surgery, so that the leaves the current depth chart looking like Austin Hooper, Levine Toilolo, and Joshua Perkins. We know what Toilolo is at this point, but Hooper and Perkins remain somewhat of a question mark, even after they both impressed in their rookie seasons.
Adding a playmaker like Jonnu Smith, who has been compared to Titans' star Delanie Walker, makes a ton of sense at this point in the draft. It gives the Falcons another solid option at tight end in case of injury or regression, and if Smith pans out, he could become a guy more than capable of starting the NFL. He's explosive after the catch, which should translate well to the system new OC Steve Sarkisian is supposed to keep in tact.
ROUND 5 – RB – Elijah McGuire – Louisiana-Lafayette
The team reportedly wants a young RB, and McGuire is the one they've spent the most time with. Connect the dots, friends.
Mike: LB – Blair Brown – Ohio
The Falcons chose not to retain linebackers Paul Worrilow and Sean Weatherspoon (as of today), so they'll need to add a capable body with special teams ability. For this mock, it's Blair Brown of Ohio, but keep an eye on Jalen Reeves-Maybin of Tennessee as well. Brown is a physical tackling machine that could develop into someone who Quinn will want to find a way to get on the field on defense.
ROUND 7 – CB Taylor Reynolds – James Madison
A seventh on a corner isn't a bad idea. They spent a private meeting on Reynolds, who is not projected to go before the seventh. Makes sense.
Mike: DT – Grover Stewart – Albany State
The Falcons need depth a DT, and a year of seasoning could show what Stewart might be capable of down the road. A small-school prospect with raw power and traits of an eventual starter or key rotational piece, Stewart is exactly the kind of low-risk, high-reward player the team should be looking at in the seventh round.
Cory's Recap: The Falcons get a new pass rusher in Rivers to pair with Vic Beasley Jr., a new safety in Maye with familiarity in Quinn's scheme and with Keanu Neal, a potential new RG in Davenport, potentially a rotational LB with upside in Vallejo, competition for RB3 in McGuire and a corner to groom in Reynolds. Works for me!
Mike's Recap: The Falcons add a key piece to their improving defense in Baker, lock up the starting right guard spot with Feeney, find a potential stud pass rusher in Basham, and add depth along key positions throughout the rest of the draft. The Falcons will likely pick up a few UDFA running backs and OTs to see if they can unearth a gem through competition, but otherwise, this roster is looking more and more complete after this draft.