You knew it was going to come down to this, right?
The Atlanta Falcons' miracle season – the one neither me, you, Todd McClure or Freddie Falcon could've seen coming – heads towards the pantheon of playoff destiny, with Atlanta's David about to square off against two of football's towering Goliaths.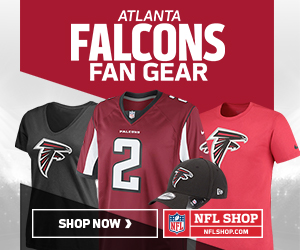 After delivering a spirited effort against the always-tough Seahawks, who have represented the NFC in two of the last three Super Bowls, in the franchise's first playoff win in four years and only the second of QB Matt Ryan's career, the Falcons have earned the right to play against two legacy teams on the path to stamp the permanent "W" on the 2016 campaign.
Next week: a rematch of epic proportions in the farewell to the Georgia Dome. QB Aaron Rodgers returns to Atlanta to exact revenge on the team that beat him in October in a Falcons classic that ended with a game-winning drive by Ryan. Well, revenge might be strong. Rodgers' path to his first Super Bowl went through Atlanta during Matt Ryan's first divisional playoff game after the 2010 season, and the Packers have had Atlanta's number ever since then (the Falcons only won that October game by a point).
If they can hold off the surging Pack and send out the Dome in style, either Tom Brady and the New England Patriots or "Big Ben" Roethlisberger and the Pittsburgh Steelers await. Six Super Bowl wins are shared between the two (four for Brady, two for Big Ben), with one firmly planted on Rodgers. The Falcons? Well, like you need reminding…
This is a Herculean task for any football team. As much as Falcons fans love their program, they are not a legacy program. They don't hoist six Super Bowl wins (Pittsburgh), have a team considered at one point to be a dynasty (New England) or quite literally hold the nickname "Titletown" (Green Bay).
These three programs are media darlings, hold widespread fan bases and will likely dominate the conversation as to who's going to need to clear space to add another Lombardi to the shelf.
You yourself probably felt sick to your Dirty Bird stomach when Mason Crosby nailed the final FG to send Green Bay back our way. The grim thoughts began to drift in – the ones of Rodgers stomping his way into the Dome and handing the Falcons yet another heartbreaking playoff loss. The grim thoughts of, once again, being 10 yards away from Super Bowl glory. The grim thoughts of seeing another Falcons legend, DT Jonathan Babineaux, potentially left empty handed at the end of his career. Another sad moment in the long road of Atlanta playoff bummers.
Another year watching a legacy team win another dad gum Super Bowl while Falcons fans are perfecting their most recent mock draft (Hint: it's a pass rusher. It's always a pass rusher.)
Well, keep your head up, kid. These Falcons aren't like the Falcons of the past.
The 2016 Falcons just aren't what fans are used to watching. They don't blow leads. They don't play soft and scared after getting a big lead. They don't rest it all on the leg of Matt Bryant in order to secure a playoff win (not like that's a bad thing). They play fast. They're mentally and physically tough. They score points in bunches. The defense rushes the passer with fury (at times). They aren't afraid of tight ends anymore. They embody the mentality of their coach. They're as close as can be to finally getting over the hump of making their second Super Bowl. In short, they are very good.
Ryan, once thought to be a square peg in a round hole in OC Kyle Shanahan's scheme, hasn't just posted up the best season of his career. He hasn't just become the favorite to win the NFL's MVP award. He's changed as a quarterback.
No longer are the Falcons one Matt Ryan Brain Fart away from an agonizing defeat. He's tougher now. He's more tenacious – more confident. Think I'm wrong? Watch him during games. Something's different with this version of Ryan. He's turned a new page in his storied Flowery Branch career.
The team follows the quarterback, and Ryan is the story of the season. His new chemistry with Shanahan has blossomed into the league's top offense – the personnel gathering of Pro Bowl C Alex Mack, offensive weapons WR Mohamed Sanu Sr., WR Taylor Gabriel, TE Austin Hooper and WR Aldrick Robinson has been inspired and is no doubt a key to Ryan's success. But, 2 has been a hot-handed wheeler-and-dealer in 2016. He's playing like a man on a mission – one completed by all of his future opponents. Don't think the gap on his other ring finger goes unnoticed.
The game next Sunday is going to be a blockbuster in terms of football play. Two elite QBs with good offensive lines going at it for four quarters, both teams possessing feisty defenses who can get after those said quarterbacks. It'll be fireworks for days. If you like the game, it'll be a heck of a conference championship to watch.
But, for the Falcons, this goes past simply outdueling Rodgers and Green Bay. This is about so, so, so much more.
This is the most important game so far for the Falcons in … well, franchise history.
This is the game where Atlanta proves to the league, once and for all, they deserve to be taken seriously as a franchise – that they're not the finesse, get 'em down, they'll stay down Atlanta blunderbuss that'll choke the game away when it matters and are plagued with awful luck when the going gets tough and stuff. The team everyone guffaws at when they try to puff up their chest and stand shoulder-to-shoulder with the big boys on the block.
Always the bridesmaid. Always finesse. Always 10 yards away. Always irrelevant.
Time to take the Dirty Bird sledgehammer and break apart these old labels. Time to rub some dirt on the old wounds. Time to finally, for once and for all, rise up to the occasion and refuse to go into that good night, bandied with a decent draft pick and dreams of a better day.
Dan Quinn's 2016 Atlanta Falcons might just be the team to, once and for all, erase the painful history of the franchise. They just might be the team, once and for all, to bring back a Lombardi to Atlanta – the city's first championship since 1995 and the franchise's first ever.
It starts next Sunday in the last game of the Georgia Dome. It starts with a red-hot Aaron Rodgers, noted slayer of Falcon-y dreams. It starts when that opening kickoff begins the Falcons' road to victory or repeated ruin.
The script usually goes: Rodgers has a fun day and waltzes to Houston. Titletown once again. Atlanta, go home.
But, in brotherhood, these Falcons aren't going down without a fight.
It's a new fight we haven't seen before in the Atlanta Falcons.
It's the kind of fight that might finally make up for those 10 yards we've always been just short of.
It's the kind of fight that wins championships.
Photo from AtlantaFalcons.com