By: Peter Thomas
Yes, it was a "meaningless" game in August. And, yes, we can try to ignore the bad juju of our first pass in our new stadium being intercepted.
But, this was preseason game three, the one that mattered the most. It's the game that gives the best feel of where the team is, heading into the regular season. And, this preseason had a valuable extra element; it was against the no. 2 defense last year, whose team is a real sleeper to win the NFC this year (recall all those expert predictions for Arizona to win the NFC last year). This game would be a genuine assessment of where the team, and especially the offense, currently stands.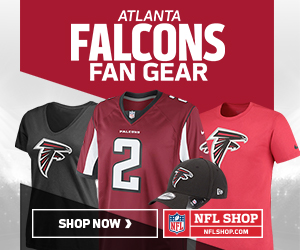 Bottom line, the team was found wanting in multiple ways.
Without hitting the panic button, there are several reasons for concern:
1. Matt Ryan's decision-making
Even after the requisite caveats (pre-season game, no real game plan, MR just trying things out, etc.), Matt Ryan looked terrible, with his decision-making perhaps his worst in years, throwing repeatedly into double and overly tight coverage. Over the years, Ryan's greatest strength has been his beautiful mind (which I would argue is approaching peak-Peyton). Hence, his Saturday performance is all the more confounding. Leading to Cause for Concern no. 2.
2. Is Sark ready today to call plays against complex (and good) NFL defenses?
In time, Sark almost certainly has the makings of an excellent offensive coordinator and play caller in the NFL. And, we had all inferred, from what we've heard and seen to date from training camp and the first two preseason games, that his arrival would be a simple "plug and play", continuing the good times rolling from last season.
Expectations, meet reality.
Against this top-tier Arizona defense, the first team offense looked outmatched and, dare we say it, outwitted? And, should we realistically expect otherwise?
Sarkisian has NEVER been an NFL offensive coordinator calling plays.
And, other than the single game of the CFP championship game last year, he has not called any plays in almost TWO YEARS. Again, he almost certainly will be a good (if not excellent) offensive coordinator. But, the team (and we as fans) likely need to re-calibrate our expectations to be lower—almost as if we had a rookie quarterback—and consider how to "simplify" the offense for several games until Sark has his sea legs fully under him.
What does this mean for Ryan during this transition period? Well, recall last year how Ryan would describe how he worked with Shanahan. He noted that, in many ways, it is practically impossible to call the plays, and read the defense correctly, and then make the right play at the right time. And, he relied on Shanahan to help him see the field and make the right play calls. Without having this assistance fully online for at least several games, we likely should expect there to be some hiccups and challenges.
3. Is Julio (and Turbo) in sync with Ryan?
While we all know Julio to be the best player in the NFL, it's hard not to draw a conclusion that his (and Turbo's) missing some training camp and pre-season games showed up a bit on Saturday. In addition to his beautiful mind, Ryan's next greatest strength is his ability to play well with others—specifically the ability to be exactly in sync with his receivers. While they almost certainly will get in sync, it does appear that some of the missed practices may have hindered this process.
4. How well is this defense built to stop the run?
While fitting with Quinn's preferred philosophy, Quinn, Dimitroff, and Pioli have also built this defense to work in conjunction with its high-powered offense. Specifically, they anticipate the Falcons' offense scoring many points quickly, putting opposing teams in the hole and forcing them to play catch-up through the air, and having the Falcons defense (littered with high-speed playmakers) pinning their their ears back and making big plays.
Beyond the possibility of not executing phase 1 of the plan (offense scoring lots of points early), one possible "weakness" of the Falcons defense is its relative inability to handle a strong, clock-controlling running game. Glimmers of this were seen on Saturday as the Cardinals—a team with the exact opposite philosophy of the Falcons—effectively moved the ball in a clock-controlling fashion. At a minimum, the Falcons may have difficultly with teams built like this and, more broadly, in handling run-heavy, excellent defense teams (Seattle, Minnesota, anyone?)
5. Is Duke Riley ready?
For a rookie linebacker, Duke Riley has looked amazing—for a rookie.
However, playing linebacker in the modern NFL (with multiple responsibilities in pass rush, coverage, and run-stoppage), may be one of the most mentally demanding positions in the game. It requires full internalization of the defensive schemes to be able to adjust instantaneously and on the fly against NFL offenses. As with Sark, Duke looks capable of becoming a good (possibly very good) linebacker over time, But unlike, say, Takk McKinley, who may be used this year primarily for situational pass rush (requiring less understanding, adjustments and technique), no such "break-in" period is available to a linebacker.
Now, ready or not, with LaRoy Reynolds injured, Duke will likely be starting or playing heavy minutes beginning in Chicago.
Let's hope Duke is both up to the challenge and resilient enough to fight back if things don't go as smoothly as we all had planned.
Final Thoughts
The draft and training camp are the time for great hope and optimism. Every team is undefeated, has multiple pro-bowlers, and golden nuggets of undrafted free agents lining the fields of training camp.
Add to that mix, the Falcons coming off a trip to the biggest dance, an excellent, recent history of drafting, finding and coaching up young talent, and the excitement of opening the best stadium in all sports, and Falcons fans can easily be forgiven for being over the moon. Indeed, after so many years in the wilderness, Falcons fans deserve this moment and should luxuriate in it.
But (much as we may dislike it and them), compare our present approach to that of the Patriots, the standard-bearers for consistent excellence. In Patriotland, every year they "start from zero", with no mentions of past success, even removing all indications of such success from sight of the organization and team.
Viewed in this light, then, Saturday's game was, hopefully, good medicine.
Against an excellent team, the Falcons got a good, old-fashioned whipping.
Now, with clearer eyes and heads, perhaps the real work will need to begin.
Follow us on Twitter for more Falcons coverage.
photo by USA Today