by Mike Lederle
My name is Julio! Or Beast, or G.O.A.T., or Jet—whatever you prefer. For those fans that forgot, Julio reminded them exactly who is the best wide receiver in the NFL. Other fanbases like to think their wide receiver is better, but it's "fake news", as they say.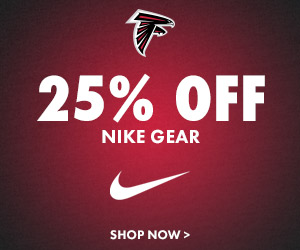 Julio is having somewhat of an off-year, but that's due to the standard he previously set. I'll take Julio week in and week out over anyone else. The touchdowns are down, but that isn't always in a wide receiver's control. Taking what the defense gives you, spreading the ball around, it's just sometimes the way the things go week to week.
Against Tampa Bay, coach Sark found a way to rediscover his underused stud wideout to the tune of 12 receptions, 253 yards, and two touchdowns. Julio is the only wide receiver with three (and counting) 250+ receiving yard games. Simply the best.
What got Julio going early? Agent 12, in the 12 gauge offense, a 51-yd touchdown tear-drop bomb to Julio. Side note, Sanu is a perfect six for six with three touchdowns throwing the ball in his NFL career. Not too shabby from a guy whose first responsibility is catching the rock.
There were big catches on multiple series early for Julio as he became the go-to option and got into a groove. Touchdown number two was an ankle breaker against Tampa Bay defensive back Ryan Smith. Julio made a move leaving Smith helpless lying on the turf, and then regained his composure to stretch out, go airborne, and reach out over the pylon for another score.
For the Falcons, as a team, there is still room to improve. Even in victory, nothing is perfect. The pass rush was not as impactful as in the previous two weeks. There was another Takk sack, which is always nice to see from your first-round rookie.
The lead at halftime sat at 20-6, and a blowout was sensed. Instead, we again let things get a little too close for comfort in letting the Bucs creep within seven. There were some defensive players getting banged up, specifically Trufant (concussion), and Poole (back), but these can't be excuses for letting off the gas.
The Falcons were on their way to a potential two-touchdown lead when Terron Ward fumbled inside the Bucs' ten yard line. In the NFL, you must find a way to finish off your opponent—the sooner the better; deliver the knockout blow when the opportunity presents itself.
That two touchdown lead eventually came a few minutes later with another Tevin Coleman touchdown run (two on the day), leading to a 34-20 Falcons win. Now, after forcing the Bucs to walk the plank, another ship comes sailing into Atlanta.
The Minnesota Vikings will embark on their journey to the Benz and will be coming in well-rested having last played on Thanksgiving Day.
The Vikings bring a formidable defense (thirty sacks and nine interceptions), and an offense that has scored with regularity. Not many people could have predicted a Case Keenum led team sitting at 9-2, in first place, after his last starting gig running a Rams' offense that sputtered weekly. Sam Bradford, and/or Teddy Bridgewater, was the standard answer to any quarterback questions in Minnesota, but Keenum has made the most of his opportunity.
The Vikings are clicking on all cylinders offensively. Wide receivers Adam Thielen and Stefon Diggs, tight end Kyle Rudolph, running backs Latavius Murray, and Jerrick McKinnon will present a challenge for the Falcons' defense.
This is the final regular season game outside of the division for the Falcons. The final four regular season games will include the Saints twice, Tampa, and then Carolina to close out the season.
This game will be a huge test, and the Falcons will be putting their three game winning streak on the line. So as the Vikings arrive in Atlanta raiding and warring, let's show them a certain Dirty Bird also knows the way to playoff riches!