by Matt Karoly
Things looked bleak for the Atlanta Falcons on Thursday Night Football. At one point, Atlanta's offense had a string of three straight possessions that ended with a Matt Ryan interception.
But that notwithstanding, the Falcons desperately eked out a 20-17 victory over the division-leading New Orleans Saints to keep their playoff hopes alive. The key word in all of that: desperately.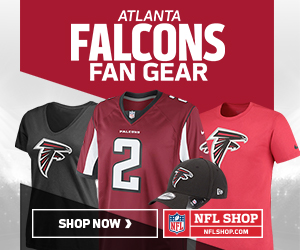 In Thursday's game, Atlanta proved that they needed this game more than New Orleans as the NFC playoff picture has done them no favors. Look no further than the fourth quarter box score to illustrate that point.
The Falcons outscored the Saints 10-0 in the final stanza in large part to a defense that really tightened up in the second half. Dontari Poe and Adrian Clayborn each registered a drive-killing sack on third down, but neither of those plays could top the one made by Deion Jones.
With New Orleans deep in Atlanta territory following a questionable decision by Dan Quinn, the Falcons second year middle linebacker saved the day with his game-clinching interception in the end zone. Jones was all over the field versus the Saints, notching 13 tackles (7 solo), 3 for a loss, 2 passes defended, and allowed a 27.1 passer rating on 8 targets, according to Pro Football Focus.
For a player that has been under the microscope all season, Debo had his "take that!" moment for the fan base. And quite frankly, it couldn't have come at a better time.
Falcons Find Another Way to Win
The offense, particularly Matt Ryan, had their fair share of struggles in this game. Ryan threw a pair of ill-advised passes that led to New Orleans' takeaways, but his teammates also didn't help the cause either.
Tight end Austin Hooper had two drops, one of which resulted in an interception, and even Julio Jones missed a perfectly thrown deep ball down the seam on the Falcons' third drive as he pointed back to Ryan to signal that he threw a good ball.
Obviously, the Falcons offense continues to go through lapses from an execution standpoint that hold it back from being a truly elite unit. And up until this past game, the Falcons defense did very little to compensate for the offense's lulls.
But therein lies the beauty of this latest victory.
Atlanta's defense finally delivered the hallmark performance we've been waiting for, demonstrating an ability to win a game previously not yet seen. In my opinion, the season-opening win in Chicago should be chalked up to week one shenanigans.
However, no disclaimer should be put on this one. Holding the DVOA number one ranked offense to 306 total yards, 17 points (7 of which came off a short field), and 3-of-10 on third down cannot be overstated. Neither can the two third down sacks versus the New Orleans offensive line, a unit that allowed only 15 total coming into the game.
It was around this same point last year that the defense started to come together. If their performance on Thursday night was any indication of deja vu, it bodes well for the Falcons' January prospects.
The Sark Adapts To Its Environment
One of the common complaints of Steve Sarkisian's play calling this year has been the inability to attack an opponent's weakness. To that end, Sark had his own "take that!" moment on Thursday night.
Seeing his quarterback struggle and a Saints defense ranked 27th in DVOA run defense, the rookie offensive coordinator leaned on his two-headed monster in the backfield. On their final three possessions, Devonta Freeman and Tevin Coleman combined for 13 carries for 41 yards with a 61.5% success rate.
The offense possessed the ball for 12 and a half minutes in that span, which was another major takeaway from this game. In all, the Falcons offense was on the field for 34:41 compared to the Saints' 25:19.
It was about time Atlanta gave their opponents a dose of their own medicine.
Dan Quinn has talked about this being the identity of their football team. Run the football; control the clock; win on third downs.
The Falcons did all three on Thursday and as a result, they are right in the NFC South title hunt with three games to go.
AP Photo/Danny Karnik