Welcome back, Rise Up Readers. I hope you all had a safe & happy Thanksgiving!
I am back with another Falcons Fantasy outlook for Week 12. If you have any fantasy questions, or just want to talk Falcons' football, you can find me at @EvanBirchfield on Twitter.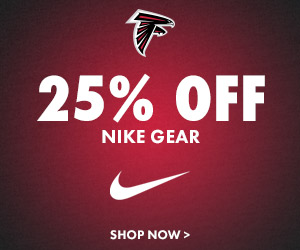 Coming off an important victory over the Seattle Seahawks, our Falcons will return to the nest for a divisional game against the Tampa Bay Buccaneers. Before we get to that game, I'd like to review the Seattle game first. The Falcons came out the better bird, 34-31, and this high score brought with it high fantasy performances. Below are my predictions, and how the individual players performed:
QB Matt Ryan – Prediction: 22.4, Actual: 22.95
RB Tevin Coleman – Prediction: 16.8, Actual: 12.8
RB Terron Ward – Prediction: 5.3, Actual: 5.2
WR Julio Jones – Prediction: 23.7, Actual: 12.1
WR Mohamed Sanu – Prediction: 12.6, Actual: 12.7
WR Taylor Gabriel – Prediction: 7.6, Actual: 2.7
TE Austin Hooper – Prediction: 14.4, Actual: 1.9
TE Levine Toilolo – Prediction: 2.2, Actual: 11.1
K Matt Bryant – Prediction: 11.0, Actual: 11.0
Defense – Prediction: 5.0, Actual: 12.0
The predictions in all came relatively close to the actual points scored. The biggest shocks came from the more sporadic fantasy performers. Julio Jones is incredible, we all know that. The issue with Julio is we never know how he's going to perform. The issue is even when Julio makes one of his ridiculous catches for twenty yards, it's still only a twenty-yard reception, which comes out to 3.0 points in PPR leagues. Gabriel & Toilolo are completely hit or miss based on the week's game plan. Now without further ado, let's preview this weekend's matchup against the Tampa Bay Buccaneers.
QB
Matt Ryan went into Seattle, and came out with his third-best fantasy performance of the season. I had a feeling Matty Ice would take advantage of the banged-up Seahawks defense, and he basically did so. In Week 12, he'll face the tenth-worst passing defense in the NFL. It's worth noting that Ryan has thrown exactly 2 TDs in each of the last four games. I have a feeling he'll break the trend and get to 3 TDs this week.
Prediction:
QB Matt Ryan – 29.4 points
RB
It appears the Falcons will again be without Devonta Freeman, which will leave Tevin Coleman as the featured back one again. Last week, Coleman was generally held in check by the stingy Seahawks defense, only averaging 2.2 yards per carry. Tevin did however get a rushing touchdown, which left his fantasy owners pleased. This weekend, he'll look to improve his numbers, against the Bucs who have given up the thirteenth-most fantasy points to RBs this season. Since taking over for Devonta, Tevin has exactly 20 carries and a touchdown in each of the last two games. Terron Ward should continue to sneak a handful of carries.
Prediction:
RB Tevin Coleman – 18.8 points
RB Terron Ward – 6.5 points
WR
Julio Jones might be one of the most frustrating fantasy players in all of football. Nobody questions how incredible he is, but his lack of touchdowns this year is mind-boggling. Julio's only touchdown reception came in Week 7 against the New England Patriots. Eventually, he should score again, I just don't see Julio finishing 2017 with one touchdown. Luckily for Julio and the rest of the Falcons receivers, Tampa Bay has given up the MOST fantasy points to wide receivers this season.
Prediction:
WR Julio Jones – 26.5 points
WR Mohamed Sanu – 16.8 points
WR Taylor Gabriel – 7.7 points
WR Justin Hardy – 6.7 points
TE
Last week I was expecting Austin Hooper to be involved, and the opposite happened. HOOPAH! was only targeted twice. He caught both targets, but finished with -1 yards. The tight end with the best fantasy day was actually Levine Toilolo, who scored on one of his two receptions. There's only so many quality fantasy TEs out there, so I'd still recommend starting Hooper. I think it's important to keep in mind that the Bucs have given up the fourth-fewest fantasy points to tight ends this season.
Prediction:
TE Austin Hooper – 8.7 points
TE Levine Toilolo – 2.8 points
K
When it comes to Matt "Money" Bryant, if you have him, you're starting him. Only three kickers this season have finished with more than 10 points against the Bucs this season. However, I think this has the chance to be a high-scoring game, so Bryant should get plenty of opportunities.
Prediction:
K Matt Bryant – 14.0 points
DEF
The Falcons defense has statistically been a top defense this season. In terms of fantasy, the defense is ranked 16th. Over the past two weeks, the defense has scored 28 total points. Most of this comes due to the fact that the defense has 8 total sacks in the last two games. I don't expect the production to go away this weekend. I have a feeling the Falcons are due a defensive touchdown. We'll see what happens.
Prediction:
Falcons Def – 13.0 points
Photo from AtlantaFalcons.com