by Mike Lederle
Yes, I'll have the combo meal please—a team of pirates, with a side of Koetter/Smith. Ate that W real good. Some slight indigestion, but nothing a little antacid can't cure. Best thing to come out of the Bucs game was a solid running game, which could be big come the postseason.
Time to move on from Tampa Bay, there's a bigger fish to fry. Or should I say, bigger opponents down on Bourbon Street.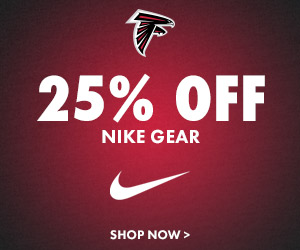 Falcons Have Chance to Put Saints on Naughty List
Christmas is a week away. Kids are on their best behavior, counting down the days; snowmen are being made and Christmas cookies are being baked. Rudolph the red-nosed Reindeer is on TV. Dreams of what might be hidden in the wrapped presents under the tree. And two weeks off of school!
For Falcons fans, the feeling is currently much the same. What would we see if we could just peel back some wrapping? Is that a Falcons playoff berth under there? Is that a shiny new NFC South Division Title? Is that a home playoff game at the new Mercedes-Benz stadium?
The final two weeks will determine all of these unanswered questions. Egg nog on Christmas Eve warms the soul, but what would warm Falcons fans hearts more than a sweep over the New Orleans Saints?
As we settle in for a Christmas Eve tilt vs. our hated division foe. Join me in some classic holidays hits…
Deck the Brees with Poe's bull rush
Fa la la la la, la la la la.
A Takk strip sack is all the fuss
Fa la la la la, la la la la.
Or another favorite…
I'm dreaming of another Falcons Super Bowl
Slightly different than 2016
Where running backs glisten
Offensive coordinators listen
To hear the fan base yelling run
Lastly…
The Saints secondary got run over by a GOAT
Trying to defend on Christmas Eve
You can say there's no such thing as Julio
But down in the Bayou they believe
One last thing, I think we all know who plays the role of the grinch this holiday season, right? You guessed it, Sean Payton.
A heel? Check
Charming as an eel? Check
Heart is an empty hole? Check
Soul full of gunk? Check
Stink, stank, stunk!
Merry Christmas Falcon fans! Win or lose, enjoy the holiday season! And if we all get one Christmas wish, playoff season prep begins soon enough.