By Matt Karoly
If the Falcons front office was looking for a draft class to save their jobs, the 2019 class is likely not going to provide that for them.
And that's not to say it was a bad draft, either. It's just the immediate pay-off won't be felt in year one from the majority of the players.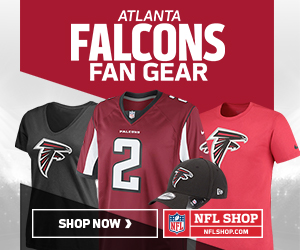 But for a staff entering the 2019 season on the hot seat, they may not have that kind of time to see their work through. So is there any reason to feel good about this incoming class?
Yes. There's one very good reason and his name is Matt Ryan.
While this may not be the draft Dan Quinn needed to save his job, it was the one Matt Ryan needed. Better yet, the one he deserved.
For far too long, the Atlanta Falcons have kicked the proverbial can down the road when it came to investing in the offensive line. Instead of sinking draft capital into protecting the franchise player, Atlanta opted for veteran free agents such as Harvey Dahl, Tyson Clabo, Andy Levitre, Chris Chester, and Brandon Fusco to name a few.
And in fairness to those players, the results were mostly good with them at the helm. But eventually, that approach was going to catch up to the organization. Queue the 2017 and 2018 seasons as the only evidence needed.
In 2017, Chester hung up the cleats and Levitre's body finally caught up to him. As a result, the Falcons were forced to turn to two journeymen (Ben Garland and Brandon Fusco) and a sixth round pick (Wes Schweitzer) at guard over the past two seasons.
That's a recipe for disaster and 2018 was the culmination of that flawed strategy. Ryan was sacked 42 times (second most in his career) and hit 106 total times in a season in which six different offensive line combinations started games for the Falcons. The time had come to bring stability to a position group tasked with protecting the franchise's most important player.
But based on how the 2019 offseason first unfolded, it didn't look like that was in the team's future plans. Atlanta kicked off the free agent spending spree this year by once again investing money in two veteran free agents in James Carpenter and Jamon Brown.
"Great, more stop gaps," scoffed the majority of the fan base, as the team committed close to $20 million in guaranteed money to two players who admittedly have not lived up to their lofty draft statuses. Same old Falcons, right?
Wrong.
Because on day one of the 2019 NFL Draft, the Falcons did something that's only been done five times in the common draft era. They drafted two offensive linemen in the first round.
At pick 14, Thomas Dimitroff stayed put, despite all the rumored interest in trading up, and selected 2019's version of Keanu Neal in Boston College guard Chris Lindstrom. In Lindstrom, the Falcons are getting a safe, plug-and-play starter and one who, like Neal, has Pro Bowl potential. The haters will call that a reach, but Dimitroff's track record speaks for itself.
While the Lindstrom pick may prove to be Dimitroff's best work in hindsight, it was the decision to move up for Washington tackle Kaleb McGary that brought his entire plan to fruition.
If the Falcons only walked away with Lindstrom on day one, they'd still be left scratching their head at right tackle in 2019 with Ty Sambrailo penciled in as the starter. And who knows, Sambrailo may have proven to be a good fit at right tackle following a strong finish to the 2018 season.
But fortunately, thanks to Dimitroff's aggressiveness, Ty can slot back in to his more appropriate swing tackle role, leaving the Falcons with plenty of depth to withstand an injury in 2019—something they didn't have a year ago.
Many will say Dimitroff didn't have to move up to get the Falcons' newest right tackle, but that runs contrary to how four of the next ten picks shook out—Jawaan Taylor to Jacksonville at 35, Greg Little to Carolina at 37, Cody Ford to Buffalo at 38, and Dalton Risner to Denver at 41. McGary wasn't making it to Atlanta's second pick at 45, so fans should take solace in the fact the Falcons got their guy before the run on tackles commenced.
However, the Falcons did much more than just get their guys. They also accomplished their two major goals of the offseason, which was to remake the offensive line and get nastier up front. Both Lindstrom and McGary are going to bring an attitude to the Falcons that the team hasn't had since the early Ryan years when Harvey Dahl and Tyson Clabo occupied the right side of the line.
So when we watch Matt Ryan drop back to pass in Mercedes-Benz Stadium several years from now, let us all think back to the 2019 draft. Because it was the events of that weekend that helped to make that future a reality.
For that, the entire fanbase, not just Matty Ice, should send a collective, "Thanks I appreciate that a lot," text to Thomas Dimitroff and Dan Quinn.
Photo By John Bazemore