By Matt Karoly
It's been a year to forget for the Atlanta Falcons. Aside from a three game stretch in the middle of the season, what could go wrong for our beloved Dirty Birds has gone wrong.
While many will point to the injuries as the culprit, this season's failures go much deeper than that. Truth be told, the coaching staff overestimated certain talent on the roster and no spot was that more evident at than defensive line.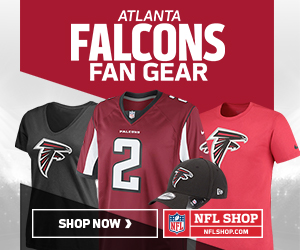 Combine that with the regression of players like Ryan Schraeder, De'Vondre Campbell, Desmond Trufant, and Robert Alford, and you get a team flirting with a top five pick.
But before we get to the draft, we must first address free agency and how this team can get better right away. Keep in mind, drafting is more about the future rather than the present.
Fortunately for the Falcons, they are projected to have more cap space in 2019 than they did in 2018. That's good news for a team looking to fill three and a half spots along the defensive line, two spots on the offensive line, and further strengthen the back end of their defense.
Part one of this series detailed who the Falcons could cut to create between $47.5 (conservative) to $66 million (aggressive) in cap space. Part two seeks to identify which free agents, both internally and externally, the team could sign with that money.
Let's first start with the Falcons own free agents.
Unrestricted Free Agents
Offense: Matt Schaub, Tevin Coleman, Logan Paulsen, Andy Levitre, Ben Garland, Ty Sambrailo, Zane Beadles, and Justin Hardy
The group here to keep a close eye on is the offensive line—Levitre, Garland, Sambrailo, and Beadles—with the one deserving particular attention being Andy Levitre.
Most people, myself included, wrote Levitre off after he was placed on IR for a second consecutive season with a triceps injury. But with right guard Brandon Fusco also landing on IR this season, the future at guard is unclear.
Sure, Fusco is signed through 2020, but it's fair to wonder if the team would rather have a year of Levitre in 2019 rather than a year of Fusco, especially if the total cap hit remains the same.
Ultimately, I expect at least two of the four offensive linemen back as well as Logan Paulsen in 2019.
Defense: Grady Jarrett, Bruce Irvin, Terrell McClain, Steven Means, Derrick Shelby, Bruce Carter, Kemal Ishmael, Justin Bethel, Blidi Wreh-Wilson, and Jordan Richards
One of these names is not like the others; that, of course, being Grady Jarrett. Make no mistake about it, the Falcons will re-sign Jarrett to a long-term contract this offseason. The only question that remains is how much will the star defensive tackle make?
Spotrac currently has Jarrett's market value in the $15 million range. That obviously represents the ceiling for what we should expect, with the floor being the 4 year, $42 million that Bears defensive tackle Eddie Goldman received last offseason. At the very least, expect a $10-12 million cap hit for Jarrett in 2019.
The other order of business the Falcons must tend to is the Julio Jones contract situation. If you recall, Jones "toyed" with holding out of training camp this past summer with the intent to get an updated contract.
The end result was a cap neutral adjustment that gave Julio $4.4 million in additional upfront money. However, that was only a temporary fix and the front office vowed to address the problem permanently in 2019. And with Jones posting his fifth straight 1,400 yard season this year (an NFL record), one would think that they will.
Don't be surprised if a four year, $80 million contract with $60 million guaranteed is in WR1's future this offseason.
As for the other defensive free agents not named Jarrett, the ones I can see back in Atlanta are Bruce Irvin, Steven Means, Kemal Ishmael, and Justin Bethel. Means would replace Brooks Reed as the Falcons fourth or fifth defensive end while Ishmael and Bethel would serve as core special teamers. All three are likely to command just veteran minimum deals. Irvin, on the other hand, would take the place of Vic Beasley in the situational pass rusher role and command something in the neighborhood of a 2 year, $6 million deal.
Restricted Free Agents and Exclusive Rights Free Agents
Only two names to talk about here and they are Brian Poole (RFA) and Marvin Hall (ERFA). Both should feel confident about their chances of returning in 2019.
At worst, Poole loses out to Damontae Kazee for the nickel corner job in 2019 and serves as the backup there as well as a backup to Keanu Neal at strong safety. That's easily worth the $3.124 million second round tender.
As for Hall, it would also appear to be a no brainer to pony up the ERFA tender amount ($720K) for a player that can wear multiple hats—kick (and punt?) returner, WR4, and perhaps even special teams gunner if the team elects not to bring back Bethel. Don't overthink this one, Dimitroff.
External Free Agents
Now comes the fun part. After taking the above contracts into account, the Falcons will have close to $27 million left to play with.
It's already been established that the Falcons biggest need lies on the defensive line. They currently lack a true #1 edge rusher and a partner-in-crime for Grady Jarrett at DT long-term.
But with only one first round pick to work with, the team is unlikely to check off both those boxes in the draft. The good news, however, is this free agent defensive line class is shaping up to be one of the best in a very long time.
Defensive End
Starting first at defensive end, the following free agents can be broken out into the tiers listed below:
Tier 1 ($15-20M per year): DeMarcus Lawrence, Jadeveon Clowney, Dee Ford, Trey Flowers, and Frank Clark
Tier 2 ($12-15M per year): Brandon Graham, Olivier Vernon*, Justin Houston*
Tier 3 ($7-12M per year): Preston Smith, Za'Darius Smith, Ziggy Ansah, Margus Hunt, Markus Golden, Dante Fowler, Shaq Barrett, Aaron Lynch
* signed through 2020 but team can and likely will opt out after 2018
Now keep in mind, not all of these players, especially those in tier one, will actually make it to free agency. I expect DeMarcus Lawrence, Jadeveon Clowney, and Dee Ford to be back with their respective teams in 2019.
That leaves the Falcons with Trey Flowers, Frank Clark, and the options in tier two as potential difference makers at defensive end. Now this isn't to say the players in tier three wouldn't improve Atlanta's pass rush; I'm just not confident there are any game wreckers on that list.
So if they're not going to get Flowers, which may be a tough task given his potential market, the ideal scenario would be a 3 year, $40 million contract offer for Graham, Vernon, or Houston.
And if they strike out in tiers one and two, Baltimore edge rusher Za'Darius Smith should be plan c for the Falcons. Think a healthy Pernell McPhee in his prime when trying to find a comparison for Smith's game.
Defensive Tackle
On the off chance the Falcons don't land one of the marquee defensive ends, they may turn their attention to the defensive tackles. The biggest names available there include:
Ndamukong Suh (3 years, $27 million per spotrac)
Sheldon Richardson
David Irving
Muhammad Wilkerson (finished year on IR with a broken ankle)
Malik Jackson (likely to be cut by Jacksonville)
Full disclosure; it's not a particularly inspiring group with Sheldon Richardson representing the best player on the list. And given that the Falcons declined to pay Dontari Poe the same kind of money in 2018, I assume they'll take a similar approach with this crop of defensive tackles.
So, aside from defensive line, where else could the Falcons spend money on the open market? I'd offer up three other position groups as suggestions: offensive line, linebacker, and cornerback.
Offensive Line
Tackles: Trent Brown, Ja'Wuan James, Daryl Williams, Donovan Smith, Greg Robinson
Guards Younger Than 30 in 2019: Forrest Lamp (potential trade candidate), Jamon Brown, Mark Glowinski, Quinton Spain, Billy Turner, D.J. Fluker, Chance Warmack
Guards Older Than 30 in 2019: Rodger Saffold, James Carpenter, J.R. Sweezy, Tom Compton
Much like defensive line, the Falcons offensive line has two starters to replace this offseason—one of the guard spots and right tackle. They're unlikely to accomplish both feats in the 2019 draft.
Therefore, it would be wise to fill one of those holes in free agency. When it comes to tackles, the rule of thumb suggests drafting the left tackle and paying the right tackle based on the salaries they merit on the open market.
So far, the Falcons have subscribed to that model with Jake Matthews and Ryan Schraeder, but it looks like it may be time to replace Schraeder after he was benched in week 14. Two names that should be high on their list of replacements are former Georgia residents Trent Brown and Ja'Wuan James.
A five year, $40 million deal should be enough to convince either to come home and play for the red and black.
Linebacker
Kwon Alexander (5 year, $40 million)
Lavonte David (Tampa Bay can opt out after 2018 if they wish to re-sign Alexander)
KJ Wright
Denzel Perryman
Preston Brown
When the Falcons reportedly showed interest in Alabama LB Rashaan Evans in the 2018 draft, it didn't make a lot of sense. After all, the team had already sunk three top 115 picks in the position the previous two drafts.
But fast forward eight months and those rumors are starting to come into focus. Duke Riley has been a major disappointment, De'Vondre Campbell took a step back in 2018, and Foye Oluokun, a sixth round rookie from Yale, was pressed into action right away.
Since the team is likely to devote its immediate attention in the draft to the trenches, free agency may present the best avenue to boost their LB corps in 2019. And the name to keep an eye on here is Kwon Alexander.
If Tampa elects not to bring back Alexander following an injury-marred season, pairing him with his college teammate for the next five years may be too enticing to pass up. Lavonte David also wouldn't be a bad consolation prize if the Bucs let him walk in favor of re-signing Alexander.
Cornerback
Bradley Roby
Jason Verrett (1 year, $4 million)
Darqueze Dennard
Eric Rowe
Justin Coleman
With Robert Alford not expected back and Isaiah Oliver taking over at CB2, the team may want to bring in a veteran corner as insurance. At the very least, they'll need to add a boundary CB or two for depth since Kazee and Poole are purely slot corners.
The name to focus on here is Chargers cornerback Jason Verrett. Verrett has been a victim of bad injury luck throughout his career, but when healthy, he's up there among the very best at his position.
He also has shown the versatility to play both inside and outside so, on a prove-it one year contract, Atlanta could be the perfect landing spot for Verrett to get his career back on track and provide competition for Oliver.
---
In my mind, a perfect free agent haul includes the Falcons swapping Beasley's contract out with Graham, Vernon, or Houston and acquiring Brown or James to play right tackle. Anything else the team does after that point would be gravy.
To update, here is what Atlanta's cap situation would look like after those two major acquisitions:
As you can see, the Falcons would still have plenty of wiggle room to round out the roster with some mid- to lower-tier free agents. With Schraeder's cap savings being realized after June 1st, that will serve as the draft fund to sign their 2019 rookie class.
And speaking of those nine draft picks, stay tuned for the third and final part of this series as we cover some of the prospects the Falcons might select in April.
Photo from Scott Cunningham/Getty Images