By Matt Karoly
Allow me to be the first to say it. It's time to start looking ahead to 2019. After three straight losses, following three straight wins which only served to give us false hope, the Atlanta Falcons are seemingly dead in the water in the NFC playoff picture at 4-7.
The Falcons essentially have to run the table, plus get some help from around the league, in order to make the playoffs at 9-7. And with tough games still remaining such as a home date with Baltimore and road games in Green Bay (where the Packers have not lost this season) and Carolina, that proposition seems futile.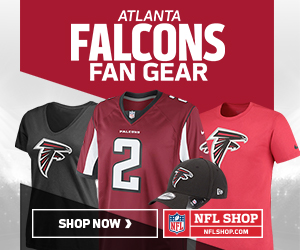 Therefore, this article serves as the jumping off point into the offseason discussion of how Dan Quinn and Thomas Dimitroff retool the Brotherhood in 2019. So without further ado, here is part one of a three-part series which will run through who the Falcons could cut, sign, and draft in 2019.
But before I begin, it's important to remind folks that step one of this process is getting healthy. Not many teams picking in the top 10-15 will be adding Pro Bowlers at running back, middle linebacker, and strong safety as well as a defensive captain to their lineup next year.
That's essentially a stellar free agent class in itself.
However, even with Devonta Freeman, Deion Jones, Keanu Neal, and Ricardo Allen returning off IR, the Falcons still have flaws on this team to correct, particularly along the trenches. In my estimation, there are roughly three and a half spots on the defensive line that need upgrading while the offensive line could stand to add at least two younger bodies to push the aging veterans.
But before they can address all of that, the front office has to determine who is expendable to make room for the next wave of talent which leads us to the question—who could the Falcons cut in 2019?
As it stands now, the Falcons are projected to have close to $30 million in cap space (assuming a $190 million salary cap) after they designate Brooks Reed as a pre-June 1 release. Reed is the only 2018 Falcon under contract I can say with absolute certainty will not be back with the team in 2019.
However, he isn't the only cap casualty I expect to come out of the 2019 offseason. I believe the team can reasonably cut ties with six more Falcons after this season and I have placed them in the following tiers:
Cuts that make the most sense – Vic Beasley ($12.81M savings), Matt Bosher ($2.545M savings), and Matt Bryant ($2.834M savings)
We'll start with Vic Beasley, who makes the most sense on this list given his $12.81 million salary in 2019. The reason the Falcons are in this position in the first place is they elected to pick up Beasley's fifth year option last May.
However, at that time, you couldn't really blame the team for committing an extra year to the 2016 All-Pro. But now, after two straight underwhelming seasons, the Falcons can no longer rationalize keeping Beasley around…at least not at that price tag.
And in my opinion, even at a reduced rate, a situational pass rusher with a limited repertoire such as Beasley's is not worth it. It's best for all parties involved if Atlanta moves on from their 2015 first round pick, allowing Vic the opportunity to land with a team better suited for his skill set (i.e. a team that utilizes a 3-4 defense). (Note: Beasley's $12.81M salary becomes fully guaranteed on the 1st day of the league year in March 2019, so a decision will have to be made on his future before then)
As for the other names on this list, they are less obvious but there is good reasoning behind each of them.
Amidst all the other issues Atlanta has faced this year, the play of their punter has gone relatively unnoticed. But when you dive deeper into the numbers, Bosher has been among the worst punters in the league in 2018.
Most notably, the Falcons punter is tied for last place in punt average (43.7 yards) as well as net punt average (37.5 yards). Perhaps more blame should be directed Bosher's way for the team's field position woes the last two years.
Having said all that, it may be time for the Falcons to move on from the eight year veteran, saving them over $2.5 million in the process with no dead cap charge to speak of.
Next on this tier of names is Matt Bryant and the question becomes what should the Falcons do with the legendary place kicker in 2019? At 43 years old, Bryant is no spring chicken (he will be 44 next May) and we've begun to see signs of his bionic leg submitting to Father Time this season.
With Giorgio "Italian Ice" Tavecchio in the fold, I believe the decision makers that be have held onto him, even reportedly signing him to a two-year deal, for this very scenario. Moving on from Bryant would save the Falcons an additional $2.834 million in cap space in 2019. (Note: Bryant has roster bonuses of $1.05M and $1.35M due the 5th day of the league year in March 2019 and 2020, respectively, so they'll have to make a decision on his future before then)
It may be a bit risky replacing both specialists in the same offseason, but Atlanta already got a head start on the kicker position in Tavecchio. Finding a punter in the draft, preferably one in the undrafted free agent process, should be doable for the front office.
Cuts that are possible in 2019 – Robert Alford ($7.9M savings)
Robert Alford is the one I could go either way on. In 2017, Alford was arguably the team's best cornerback as evidenced by his shut down performance against the Rams in the playoffs and his work defending the red zone.
However, whether it be due to injury or just swift regression, Alford has taken a major step back in 2018. Pro Football Focus has him graded as one of the worst cornerbacks this season, for what it's worth.
Making matters worse for Alford's situation is the development of rookie second round pick Isaiah Oliver. Oliver has shown flashes of potential this season and figures to be a perfect fit in Dan Quinn's defense given his pterodactyl-like arms and ball skills.
Quinn has said recently that Oliver is continuing to get better in his technique, something Isaiah mentioned this offseason as one of the areas he needed the most work on:
I think we're gonna see the #Falcons bring Oliver along slowly as he transitions to the new scheme/technique. Could wind up being similar to Trae Wayns's situation in Minnesota. pic.twitter.com/wCaohZiZDX

— #PlayDeadForEd #StopWinninForQuinnen (@mattkaroly) August 11, 2018
If the Falcons continue to fall further out of the playoff race, the final few games could serve as a trial run to determine whether Oliver is ready for the CB2 job in 2019. A positive confirmation of this would save the team nearly $8 million next year.
Cuts that are unlikely in 2019, probable in 2020 – Mohamed Sanu ($4.6M savings)
Many want to write Mohamed Sanu off in Atlanta in 2019 due to the presence of rookie phenom Calvin Ridley. But my philosophy has always been, why create another hole on the roster when the team already has holes to fill along both lines as well as adding better depth at linebacker and safety?
It's in the team's best interest to keep a strength a strength for at least one more season. Not to mention, Sanu remains one of Matt Ryan's most dependable targets on third down and another big body for Ryan to target in the red zone.
Even with Sanu's $7.4 million cap charge on the books in 2019, the Falcons would only rank 10th in the league in wide receiver spending per spotrac. There's some good teams ahead of Atlanta on that list, too, so clearly there's value in having an elite WR corps in this league.
Still too early to give up on – Ryan Schraeder ($3.95M savings)
I could have put Ryan Schraeder's name in the same tier as Mohamed Sanu's, but I chose to keep him separate for one critical reason.
The Falcons already will head into 2019 wanting to replace at least one of their starting guards. In my opinion, Wes Schweitzer is not someone the team wants as the long-term starter as evidenced by their decision to sign Brandon Fusco last offseason.
Therefore, creating two holes because of an overreaction to one bad season from Schraeder could provide more harm than good. Keep in mind, the talent pools at offensive line aren't what they used to be in college anymore, which is probably why the Falcons have taken to free agency to patch together their offensive line in recent years.
Now this isn't to say they shouldn't try drafting the future right tackle; I'm actually advocating the opposite.
I hope the Falcons do draft the eventual successor to Schraeder in 2019. I'm just not ready for the newcomer to take his place unless the right tackle's struggles carry into next season.
---
By cutting Beasley, Bosher, and Bryant, the Falcons could walk into 2019 free agency with $47.5 million in cap space. They will, however, need to reserve at least $10 million of that for Grady Jarrett's future contract extension.
And if the remaining $37.5 million is not enough to accomplish their offseason goals, the team could gain an additional $10 million by cutting Alford and restructuring Alex Mack's contract as noted in the chart above. That should be plenty of ammunition to help improve their ailing offensive and defensive lines.
In part two of this series, I'll detail exactly what free agents the Falcons could target with their newfound cap space.
Photo By Getty Images