By Matt Karoly
You are what your record says you are in the National Football League. And Dan's Quinn 39-37 regular season record as head coach of the Atlanta Falcons says one of two things:
It says either the Falcons are a mediocre football team or Dan Quinn is a mediocre head coach. The truth often lies somewhere in the middle. However, given the Pro Bowl caliber talent the team has invested at quarterback, wide receiver, tight end, running back, defensive tackle, linebacker, and in the secondary, coaching deserves the lion's share of the blame.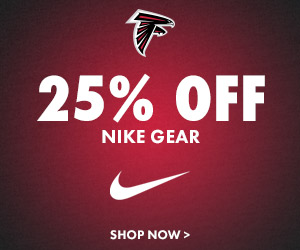 That's a disappointing revelation for a team in the midst of a Super Bowl window. Patience has to be wearing thin for owner Arthur Blank, especially after he just opened up his checkbook the last two offseasons to sign Matt Ryan, Julio Jones, Grady Jarrett, and Deion Jones to big money deals.
With the face of the franchise set to turn 35 next May, time is of the essence. Blank will not be willing to waste another year and take a chance that Dan Quinn can right the ship in 2020.
During Blank's 18 year tenure as owner, no Falcons head coach has missed the playoffs in consecutive seasons and lived to tell the tale. Dan Quinn will not be the exception to that rule.
That being said, this upcoming head coaching vacancy will be the most important hire in franchise history. The franchise QB isn't getting any younger. The first ballot Hall of Fame WR isn't getting any younger.
It's time to cash in on their twilight years and finally bring a Super Bowl title to Atlanta. After dipping his hand into the defensive-minded coaching pool for three of his four hires, Blank must look to the offensive side of the ball to bring stability to his franchise and two most valuable assets in Ryan and Jones.
So with that in mind, what offensive-minded coaching candidates could become the next head coach of the Atlanta Falcons? Part one of this year's "Falcon Eye Toward the Future" seeks to answer that question.
Rising Stars
Eric Bieniemy (Offense: West Coast)
Eric Bieniemy is the next coach in line on what's been a very fruitful coaching tree for Andy Reid. From John Harbaugh to Doug Pederson to Ron Rivera, the Andy Reid coaching tree has spawned three head coaches that have either reached or won a Super Bowl.
For the last seven years, Bieniemy has bided his time in Kansas City, coming close last year to securing his first head coaching job. It's only a matter of time, though, before he is rewarded for his patience, especially after another successful season co-piloting the Chiefs' high-powered offense as Reid's right-hand man.
But beyond that, it's the endorsements Bieniemy has from his current and former players that deserve to be front and center on his resume. Said future Hall of Fame RB Adrian Peterson, who Bieniemy coached in Minnesota from 2006-2010, "he'll be a good head coach one day."
John DeFilippo (Offense: West Coast)
Carson Wentz's MVP caliber season in 2017. Gardner Minshew Mania in 2019. These are just a few of the accomplishments of current Jaguars offensive coordinator John DeFilippo.
The common denominator here? DeFilippo excels when given a young QB prospect to work with.
And while that doesn't necessarily fit the current situation in Atlanta, Flip is still worthy of consideration being one of the rising stars in the coaching community. Still only 41 years old, he might not be the head coach the Falcons need now, but the one they need down the road to usher in the post-Matt Ryan era.
File John DeFilippo's name away for the future.
Nick Sirianni (Offense: West Coast)
Not enough was made last year about the Colts ability to pivot from Plan A (Josh McDaniels) to Plan B (Frank Reich) and not skip a beat. Part of the reason for that was because Reich is a good football coach who demonstrated an ability to put together a great staff.
And one of his assistants who's made his staff what it is today is Colts offensive coordinator Nick Sirianni. Sirianni first worked with Reich in San Diego from 2013-2015, where Reich developed an appreciation for the relationship Sirianni formed with Chargers QB Philip Rivers.
The ability to form a lasting partnership with veteran QB Matt Ryan is criteria number one for any prospective head coaching candidate and Sirianni checks that box. What we are less sure of in regards to the Colts "offensive coordinator" is how much of Indianapolis's recent success can be attributed to Sirianni as opposed to Reich's influence.
In all fairness though, that's a hurdle quite a few candidates on this list will have to overcome so Sirianni should be right in the mix with the rest of them.
Kevin Stefanski (Offense: West Coast)
When Dan Quinn decided to fire Steve Sarkisian as offensive coordinator last year, the hope was that he'd replace him with Mike Shanahan disciple Gary Kubiak. Unfortunately, Broncos GM John Elway had other plans at the time and blocked that from happening.
A year later, the Falcons now have an opportunity to hire a Kubiak understudy in Vikings offensive coordinator Kevin Stefanski. After Kubiak was eventually released from his contract in Denver, he latched on with the Vikings where he brought his Shanahan-style offense to Stefanski.
The duo have proven to be a perfect fit as Stefanski has been the play caller of the league's 5th ranked DVOA offense which has allowed QB Kirk Cousins and RB Dalvin Cook to have MVP and OPOY caliber seasons, respectively.
After 14 seasons in Minnesota working in various capacities, Stefanski is finally ready to make the jump as the next young (he turns 38 in May) head coaching candidate.
Veteran Options
Jay Gruden (Offense: West Coast)
Let's get something out of the way right now. Jay Gruden got a raw deal in Washington.
The Redskins are one of, if not, the most dysfunctional franchise in the NFL. If the drafting of Ohio State quarterback Dwayne Haskins was any indication, there was a clear and obvious disconnect between management and coaching which put Jay and his staff in an untenable situation.
But make no mistake about it, Gruden is one of the brightest offensive minds in the game; just ask Kirk Cousins. It was Gruden who brought Cousins into the forefront and unlocked his potential as a franchise QB from 2015-2017.
Now just imagine what he could do with Matt Ryan. The only question that remains is whether Gruden wants to get right back into the head coaching mix. In an interview with Albert Breer after his ousting in Washington, Gruden said he'd like to "…take some time off, then [he'll] make some notes and get [his] preparation ready."
Jim Harbaugh (Offense: West Coast)
Harbaugh could also qualify as one of the "wild cards" on the list considering the fact he is still under contract at the University of Michigan through 2021. However, given his NFL background and uncertain future at Big Blue following a fifth straight loss to rival Ohio State, the former 49ers head coach could find himself in the NFL sooner rather than later.
If that's the case, Harbaugh will have no shortage of suitors. That's because, in his four short years as an NFL head coach, he accomplished the following:
44-19-1 overall record
5-3 playoff record
Three NFC Championship Game appearances (2011-2013)
Super Bowl berth in the 2012 season
The formula for San Francisco's success during Harbaugh's tenure? A suffocating defense paired with a dominant run game, both of which would be welcome additions in Atlanta to help take the burden off Matt Ryan.
Mike McCarthy (Offense: West Coast)
If you think Harbaugh was an accomplished NFL head coach, consider what Mike McCarthy achieved in his 13 seasons leading the Green Bay Packers:
125-77-2 overall record
Nine playoff appearances with a 10-8 playoff record
Four NFC Championship game appearances (2007, 2010, 2014, 2016)
Super Bowl champions in the 2010 season
Another thing that won't show up in the record books, but that McCarthy absolutely deserves credit for was how he managed the transition from franchise legend Brett Favre to the QB of the future in Aaron Rodgers. He did so as well as one coach could and that will undoubtedly be a major selling point to Arthur Blank as Blank contemplates the Falcons' future.
On the flip side, McCarthy will have to convince Blank and his hiring team that he learned from his mistakes in Green Bay and has evolved as a play caller. If he can do that, McCarthy should be one of the favorites for the job, whether Falcons fans want to hear it or not.
Josh McDaniels (Offense: Erhardt-Perkins)
Josh McDaniels represents the most youthful, cutting edge option of the veteran bunch, which is weird to say since it feels like McDaniels has been around forever. And he basically has, getting his first start in New England as a personnel assistant back in 2001.
However, McDaniels won't turn 44 until late April, so a second head coaching stint figures to be in his future. The question remains whether that will be in New England as the heir apparent to Bill Belichick or somewhere else.
It seemed like the latter was a foregone conclusion with the Indianapolis Colts in early 2018, but McDaniels got cold feet in the final hour. While no excuse for his betrayal, hindsight tells us there may have been doubts about Andrew Luck's future in football at the time.
No such doubt exists in Atlanta with Matt Ryan at the helm. In addition, the Falcons would allow McDaniels an escape to the NFC where he wouldn't have to face his former employer on a regular basis.
But will Blank be willing to trust someone with McDaniels's track record after having been left at the altar once before by Bobby Petrino?
Wildcards
Mike McDaniel (Offense: West Coast)
It's no secret the Falcons have missed Kyle Shanahan since he left to coach the 49ers in 2017. And the area that has arguably been most affected by his absence has been the Falcons' run game.
From 2017-2019, the Falcons have had the 16th, 22nd, and 25th ranked DVOA run offense, respectively. With Shanahan at the helm in 2016, they were the 6th ranked DVOA run offense. One of the characteristics that separates Kyle Shanahan from the rest of the world is his ability to create space in the run game using pre-snap motion.
This is where 49ers assistant Mike McDaniel comes into play. McDaniel has been on Kyle Shanahan's staff at nearly every step of Shanahan's NFL journey, currently serving as the run game coordinator in San Francisco.
One of the concerns with McDaniel, however, is that he's never called plays in his career so there would be a level of risk hiring him to be a head coach. But if the Falcons can't land someone like Stefanski or Bieniemy and don't want to go with a retread, McDaniel is a coach who already has a relationship with Matt Ryan; is fluent in the Shanahan system; and well-respected around league circles.
Kellen Moore (Offense: Air Coryell)
Another coach who is rather green behind the ears is Dallas Cowboys offensive coordinator, Kellen Moore. But the results are undeniable.
Under Moore's tutelage, the Cowboys offense has ascended to the 2nd ranked DVOA attack and QB Dak Prescott currently holds the crown of top ranked passer by DVOA standards. Not bad for a first year play caller and second year assistant coach.
Since Sean McVay burst onto the scene as a 31 year old head coach in Los Angeles, NFL owners alike have been on the hunt for the next "boy genius" to lead their franchise. Perhaps Moore, who doesn't turn 32 until July, could be that guy.
Lincoln Riley (Offense: Air Raid)
The ultimate wildcard of the four, Riley has taken the college football world by storm since succeeding Bob Stoops at Oklahoma in 2017. His accomplishments in Norman in that brief period include two Big 12 championships, two College Football Playoff appearances, and piloting an offense that has delivered the past two Heisman trophy winners.
And if not for LSU's Joe Burrow this year, Riley's offense likely would've made it a Heisman three-peat with Jalen Hurts leading the way. It's his work specifically as a "quarterback whisperer" that has NFL owners salivating at what a Lincoln Riley offense might be capable of at the professional level.
And given the early success of fellow Air Raid disciple Kliff Kingsbury in Arizona, Riley's stock has only gone up this year. Now comes the question of whether the Sooner head coach even wants to leave his cushy situation, where he's getting paid $6 million in 2019 (would rank as the 9th highest head coaching salary in the NFL), to test the NFL waters.
Greg Roman (Offense: West Coast)
Perhaps no assistant coach's stock has increased more this year than Greg Roman. Brought in to be the architect of the Ravens' zone read offense, Roman has proven to be the perfect man for the job, elevating QB Lamar Jackson to the forefront of the MVP race.
In addition to Jackson, Roman has also spurred career best seasons for other dual-threat quarterbacks such as Colin Kaepernick and Tyrod Taylor during his coaching career. It's for this reason why Roman may not be an ideal fit for traditional pocket passers like Matt Ryan (no offense, Matty Wheels), but his body of work still merits an interview.

---
While I personally hope for Stefanski or Bieniemy (in that order) in Atlanta, I do get the sense that Arthur Blank will steer clear of the rookie head coach this time around and opt for a more experienced candidate. That is why someone like Mike McCarthy or Jim Harbaugh, if he becomes available, could wind up being Blank's preferred choice.
As mentioned earlier, this next coaching hire could prove to be Matt Ryan and Julio Jones' last, so it's imperative Blank makes it a good one. The answer to this fateful question will come over the next two months.
Photo By Jason Getz-USA TODAY Sports