By Matt Karoly
Heading into the 2019 offseason, the Atlanta Falcons had three priorities. They accomplished all three when they locked up Grady Jarrett, Deion Jones, and Julio Jones for the next three seasons, at which point the Falcons have an out in their contracts.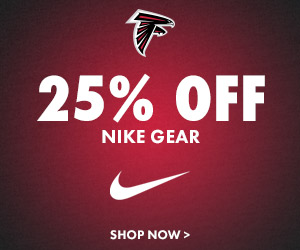 Some may believe these moves signal a "Super Bowl or bust" movement in Atlanta for 2019. And while those voices only increased in volume following the Falcons disappointing 28-12 season opening loss in Minnesota, I disagree with the sentiment as a whole.
If anything, the contract extensions for Jarrett and the Jones boys only extend the franchise's Super Bowl window by an additional three years. Locking up a roster's core building blocks should never be seen as an act of desperation, but rather a sign of promise.
Of course, the team will have to make more difficult roster decisions in the coming years to keep this machine rolling, but that hasn't stopped the Brotherhood before. See Dontari Poe, Taylor Gabriel, and Tevin Coleman just to name a few.
So without further ado, let's get into some of the decisions the front office will be faced with as well as discuss where the organization is currently positioned from a cap standpoint.
2020 Salary Cap Outlook
Starting first with the Falcons 2020 salary cap, it has been well documented already this offseason that Atlanta is projected to have negative cap space next year. That number to be exact is negative $9.22 million after accounting for the 35 players under contract plus Austin Hooper and assuming a $199.5 million cap for 2020.
I know things look bleak, but there are ways to circumnavigate the franchise's cap deficit. The chart below illustrates the Falcons cap picture next year prior to cuts and contract adjustments.
The reason I included Austin Hooper's name on the list, despite being an unrestricted free agent in 2020, is because he's next of the priority free agents to be re-signed in my opinion.
Part of why that is, aside from the fact that Hooper is an ascending, Pro Bowl caliber tight end who has put considerable time in the offseason working with Matt Ryan, is because of Mohamed Sanu. With Sanu getting up there in age and the Falcons set at the top of the WR depth chart with Julio Jones and Calvin Ridley, it makes perfect sense to swap out his $7.9 million cap hit in 2020 with Hooper's forecasted $7 million cap hit on a 5 year, $45 million deal.
In addition to Sanu, I think it's fair to say Ty Sambrailo and Matt Schaub are also gone after this season. With Kaleb McGary in the fold and Matt Gono proving to be a capable swing tackle, there's really no reason to keep Sambrailo's $5.75 million cap hold on the books in 2020. Cutting him would result in a $3.75 million savings.
As for Schaub, it feels like we've been trying to push him out the door for almost a decade now, but in 2020 that may actually become a reality. The Falcons have two developmental quarterbacks in the pipeline in Kurt Benkert (IR) and Danny Etling (practice squad) which increases the chances a QB not named Schaub will be Ryan's backup in 2020. Saying goodbye to Schaub saves the club $2 million.
Beyond those three, it becomes a bit tougher to project what other players the Falcons might cut. The reason being stems from the fact that post-June 1 cuts are unavailable to teams until the NFL and NFLPA strike a new Collective Bargaining Agreement (CBA) for the 2021 season. In other words, if the Falcons wanted to release Devonta Freeman or Desmond Trufant next offseason, for example, they would have to realize their $6 or $10.2 million dead cap charge, respectively, in 2020. James Carpenter also falls into this category.
With that said, I'm not going to forecast any additional cuts outside of Sanu, Sambrailo, and Schaub at this time. But just know, if a new CBA is agreed upon prior to the start of 2020 free agency, the Falcons would likely part ways with Carpenter and potentially one of Freeman or Trufant, saving anywhere from $9.33 to $13.58 million in the process.
Moving on to the next order of business – contract restructures – Thomas Dimitroff has utilized this cap mechanism three times already in 2019 and must do so again in 2020 in order to maintain cap compliance.
The secret to the perfect restructure is to select a player the team is comfortable keeping long-term since all it does is push a player's guaranteed money further into the future, making it tougher to cut said player in the short-term. That is why players like Matt Ryan and Jake Matthews are perfect candidates for such a move. In 2020, the Falcons can save a maximum of $23.36 million by restructuring Ryan and Matthews's contracts once again.
However, Dimitroff has never been quite that aggressive with his restructure history, so I've erred on the side of caution here and projected he will open up $18 of the $23.36 million available to him. This leaves the Falcons with $21.03 million in cap space to fill out 20 roster spots, which brings us to the team's pending free agent list.
Pending Free Agents
For the sake of brevity, I did not include free agents such as Kenjon Barner, John Wetzel, and Michael Bennett, the likes of which aren't expected to be a factor in 2020. That leaves us with the following players the Falcons front office has to make decisions on next offseason:
As alluded to already, the Falcons don't have a lot of cap space to be major players in free agency next year. If you haven't already, get used to hearing that phrase echoed over the next couple years.
The reality is the Falcons free agency fun consists of taking care of their own people – Grady Jarrett, Deion Jones, Austin Hooper, and Keanu Neal – until further notice. However, where I don't believe that money goes is to players like Vic Beasley and De'Vondre Campbell.
The Falcons simply don't have the resources to make those pieces fit nor do I believe they need to. Beasley and Campbell are replaceable commodities and not worth the price tag they'll command on the open market.
Further complicating matters, Atlanta's salary cap is top heavy enough as evidenced by the top seven contracts on their payroll accounting for $122 million, or 61%, of the projected 2020 cap. That number will shrink to $104 million, or 52%, after the proposed Ryan and Matthews adjustments, but the point remains the same.
For the Falcons to keep this machine rolling, they are going to have to fill out the remainder of their roster with cost effective depth signings. That means bringing back guys like Wes Schweitzer, Justin Hardy, and Sharrod Neasman and perhaps even promoting others like Chris Cooper, Christian Blake, and Austin Larkin from the practice squad.
The good news is by letting Beasley, Campbell, et al walk, the Falcons figure to replenish their draft capital in the form of compensatory picks starting in 2021. Don't let this fact get overlooked when contemplating the future of this football team.
Because much like how this roster came about via the draft, it'll take more of the same to keep it on top in the ever-competitive NFC. That and some very aggressive cap manipulations from GM Thomas Dimitroff.
The only question now is "will TD still be the general manager of the Falcons to make those moves?" Sunday's outcome versus the Eagles will go a long way in determining the answer.
Photo By Dale Zanine-USA TODAY Sports