Devonta Freeman earned every penny.
The Falcons' 2014 round pick, the ferocious ball carrier, the down-to-Earth bulldozer who came out swinging at Jerryworld and never looked back – Freeman got paid today, and he earned every cent of it.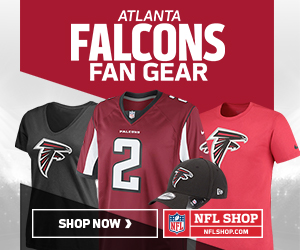 The Falcons signed the RB Freeman to a five-year extension, worth $41 million dollars (including $22 million of it guaranteed as he signed the dotted line). The extension comes just as Freeman prepares to head to Miami for a preseason matchup against the Dolphins.
The same city where Freeman was born and raised. Where he survived a hell of childhood in the Pork 'n' Beans projects (located in Miami's Liberty City).
A few years ago, the Tallahassee Democrat told Freeman's story, as has ESPN's Vaughn McClure. I'll let them recount to you the full story, but here are the highlights.
Freeman grew up in one of the worst areas of his city – where he was surrounded by gang violence and the horrid cycle of poverty that entraps inner city communities. He was the man of his household at 12, where he worked odd jobs around town to be able to keep money in his pocket – heavy for any man's shoulders, much less a pre-teen.
The stories talks about the world Freeman grew up in – one where gunshots and the deaths/jailing of friends and family members were not out of the ordinary. Freeman would try to help some of those close to him. It wouldn't always work. At a party when he was 15, a stray bullet from a gang altercation razed his shoe. All part of it, to Freeman.
He dreamed of a life in football –sporting the uniform of the hometown Miami Hurricanes at the top of the list (he would later be told by a Miami coach that they didn't think he had what it took to play running back at the university. Boy, were they wrong…). His time with Pop Warner football caught the attention of one of his coaches, rapper Luthor Campbell of 2 Live Crew, Freeman's lifelong mentor who helped steer him down a better path.
Those in Freeman's community knew he had talent. Those caught in the unfortunate cycle tried to ward him off.
"A lot of the drug dealers and dope boys that used to hang on the corner, they'd always see me and they knew I had talent," Freeman told the Tallahassee Democrat. "They'd be like, 'Don't come on this corner.' They'd be like, 'Man, this ain't what you want, this isn't the place for you.' Some of those guys used to always reach out to me and were like, 'Man, if you need anything just come to me and ask me. Don't do nothing crazy. Just continue to play football and go to school.'"
You know the rest of his story – a successful high school football career led to him getting a scholarship at Florida State, where Jimbo Fisher took Freeman under his wing and saw him put together the kind of career that could get him drafted in the NFL. The work ethic, high character, and abrasive running style got him eyes and reps, and he helped the Seminoles win a National Championship before heading for the big league. He was Florida State's first 1,000 rusher since Warrick Davis, another former Falcon known for his pristine character as well as his on-field bravado.
Assistant GM Scott Pioli heard about Freeman's reputation at Florida State from Fisher before he was drafted – it was the last phone call the team made before making the final decision. It was the closing handshake. He was headed to Atlanta.
With the Falcons, Freeman has more than lived up to his reputation. The Falcons drafted him in the fourth round, HC Mike Smith and OC Dirk Koetter the first two major NFL coaches Freeman would play for. After spending 2014 playing behind future Hall of Famer Steven Jackson and veteran runner JacQuizz Rodgers – a similar back to Freeman – he finally got a chance to prove himself when Jackson was released and Rodgers went elsewhere as his rookie deal expired and a new regime came to town. Well, not just yet.
The new guys – head coach Dan Quinn and Kyle Shanahan – drafted Indiana's Tevin Coleman in the third round of the 2015 draft, with every indication that Coleman would be groomed for the starting role. And, indeed he was. Coleman looked the part – well, until the rookie was injured in the second season game against the Giants and Freeman was thrust into a starting role.
In the team's third game against Dallas, Freeman shocked the world. He ran for 141 yards and three touchdowns, obliterating the Cowboys defense on its home turf. He won the starting job for the Falcons that day, and he never looked back.
Freeman and Coleman have not been rivals – far from it. Sports Illustrated looked at the Freeman's narrative with Coleman now firmly in it, and recounts how the two have become a true tandem – close friends who share one of the most prominent roles on a team.
Falcons fans know the kind of player the team has in Freeman – we've seen him slash people to pieces with his outstanding ability to cut and change direction on the field. We've seen him barrow down opposing defenders like an angry rhino charging at a flock of flamingos. He's as scary catching the ball as he is taking it between the center and right guard – posting up 2, 383 yards on the ground and 1, 265 in the air in his first three seasons. 29 touchdowns. Two Pro Bowls. 3, 175 total yards in the last two seasons – second only to his freakish WR teammate, Julio Jones.
He's become a leader on the team – someone who "sets it off" and plays as fast and as physical as anyone in Flowery Branch. Go look up what coaches and teammates have said about him.
"Devonta embodies everything we are looking for in a Falcon, and we are proud that he'll be able to spend his career here in Atlanta," said Falcons GM Thomas Dimitroff in today's release on the extension.
"That's a good connection," Quinn told McClure about he and Freeman's relationship. "I love what he stands for as a player. Every time out on this field, he goes for it. And that's what a true competitor does. He loves ball. He's willing to put out and go for it every single day, and I love that about him."
With Wednesday's extension, players from Atlanta and afar flooded social media with messages of congratulations.
The only brief headline time he's had in Atlanta came with the extension. His agent, Luthor Campbell's wife Kristin, lobbied for Freeman to earn an extension during Super Bowl week. Freeman kept his head down and downplayed it, keeping his focus on the game and taking a "what will be, will be" mindset. He repeatedly told reporters Atlanta was his home – where he wanted to spend his career.
No one with knowledge of how the business works would doubt that Freeman deserved to get paid for what he does on the field, for what he brings to a team.
Contract negotiations in the NFL can get tough. Guys get dramatic about wanting to be properly compensated, and it gets hard to blame them, with all they provide to the commerce of a team and the risks they take with their body by playing the game. Some guys don't handle it well. Some, right or wrong, hold out from camps until the ink is dry. Some let contracts lead to fractured relationships with organizations. Some guys end up packing their bags and heading elsewhere.
Freeman? He played calm at every turn, saying he trusted the powers that be to hammer it out. He didn't hold out from camp. He came to grind it out with his teammates. No one faults a guy for holding out early, but like the Donald Penn situation is going right now with the Raiders, the hold outs can get long, and publicized. Freeman handled his business like a professional, let his agent do the advocating and got the deal done Wednesday.
Yet, some folks aren't too thrilled. They say "Freeman isn't worth that money – no running back is! We've got guys to pay in the future! Is Freeman really the wisest guy to pay?" Teams like New England are cited as those who dig through the bargain bin for their ball toters. Plus, we run a zone scheme! Any Joe Schmo from the rodeo can run in a zone scheme, right?
Coleman's fans who want him to be the feature back one day don't like the idea of Freeman getting the big deal. The third year Hoosier alum is building on becoming a lethal threat on the field, and some feel he is the rightful heir to the throne.
And, you know, the whole Super Bowl thing. Yeah, that.
Some are going to bring up the missed Super Bowl block as something that shines hard down on Freeman's time as a Falcon. Yes, it was an unfortunate mistake – Freeman misread the play with Patriots ILB Donta' Hightower baring down on Matt Ryan, and the running back didn't pick up the linebacker like he should've. It led to the sack-fumble that stands as a pivotal moment in the team's collapse.
Freeman openly talks about the moment.
"That's like a scar you'll see forever," Freeman told McClure. "You'll always remember that scar. It's about, 'How can I shake back?' In life, you've got to always learn how to shake back and have another elite year.
"My mistake is a scar. I'm going to learn from it. I'm going to get better from that. That's how I look at it."
But, Sports Illustrated wrote about another time Devonta Freeman missed a block.
In Tallahassee, it was common for Freeman to frequent Fishers' office after practice. Once, the running back was somber, incessantly apologizing for not picking up a block—in the first 10 minutes of practice, even though he played flawlessly for the next hour. "I am so, so, so sorry," Freeman said. "That will never happen again."
Fisher's only response: "I know."
Freeman won't let the Super Bowl collapse happen again. He won't miss that block again. To be honest, I think he will be the player that ultimately brings home the Lombardi for Atlanta. The Falcons didn't just re-sign a running back with supreme ability – they re-signed the heart and soul of the franchise.
Freeman isn't just an excellent example of the culture Quinn has tried to implement with the Falcons – he is the living embodiment of it. You can't just go pluck a talent, a mindset, a human being off the waiver wire like Freeman. He's a rare, rare player – one of the best running backs of his time in the NFL, but also, one of its best people.
He's not forgotten where he came from, either. He's spent time finishing his degree with the Falcons from Florida State, and he's worked in the Pork 'n' Beans community, helping kids in his former situation overcome the obstacles and pave a better way for themselves.
"I've made more money, I've saved more money, so I'll be able to do more things. God has blessed me to perform at a high level and a lot of people want to sponsor me now and they like the things I'm doing in the neighborhoods," Freeman told the Atlanta Falcons' website in 2015. "It's just one of those things where everything's falling into place at the right time."
Indeed, it has. As well it should.
Freeman rose from the depths of one of society's deepest crevices to become one of the most important faces of a franchise on the rise. He, quite literally, rose up from a tougher-than-tough upbringing, faced tough decisions at every turn and still came out ahead, with his character and fire intact.
He never gave up, even when the odds were firmly against him. Look where he's been. Look what he's been through. Look where he is now. Look what he brings to the table.
Devonta Freeman earned every penny of his new deal.
He earned every damn penny of it.