To quote Judge Smails in Caddy Shack, "Weeeell, we're waiting".  To say the offseason has its lulls is an understatement.  Long days which only get interesting when there is some free agency chatter linked to Falcons, or a potential prospect visit.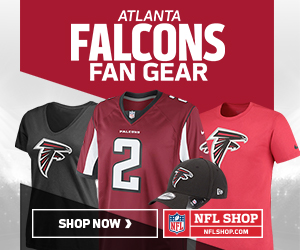 That lull though is about to become full blown under the microscope scrutiny.  What am I talking about?  Draft season, of course.  A wonderful time of year that get fans amped up for "what could be".
Staying in the "what could be" mode, I share a personal proud moment of future Falcon news/stories.  My oldest son Josh embarks on his journey in writing for his favorite team  (Falcons) for Rise Up Reader.  The same team that I began to follow as a teenager & became a die-hard fan 30+ years ago.  It's pretty amazing see my son's passion for the game of football, and even stronger passion for the Falcons shine through.
All of the Sunday afternoons spent watching the Falcons.  His knowledge & love of the game growing each & every game day.  All of the stories I shared, Billy Joe Tolliver dropping a Hail Mary to Michael Haynes which enabled the Falcons to beat the 49er's twice in the same season 91' (unheard of at the time).  The Falcons playing on natural grass at ole' Fulton County Stadium.  Deion Sanders taking one to the house on a 68-yard punt return in his very first NFL game.  MC Hammer & Evander Holyfield hung out on the sidelines.  Morten Anderson splitting the uprights in Minnesota as the underdog Falcons take down the Vikings to go to the Super Bowl in 98'.  The Mike Vick Experience.  A young QB out of Boston College becoming the new face of the Falcons franchise.  So many stories, and fond memories.  Let's not forget my classic Falcons starter jacket.  Sweet!!!
This is where the overlap then began.  A young Josh starting to see these players become part of the Falcons he knew & grew up with.  Michael Turner, William Moore, Roddy White, Tony Gonzalez, Spoon, D-Block, JULIO.
The current cast of Vic Beasley, Keanu Neal, Devonta Freeman, De'Vondre Campbell, Tevin Coleman, Deion Jones, Grady Jarrett, Desmond Trufant, Robert Alford, Takk McKinley, to name a few are players we watched together be drafted.  Every Falcon football news related story that comes across the wire, I often get a reaction minutes later from Josh.
Josh's Falcon knowledge is overflowing & his love of the Dan Quinn Falcons brings a smile to my face.  It hurt me more to see him disappointed with the Falcons coming up just short in Super Bowl LI vs. New England than worrying about my own Falcon feelings.  I wanted him to have those bragging rights even more than me.
The funniest part of this story is all of this is coming from two Falcons die-hards living in the Chicagoland area.  How great is that?  Well, as backwards as some local fans see it – not only did I find a place in my heart for the Falcons, but I've passed that Dirty Bird love on even stronger through my son.  He never waivers in his fandom, nobody is going to convince him otherwise.  He enjoys the banter with friends & classmates.  Sporting his color rush Takk McKinley jersey, or a throwback Julio Jones, it's common knowledge amongst his friend group the Falcons do & always will, rule his nest!
So as I sit back as a proud father to see Josh take pen to paper describing his Falcon experience, I can't wait until this offseason ends!  "Hey Josh, when does the Falcon regular season schedule come out?"  Give him a minute; he knows the answer.  In case you haven't guessed by now, I'll be busy the night of April 26th.  After all, it's a family affair.
Photo from AtlantaFalcons.com