It me, Atlanta Falcons fixer-upper.
To write one of these articles would seem to indicate this Falcons team is one due for wholesale changes. To that, I laugh openly and heartedly. No, a team coming off a Divisional Playoff loss to the one seed, after a season that took them to the Super Bowl, is not due for a renovation on either side of the ball.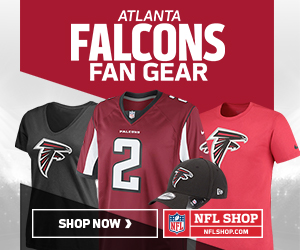 Right now, the Falcons are in a good place, whether you like to admit it to yourself or not. Like, compared to 20-something other teams in the NFL, the one from Atlanta has stability with ownership, a long-tenured GM and a strong support staff under him, a head coach with two playoff appearances and one Super Bowl appearance in three years, a franchise quarterback, an all-time great wide receiver, two stellar running backs, a stout offensive line (well, mostly), stars at every level of the defense and a budding coordinator on D. They're also facing a third-place schedule in 2018 that could propel them to a home Super Bowl in 2019.
So, y'know, pretty good.
The team does have areas that have to be addressed, though, if they're to make as strong a push for a ring in 2018 as they can make. It all starts on offense, where there lies a major question in OC Steve Sarkisian. After listening to former NFL GM Mike Lombardi chastise the Falcons' red zone play calls for being too predictable, and seeing RUR friend Allen Strk note that the team was one of the bottom-ten teams in red zone efficiency by the end of the regular season, there's no question that things must improve on the offensive side of the ball – what a change of tone a year removed from a historic run.
They're a good offense, but to be a world beater, they have to be great.
But, that's not to say the defense can't get better, too – it surely can. With Dontari Poe, Adrian Clayborn and Courtney Upshaw all facing free agency, the team may have to make some moves on the defensive line, and addressing cornerback depth wouldn't hurt, either, considering the Jalen Collins and C.J. Goodwin experiments didn't pan out as hoped.
In this two-part series, we're set to explore what the Falcons can do to make adjustments on both sides of the ball. This edition will focus on offense, and the next, naturally, will focus on defense.
You won't find any hot taeks (well, too hot of taeks) in these waters. No #FireSark for me, no sir.
Let's see what the Falcons have to work with on offense, and work with it .
MOVE ONE: BRING IN A VETERAN OFFENSIVE MIND TO HELP STEVE SARKISIAN
Steve Sarkisian is not completely inept like some would have you think – he averaged 20.9 points this season (22.1 regular season, 18 postseason) and had Atlanta eighth in total yardage in the regular season. But, it was such a steep regression that it became one of the dominant storylines for the Atlanta season. Their red zone efficiency for touchdowns dipped to 23rd in the NFL after being ninth in 2016. That's not ideal – the play calling in the Eagles end zone Saturday was sample enough that Sarkisian has to drastically work on his red zone play calling if he's to hold this role past 2018.
Right now, Sarkisian is on an island. He has very few people around him with veteran offensive experience – OL coach Chris Morgan has only been in his job for three years, and WRs coach Raheem Morris has a background as a defensive mind. Both probably had input behind the scenes in 2017, which evidently wasn't enough, based on the results.
Sarkisian flashed the same kind of offensive ingenuity that Shanahan had in his time with Atlanta, but he also reverted to his bad habits, particularly in scoring offense, that ultimately held Atlanta back in the end. He's not the world's worst offensive coordinator, but he's got to get better.
The best way to do so is to bring in someone who can help mentor Sarkisian in this role – a veteran offensive mind who won't be trying to angle for his job; rather, someone who can help Sark, shall we say, see the light.
The first name that pops into my head is Darrell Bevell – Seattle's former offensive coordinator, who would be the perfect candidate to hire as the QBs coach, or at the very least, an offensive analyst. Bevell, well, is known for not running the ball with Marshawn Lynch on the one-yard line to win Seattle a second Super Bowl, but he's also fielded consistently-productive units in Seattle, not aided by his lack of grooming offensive lineman (though most of that blame tends to fall on Tom Cable). His offense did enough in 2013 to win a Super Bowl (on the back of Dan Quinn's legendary defense, to match), and he was Brett Farve's QBs coach in Green Bay. Bevell would, no doubt, probably like to have Sarkisian's job in 2019, so there would be a little contention there, no doubt. Maybe that pressure on Sark to perform and adapt would be good; knowing there's a guy on staff who could take his job in a New York minute. Maybe it'd be a terrible decision that would make Sark stiff and stunt his growth. But, the answer probably lies somewhere in the middle – Bevell is a veteran offensive mind who could help Sark better understand the nuances of the game, and would also give Ryan a veteran position coach to work with.
Another option would be bringing back Terry Robiskie into the fold – the longtime Falcons WRs coach helped develop Julio Jones, Roddy White, Harry Douglas and Justin Hardy, and actually found more success in the red zone (fifteenth in the league last season) as Tennessee's offensive coordinator than Sarkisian had. Making him a Senior Offensive Analyst would, perhaps, give Sark a veteran mind to lean on and learn from. Robiskie didn't exactly make waves with the Titans, but he knows the NFL far better than Sark does, and would be a friendly franchise face to help them along (and would pose no threat to Sark's job).
Other guys out there would be former Colts OC Rob Chudzinski, who's been a head coach before in Cleveland, and might be a fit for the QBs job, longtime offensive guru Tom Moore, who while pushing 80, is revered in the coaching community and was recently aligned with Bruce Arians, former Arizona OC Harold Goodwin, former Giants HC/OC Ben McAdoo and former Seattle QBs coach Carl Smith, an NFL vet who could conceivably come to town with Bevell.
So, a lot of spit-balling for a simple idea – bring in someone who has more experience with NFL coaching than Sarkisian does, and allow them to mentor the young OC.
MOVE TWO: GET MATT RYAN A TIGHT END HE CAN DEPEND ON
The days of surviving without Tony Gonzalez are finally catching up to Atlanta. Outside of the 2016 dream season, the team has found substantial struggles at the tight end position. Jacob Tamme was a respectable safety valve for Ryan in 2015/2016, but Austin Hooper hasn't quite made the leap after a quiet sophomore campaign (particularly in the end zone). Levine Toilolo was a solid cog in Sarkisian's scheme that just didn't find the same success with Sarkisian, and we have no idea what Eric Saubert will bring to the table. All three of those guys should be back in 2018, barring a shock. But, none of them should be Ryan's top tight end, at least not right now.
Hooper could be it one day, but it might be beneficial for him to learn under a sharp veteran mind for a bit as he continues to develop. Toilolo will be a free agent in 2019, and probably won't return. Saubert, well, again, we have no clue what he can bring to the table.
Looking at the free agent class, there are a bevy of options for the team to consider to add a veteran presence to the position.
Tyler Eifert sticks out – he's struggled with injuries over his career, but he's got a high ceiling and proven production. The Bengals could wish to revamp the position, and Eifert's inability to stay on the field for Cincinnati could have him looking elsewhere for a job. He's a prime candidate for a one-year deal, and the Falcons' depth at the position could make them more comfortable to take a flier on a guy like Eifert and see what he can do. In 2016, he only played in eight games, but had 394 yards and five touchdowns in that stretch. Letting Hooper handle more of the intermediate field work, and using Eifert in the red zone, could really vault the Falcons at the position, and would be a cost-effective way to do so (and would prevent expending any draft capital for a position the team has drafted at over the last two years).
If not Eifert, considering a stalwart veteran like Benjamin Watson (522 yards, four TDs in 2017) or Luke Wilson (153 yards, four TDs in 2017) wouldn't be the worst idea.
And, if you whiff in free agency, really do consider another draft pick, perhaps even a first rounder. It was rumored the team was interested in Evan Engram in the first round last year, who ended up having a strong rookie campaign in New York with the Giants. Oklahoma's Mark Andrews and SD State's Dallas Goedert project as the top-two tight ends in this year's draft.
Hey, maybe even the Patriots would consider trading Rob Gronkowski. It's like the Patriots to jettison a veteran player in his prime for draft picks.
And, yes, I think Jimmy Graham is out of their price range, and would soon eat rotten eggs than ever don a Falcons uniform.
But, tight end is a problem spot for the Falcons right now, whether you'd like to admit it or not. They're not going to recapture Kyle Shanahan's creativity with tight ends anytime soon, so they might as well invest in more talent at the position. Ryan was at his best in the pre-Shanny days with TG. Let us not forget that.
MOVE THREE: FIGURE OUT THE GUARD SPOTS FOR 2018
Guard is the bugaboo on the offensive line this offseason – it's a given that Jake Matthews will get a contract extension, and Alex Mack and Ryan Schraeder both have plenty of time left on their deals.
Andy Levitre is a popular cut candidate with the roster nerds, though that really wouldn't be the wisest move for a team looking to compete for the Lombardi in 2018. He's a proven veteran, though he's coming off a season-ending triceps injury and has seven million set to hit against the tight cap. If I were the Falcons, I'd strongly consider restructuring Levitre's deal, and perhaps extending him an extra season to ensure there are no bad vibes between the parties. He's a known commodity at the position who already has chemistry with the fellow offensive linemen. It'd be wise to keep him there, at least for the next couple of seasons, unless he declines in play after this injury.
Right guard, though, is where you have to have a conversation. Wes Schweitzer progressed as the season went on, but there's no question he got manhandled by the elite DTs over the course of the season – just look at what Aaron Donald and Fletcher Cox did to the Falcons' OL this postseason.
Is Schweitzer the team's best path forward at RG? Like Sarkisian, he had his highs and lows, but when it got low, you had to duck. He's a sixth-rounder, so the expectations were never high for Schweitzer, though he's exceeded what's to be expected of his draft status, he's still an iffy prospect heading forward. One wonders if he'd be better served as excellent depth than the starter going forward.
The other guys in Atlanta: Ben Garland is listed by Spotrac to be a free agent this offseason (though I've seen reports to contradict that), so his place in Atlanta is by no means a sure thing, either. Sean Harlow was the team's fourth-round pick last year, and like Saubert, we have no clue what he brings to the picture.
Josh Kline looks to be the best option with free agents for guys Atlanta could afford (the Titans RG had a respectable 75.2 on PFF, ranking him as the 24th best guard in the NFL, compared to Schweitzer's 43.7, putting him 56th), but he could just as easily return to Tennessee as he could hit the open market. Scheme fit is also a question, though he looks to have the build to play in a zone offense.
Here's where rubber has to meet the road – Atlanta might consider drafting a right guard in the first round of the draft this year.
Picking at 26 doesn't always mean you get a day-one starter, but interior linemen tend to hang around longer than other, flashier players, like QBs, star defensive talents and WRs.
This draft class has a decent amount of talent at guard, and Asst. GM Scott Pioli is known for his prowess of drafting in the trenches – he was with the team when they got Matthews, and hasn't had to oversee any other major drafts at OL besides the team getting Schweitzer and Harlow.
The right guard spot has been a bugaboo for Atlanta for a good while now – even veteran Chris Chester had his vices in pass protection. Solidifying the position with a high draft pick might be the way forward for Atlanta to regain momentum on offense.
Dan Quinn has never overseen an offensive talent drafted in the first two rounds of the draft. This year, he may need to oversee two if the team can get an impact DL man in March (which they might can, and his name could rhyme with Schmichael Schmennett).
MOVE FOUR: BRING IN RECEIVER DEPTH THROUGH THE DRAFT
With "Turbo" Taylor Gabriel likely to make his exit this March in free agency, the Falcons will have an immediate need in their receiver depth. Julio Jones and Mohamed Sanu Sr. are the top two receivers going forward, no doubt about it. Justin Hardy will also assume WR3 duties more than likely, unless the team wants to get a second-rounder who can contribute immediately.
Even if it's Hardy's job no matter what, taking a receiver in rounds two or three of the draft should be an immediate point of interest for the Falcons.
After Julio, Sanu and Hardy, the team has Marvin Hall and Devin Fuller under contract. That's not ideal. Hall showed flashes at times this season, and could be poised for a bigger role down the road. But, right now, he's still too raw for meaningful snaps. Adding talent there through the draft would allow the team to return to receiver being a position of strength for the roster (spoiler alert – right now, it's really not).
Sarkisian never knew how to utilize Gabriel as well as Shanahan did, so it's hard to blame Gabriel for likely going elsewhere. Andre Roberts also provided little on offense, and had his knocks in the return game (though he was better there than anyone will give him credit for).
Receiver will be likely added to in both levels of roster work this season, with the team poised to both sign a low-end free agent for depth, and add to the position through the draft.
As long as Sark is the OC, he seems to be better off when he makes his world smaller. Shanahan made mountains out of mole hills with his creative schemes and stellar use of receivers like Gabriel and Aldrick Robinson. Sark will have to do things the old-fashioned way, which means adding proven commodities and draft picks with high ceilings. Both moves will have to be cost effective, too, with Julio and Sanu's contracts taking much of the allotted cap space for the position.
We'll leave the possible names for later, but adding speed and height to the position would be nice.
MOVE FIVE: SAND OFF THE EDGES
Outside of our big four ideas, the team will have to take care of the smaller details as well.
What do you do about backup QB Matt Schaub, who is due to put $5 million on the cap this season? If he's cut, what do you do about backing up Ryan?
Is Derrick Coleman the fullback of the future? He was excellent on special teams, but was graded harshly by PFF's metrics (33.3, the eighteenth-best FB in the NFL last season). He tended to look better than that grade would indicate, but he's a drop off from the days of Patrick DiMarco. Will the team choose to make a move there, or roll with Coleman? Is a FB even vital to the Sarkisian era like it was to Shanny?
What's going to happen after the season with Tevin Coleman? The electric RB will be entering his fourth season, and is set to his free agency in 2019. Unless he really loves Atlanta, or the team chooses to use their ample cap space in 2019 to load up at RB, Coleman looks to leave. In what's regarded as the best draft class for running backs in some time, could the team bring in his replacement now instead of later? Will they replace him at all?
Also, what's to come with Matt Ryan's contract? It's all but a given he gets one, but for how long, and how much money? It'll be a major ramification on the cap.
What will come of the swing tackle spot? Austin Pasztor looks all but out after spending most of the season on the inactives list, and Ty Sambralio was mixed in his short audition this September. The latter will be under contract in 2018, and cost the team a fifth-rounder in this upcoming draft, so the job looks to be his for now. Or is it? Could Sambralio kick inside to guard?
Will "Scrappy" Nick Williams be back? He seems to stick with whomever is the OC. Will the team tender RB Terron Ward? He also seems to stick with whomever is the OC.
So, a boatload of questions, and some answers.
We'll move on to defense later this week.