Hello, faithful Falcons fans far and near!
How'rya holding up? I hope you're doing better. We still lost the Super Bowl, but we're also still a good football team! So, there's that, right? Hey, look, free agency!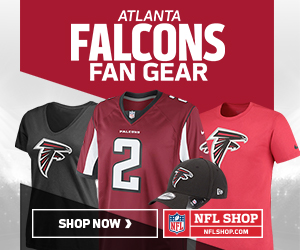 Free agency is under a month away, a time of year where we typically break out the fishing poles and head down to Lake I Want That Guy and wish for the best. Well, I hate to burst your bubble, but the Falcons won't be landing any big fish this year. They're actually set up right now with a pretty sound roster, and any major pieces will be likely added via the draft. Plus, this crop of free agents is just kind of there. However!
There are a few names we wouldn't mind seeing landing in Flowery Branch come signing day. Now, please don't be upset when X from wherever isn't on this list. This is one man's humble opinion, and I'm not looking on the top bunk for folks. This article is to highlight five positions and five players I'd love to see the team sign within the next few weeks.
Roster cuts are still in the works, so there might be a guy who gets released who looks appealing, but for now, looking at the names out there, here are the guys I'd like to see in a Falcons uniform in March…
DEFENSIVE END – DEVIN TAYLOR (Detroit Lions)
The Falcons are not going to find their next premiere pass rusher in free agency – but I do think they can find an impact rotational guy a la Adrian Clayborn in former South Carolina defensive end Devin Taylor, who played his first four years in the league with the Detroit Lions.
Taylor had a seven sack season in 2015, but dipped down to 4.5 in year four in his first year as a starter. He's got the size to be a world beater in the league (6'7", 275), and perhaps with an offseason under Quinn, he could regain his 2015 form or perhaps even build on it. He had his ups and downs as a starter in Detroit this year, but perhaps it's in a rotational role where he can flourish.
Of all the defensive ends in free agency that I could see the Falcons making a run for, Taylor seems like one of the more likely candidates. With Ezekiel Ansah and the emergence of Kerry Hyder, I'm unsure if the Lions will keep Taylor around, so if he hits the market, the Falcons could perhaps add him on a team-friendly and have a valuable rotational pass rusher in their stable.
If not Taylor…Perhaps the Falcons could steal DE William Gholston away from the Bucs. Gholston has been a reliable pass rusher in his career with Tampa Bay, and he would be a nice addition to the defensive line in a rotational role. And, Dolphins DE Andre Branch is coming off a 5.5 sack season and could perhaps expand his game under Quinn's watch.
DEFENSIVE TACKLE – DT KARL KLUG (Tennessee Titans)
I firmly believe the Falcons will pick a defensive lineman in the first round of the draft this year. DT Grady Jarrett is coming off a major showing in the Super Bowl with three sacks on Tom Brady (no easy feat), and I do not think the team goes out and signs a defensive starter (unless Nick Fairley wishes to come to town, in that case, go for it).
So, what rotational defensive tackles are out there?
As a Nashville native, I've seen enough of Tennessee Titans DT Karl Klug to like his aggressiveness and big play ability. He's coming off an Achilles' injury himself, so perhaps he could sign a one-year prove it deal, which I'm certain in Quinn's scheme he could certainly do. Plus, national scout Ruston Webster signed Klug to an extension with the Titans when he was GM, so perhaps he would vouch for Klug's play.
Klug may want to stick around Tennessee where he's familiar with the atmosphere at this point in his career, but if he's willing for a change of scenery, Atlanta would be a great place for him to land. He'd be a valuable piece to the defensive line, with an ability to fight right into Quinn's scheme.
If not Klug…His Jaguars teammate DT Tyson Alualu had three sacks and six QB hits, and could be a nice veteran addition. Also, Lions DT Tyrunn Walker has long been regarded as a valuable rotation piece wherever he goes, and at 26, his best football is ahead of him.
QUARTERBACK – QB JOSH MCCOWN
Look, folks, it's time we all wake up from our pretty little daydreams and face the facts.
We need a QB change.
Ha no but seriously, Matt Ryan is going to be the quarterback for the Atlanta Falcons until he decides to retire. That's a wonderful thing. But, someone's got to back him up, right?
The team was smart to sign a veteran backup in Matt Schaub last season, but it looks as if Schaub is set to join Kyle Shanahan in San Fran. (go with me here…Kyle San Franahan. Sorry.)
So, we need a backup quarterback. Why not get a guy who has proven he's at worst a decent starter in the league?
Josh McCown has bounced around in the league as a patchwork starter, and now, he has been released by his most recent stop, the Cleveland Browns. He'll be 38 when the season starts, so perhaps he's ready to hang it up. But, if he's ready to assume a role as a backup QB, the Falcons should give him a ring.
The Falcons right now may choose to elevate Matt Simms from the practice squad or draft a rookie to sit behind Ryan, but if the worst case scenario happens and Ryan goes down, who sits behind him becomes vital. McCown, even at 38, would be an excellent back-up to have.
If not McCown…Case Keenum's days might not be long for Los Angeles, and if he wishes to take a back-up role, he'd be a solid pickup. Blaine Gabbert is another – he might be able to benefit from taking a year and sitting behind Ryan.
Really, these are the three positions I hope the Falcons key in on. If I had my true dream class (including our guys we need to re-sign), this is how it would go…
FB Patrick DiMarco
DT Courtney Upshaw
LB LaRoy Reynolds
LB Sean Weatherspoon
SS Kemal Ishmael
DE Devin Taylor
DT Karl Klug
QB Josh McCown
TE Austin Seferian-Jenkins (via trade for a conditional 2018 pick)
I like that class a lot.
We get DiMarco back, which would be big for the run game, of course. Upshaw, Reynolds, Weatherspoon and Ishmael back as key reserves on defense – shores up depth. Taylor and Klug come in as rotational guys on the defensive line. McCown the new back-up.
Also, I'll say this until I can't – watch out for a trade for Seferian-Jenkins with the Jets. With OC Steve Sarkisian in town, he may wish to reunite with his talented former Washington tight end. And, despite Seferain-Jenkins' off-field troubles, he could find the culture in Atlanta conducive for him to make a comeback. Let's say in this scenario, we grab Seferian-Jenkins for a conditional 2018 pick and give the Falcons four young, promising tight ends to roll with into the new season.
Let's also do what I feel is the unsaid decision – to hand right guard to Ben Garland or Wes Schweitzer. My gut tells me Garland – he's shown his worth, and he could perhaps do a nice job holding down the right guard position – playing between Alex Mack and Ryan Schraeder will help him tremendously.
Then, the team can focus on getting a starting defensive tackle and edge rusher in the first two rounds, a new linebacker in the third round, and from there, y'know, BPA. Yay roster building!
So, you may hate all of that. That's okay!
Let us know below who you hope makes their way down to Atlanta in the offseason in the comments below.