By Michael Aprile and Matt Karoly
The 2020 NFL Draft could not have come at a better time. As many of us are staying home to stay safe and healthy, the extended absence of sports is making most of us a bit stir-crazy. We still have a couple of weeks until draft day, but for now, mock drafts are all we've got.
In this mock draft, Michael Aprile and Matt Karoly put on their GM hats to draft a full seven-rounds for the Falcons with a few house rules: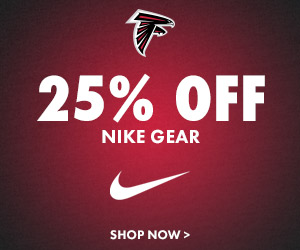 This draft is what we would do if we were the Falcons' GM.
We limited ourselves to a single trade, using the trade value chart for reference.
We used the same instance of The Draft Network's Mock Draft Simulator (no refreshes).
We couldn't pick the same players.
And with that, we're off!
Round 1, Pick 22 (Atlanta trades pick 16 to Minnesota for picks 22, 89, and 105; Vikings select WR Jerry Jeudy)
Mike's Pick: LB Kenneth Murray, Oklahoma
Mike's Analysis: Oof. The way the board fell, the was the worst-case scenario for the Falcons. With none of the core four players I was targeting on the board (Derrick Brown, Javon Kinlaw, K'Lavon Chaisson, and C.J. Henderson), trading back made the most sense. Kenneth Murray is one of my favorite players in this class, and I believe his aggressive style and play speed would allow him to seek and destroy in Dan Quinn's run-and-hit scheme. A true three-down player, Murray can play every linebacker spot and enables some positional flexibility for Deion Jones.
Matt's Take: The Falcons decided not to bring back starting LB De'Vondre Campbell, leaving the team thin at linebacker heading into 2020. In Kenneth Murray, the team would be getting a thumper with sideline-to-sideline speed on the field and a model citizen off of it.
Matt's Pick: CB Trevon Diggs, Alabama
Matt's Analysis: With the Falcons parting ways with starting CB Desmond Trufant this offseason, CB1 is arguably the team's biggest hole to fill. Trevon Diggs offers Atlanta the perfect scheme fit as a tall (6'1 3/8″), long (32 3/4″ arms) press man corner that excels in man coverage.
Mike's Take: Trevon Diggs might be a guy we look back on in two years and wonder why he wasn't a top-10 pick. Diggs is not for everybody, but he's a slam-dunk fit for the Falcons and could give Dan Quinn his Richard Sherman in due time. We know the Falcons love legacy players (Jake Matthews and Desmond Trufant), so drafting the brother of Stefon Diggs shouldn't come as a shock.
Round 2, Pick 47
Mike's Pick: CB A.J. Terrell, Clemson
Mike's Analysis: Cornerback might be the Falcons' biggest need, and thankfully this draft class is loaded with starting talent all the way into day two. A.J. Terrell is a tall, long, athletic cornerback with good ball skills who should thrive in the Falcons' scheme. Terrell steps into the big shoes Desmond Trufant left behind to give the Falcons a talented cover corner next to Isaiah Oliver.
Matt's Take: A.J. Terrell is no stranger to playing in big games as he was the starting CB on Clemson's National Championship contending teams of 2018-2019. The Atlanta, GA native would make for great value at this junction of the draft as the Falcons look to fortify their secondary after a shaky 2019 season.
Matt's Pick: LB Malik Harrison, Ohio State
Matt's Analysis: As alluded to in Round 1, LB is another pressing need for the Falcons given the lack of depth currently on the roster. And outside of Kenneth Murray, Ohio State's Malik Harrison represents the next best complement to current stalwart Deion Jones in the middle of Atlanta's defense.
Mike's Take: Linebacker is another clear need as the Falcons simply cannot afford an injury to Jones or Foye Oluokun. Harrison adds size, length, and a downhill presence on run downs, and he's got just enough juice in space.
Round 3, Pick 78
Mike's Pick: DT Jordan Elliott, Missouri
Mike's Analysis: A PFF favorite, Jordan Elliot seems to be flying under the radar a bit. He doesn't have ideal length or elite athleticism, but neither did Grady Jarrett. Elliot is a technician who could blossom under Jarrett and Quinn's tutelage. Line him up in Jack Crawford's old spot and watch him get his numbers.
Matt's Take: Atlanta recently saw Adrian Clayborn and Jack Crawford leave town to sign elsewhere in free agency, creating a void in the nickel defense next to Grady Jarrett. Enter Jordan Elliott, who posted an elite 91.1 pass-rush grade during the 2019 season, per PFF.
Matt's Pick: WR Brandon Aiyuk, Arizona State
Matt's Analysis: With two extra third-round picks to work with, I decided to take the best player available approach here and dip into this historically deep WR class. Brandon Aiyuk would immediately step into the WR3 role in Atlanta as a perfect fit in the Falcons' "Dirk 'n Dunk" offense given his YAC ability.
Mike's Take: Aiyuk is a class-favorite of mine. Surrounded by weapons such as Julio Jones, Calvin Ridley, Todd Gurley, and Hayden Hurst, Aiyuk and his massive wingspan would have a field day every week in the slot.
Round 3, Pick 89
Mike's Pick: OT Matthew Peart, UConn
Mike's Analysis: Surprised by an OT? Although iOL is a more obvious need, the value at this pick screamed OT, which is a sneaky need to me. The Falcons moved on from Ty Sambrailo, and after giving up 600 sacks last season, Atlanta must add more youth and talent up front. Peart is a fascinating prospect to groom behind Jake Matthews and Kaleb McGary to potentially provide a booming upgrade at swing tackle. Peart has some of the longest arms you'll ever see and is surprisingly nimble and explosive for a guy with his mass. After he adds some bulk to his frame and acclimates to the NFL, Peart could develop into a starting-quality backup. If Matthews or McGary get dinged up, Peart is a much safer fill-in than previous alternatives.
Matt's Take: Just as I did with the Aiyuk selection at pick 78, Mike used one of his three third rounders on a bit of a luxury as he selected UConn tackle Matt Peart. However, in the event Matt Gono wins the starting LG competition in 2020, the Falcons would need to replace him at swing tackle and Peart offers a bigger (6'7 318 lbs) and longer (36 5/8″) version of Gono to develop behind Jake Matthews and Kaleb McGary.
Matt's Pick: DE Jabari Zuniga, Florida
Matt's Analysis: It's no secret that Dan Quinn covets elite athletes for his defense and no edge defender posted a better athleticism score at the NFL combine than Florida's Jabari Zuniga. At 6'3 3/8″ and 264 lbs, Zuniga possesses the versatility to play multiple positions along the Falcons' defensive line to help make up for the losses of Clayborn and Crawford. (note: this pick was also made under the pretense that the Falcons were not done in free agency as they would sign a player like Michael Bennett, Vinny Curry or Cam Wake to bolster their front four.)
Mike's Take: I'll never be upset with adding to the pass rush. Zuniga is another guy who could have people wondering down the road why he wasn't taken sooner. The Falcons needed another young pass-rusher to develop with the uncertain future of Takk McKinley, and we know Dan Quinn loves his Gators. Zuniga is the type of urgent athlete the Falcons covet.
Round 3, Pick 105
Mike's Pick: TE Hunter Bryant, Washington
Mike's Analysis: The Falcons technically already used a pick on a TE with the trade for Hayden Hurst, but getting Hunter Bryant here as well was too good to pass up. Bryant is arguably the best receiving TE in the class, and pairing him with Hurst would give Matt Ryan two dangerous receiving weapons in two-TE sets and another asset in the red zone. I could even envision Bryant moonlighting as a big slot with Hurst in-line. Jaeden Graham is a fine player, but I like him better as a strong third option. After losing Austin Hooper, the Falcons needed to restock the TE position. Hurst, Bryant, and Graham are an explosive trio.
Matt's Take: On the first day of the new league year, Thomas Dimitroff made a calculated risk when he exchanged the 55th overall pick for the Ravens' third tight end and former first round pick Hayden Hurst. Hurst comes to Atlanta with big shoes to fill as he replaces 2x Pro Bowl TE Austin Hooper; therefore, adding another high upside player at the position could help take some of the pressure off and mitigate the risk of the deal. In Hunter Bryant, the Falcons would be getting a prospect who has drawn favorable comparisons to Evan Engram as a flex/move tight end.
Matt's Pick: C Tyler Biadasz, Wisconsin
Matt's Analysis: The Falcons' offense doesn't have many holes to fill, but one they should absolutely look to address is backup center as they try to secure the future behind Alex Mack. Just a year ago, Tyler Biadasz was seen by many as a first round pick but his stock has fallen considerably since then despite becoming Wisconsin's first Rimington Trophy winner (given to nation's top center) in 2019. In Atlanta, Biadasz would enter a no-pressure situation and having a year to learn behind one of the all-time greats could be the difference between becoming a career backup and a capable 3-5 year starter in the league.
Mike's Take: Biadasz is an ideal heir-apparent to Alex Mack. After a down season, Biadasz's stock has tumbled, but he'd land in a near-perfect scenario with the Falcons. Learn how to be a pro from Alex Mack, compete at LG as a rookie, and take over a starting role in 2020. The upside is tremendous here, and that's something to be excited about late in the third round.
Round 4, Pick 119
Mike's Pick: DE Bradlee Anae, Utah
Mike's Analysis: Anae is essentially opposite of the type of pass-rusher the Falcons have typically invested in, but his style is one that would round out Atlanta's current group of skillsets. Anae is a pro-ready technician and could probably teach a few current Falcons some new moves. The problem lies in his athletic limitations, but Anae's motor runs hot. What he lacks in bend and speed is made up for in grit and savvy. The Falcons could use a few more hustle guys who know how to get to the QB.
Matt's Take: Two of my favorite prospects find themselves still on the board at pick 119 in Utah edge rusher Bradlee Anae and Maryland running back Anthony McFarland. Anae is as polished as they come in terms of his hand usage and should have no issues contributing in year one as a situational pass rusher.
Matt's Pick: RB Anthony McFarland, Maryland
Matt's Analysis: Even though the Falcons appear set at running back in 2020, questions still exist long-term at the position. Therefore, at pick 119, why not select a player who reminds me of a faster Devonta Freeman?
Mike's Take: The Falcons have acquired a RB every year since 2017. After signing Todd Gurley, they can take this year off and address another position. There won't be many carries to go around between Ito Smith, Brian Hill, and Qadree Ollison, so let's hope they can keep each other fresh and avoid any serious injuries. If the Falcons need to address RB next season, the position is one of the league's friendliest to rookies.
Round 4, Pick 143
Mike's Pick: WR Tyler Johnson, Minnesota
Mike's Analysis: Tyler Johnson is a polarizing prospect. Some think he's a day-two guy, where others think he's a late-rounder. I land somewhere in the middle here and take Johnson, who I think will blossom under Julio Jones and Calvin Ridley. After adding Hurst, Bryant, Gurley, and now Johnson, Ryan will be surrounded by a plethora of options in the red zone to help cap off promising drives with six.
Matt's Take: While the team does have some internal options to replace them, I'm not leaving anything to chance as the Falcons attempt to keep a strength a strength on offense. That brings us to the selections of Tyler Johnson, Minnesota's all-time leading receiver, and Cincinnati tight end/H-back Josiah Deguara, a player the Falcons have shown considerable interest in during the pre-draft process.
Matt's Pick: TE Josiah Deguara, Cincinnati
Matt's Analysis: In less than a calendar year, the Falcons lost Mohamed Sanu, Austin Hooper, and Devonta Freeman. Between the three of them, they logged 167 of the Falcons' 459 receptions in 2019.
Mike's Take: Deguara is a natural to step in and fill the role Luke Stocker left behind as the team's lead blocking tight end. This feels like the right round for Deguara.
Round 7, Pick 228
Mike's Pick: SAF Shyheim Carter, Alabama
Mike's Analysis: Here's our Kemal Ishmael replacement. Carter gives the Falcons another flexible safety and provides some insurance if Keanu Neal (Achilles) and Ricardo Allen (shoulder) aren't 100% by the time Week 1 arrives.
Matt's Take: With a late 7th-round pick, a team just hopes to find a player that can compete for a roster spot in year one. We believe the Falcons have found that in Shyheim Carter and Calvin Throckmorton. In Carter, Atlanta is getting a versatile defender who played an instrumental role in Nick Saban's defense at Alabama. At his floor, Carter can serve as a core special teamer while his ceiling can be that of a future starter at free safety in a post-Ricardo Allen world.
Matt's Pick: OL Calvin Throckmorton, Oregon
Matt's Analysis: In Throckmorton, who finds himself on the All-Name Team in this class, the Falcons are getting an experienced college prospect (turns 24 in August) with multiple starts at four different OL positions. Ben Fennell says it best—every NFL OL room would love to have a player with Throckmorton's skill set.
Mike's Take: Throckmorton would assume the swing tackle role but could end up being the swiss army knife this team needs to backfill a few reserve OL spots in a pinch.
Let's hear it, folks. What picks did you like or dislike for the Falcons from this mock draft? Sound off in the comments or find us on Twitter:

@RiseUpReader
@aprile_mike
@mattkaroly
Featured image via SI