By Matt Karoly
The Atlanta Falcons enter the 2019 season with one burning question to answer and that's whether or not they can return to prominence following an injury-riddled 2018 campaign. Outsiders are quick to forget that this team was one quarter away from hoisting the Lombardi trophy and a Julio Jones catch from returning to a second consecutive NFC championship game in the previous two years.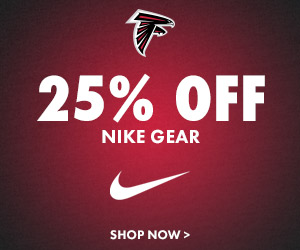 And the good news for Falcons fans is the core group of players from those contending teams remain in tact. Admittedly, there's very few roster questions left to be answered prior to cutdown day on Saturday.
Therefore, not much has changed since my last roster projection a few months ago. But as I've done the past couple seasons, I present to you my final 53-man roster projection for the Falcons 2019 season.
QB (2) – Matt Ryan, Matt Schaub
Any chance for a backup quarterback competition went out the window when Kurt Benkert was placed on injured reserve with a plantar fascia injury. The hope now for Benkert is he returns to full health in 2020 and, along with potentially Danny Etling, pushes Matt Schaub into retirement (or the coaching ranks) once and for all.
RB (5) – Devonta Freeman, Ito Smith, Brian Hill, Kenjon Barner, Qadree Ollison
As alluded to earlier, there are very few questions that remain regarding the Falcons overall roster construction, but running back is one of them. The team seemingly drafted Qadree Ollison in the fifth round to replace Brian Hill and signed Kenjon Barner only as an insurance policy at returner.
Well, things haven't gone according to plan and as a result we're nearing a reality where Atlanta rosters five running backs heading into 2019. But when you consider the fact the team is not likely to carry a fullback, it's not such a terrible proposition given the talent this group possesses.
WR (6) – Julio Jones, Calvin Ridley, Mohamed Sanu, Russell Gage, Justin Hardy, Olamide Zaccheaus
The wide receiver position is another area where things are still a bit hazy, particularly at the bottom of the depth chart. Russell Gage is locked into the fourth spot given his special teams value and progression as a receiver, while Justin Hardy is nearing safe status simply by default.
Olamide Zaccheaus, the undrafted receiver from Virginia, gets the edge for the final spot over 2019 sixth round pick Marcus Green, Christian Blake and Devin Gray given his overall body of work as a pass catcher and potential to be the team's future punt returner.
TE (3) – Austin Hooper, Luke Stocker, Jaeden Graham
The signing of Luke Stocker in the offseason made the traditional fullback position an expendable commodity given Stocker's ability to double in that capacity. That left us with only a question mark at TE3.
Coming into the summer, the battle for that spot pitted 2017 fifth round pick Eric Saubert against 2018's TE2, Logan Paulsen. However, the emergence of 2018 UDFA Jaeden Graham led the team to deal Saubert for a conditional seventh round pick, thus creating a new competition at TE3.
Graham's consistent presence this preseason in the pass game gives him the edge over the blocking specialist Logan Paulsen.
OL (9) – Jake Matthews, Jamon Brown, Alex Mack, Chris Lindstrom, Matt Gono, Kaleb McGary, Wes Schweitzer, James Carpenter, Ty Sambrailo
The Falcons were most active at this spot in the offseason in an effort to rectify the unit's shoddy play in 2018. With that said, the additions made left little to be answered in terms of who's going to make the team, making this one of the easier position groups on the entire roster to predict.
DL (9) – Takk McKinley, Grady Jarrett, Tyeler Davison, Allen Bailey, Vic Beasley, Jack Crawford, Adrian Clayborn, Deadrin Senat, John Cominsky
Much like offensive line, the top nine in the trenches on defense were fairly easy to project. The only question now is whether or not the team elects to carry a 10th player, considering they're fairly thin at the EDGE position for their new "5-2" base front.
Whatever they decide to do, though, it's fair to say this is the deepest defensive line group in the team's five-year run with Dan Quinn.
LB (6) – Deion Jones, De'Vondre Campbell, Foye Oluokun, Bruce Carter, Jermaine Grace, Duke Riley
If the team were to carry a 10th DL, it would come at the expense of a sixth linebacker with Bruce Carter being the likely casualty. However, given that Carter has consistently run with the twos at MIKE linebacker, his roster status appears safe.
Beyond that, Jermaine Grace figures to serve as the backup nickel LB this year due to his cover skills while Duke Riley has been a fixture on special teams and has shown tangible improvements in his processing speed this preseason.
To recap, the linebacker depth chart could look something like this in 2019:
CB (6) – Desmond Trufant, Isaiah Oliver, Damontae Kazee, Blidi Wreh-Wilson, Kendall Sheffield, Jordan Miller
This group has been virtually locked into place since the conclusion of the 2019 draft. And while there are question marks given the unit's inexperience, it is a position ripe with potential.
Blidi Wreh-Wilson's status should not go overlooked here as he represents the steady veteran presence, buying rookies Kendall Sheffield and Jordan Miller more time to develop if necessary.
SAF (4) – Keanu Neal, Ricardo Allen, Sharrod Neasman, Kemal Ishmael
The Falcons had a tough go of it last season figuring out their depth chart behind Keanu Neal and Ricardo Allen. For the time being, they appear to have settled on Sharrod Neasman and Kemal Ishmael, with the latter taking over for the injured J.J. Wilcox at backup strong safety.
Don't be surprised, though, if the team takes to free agency to solidify the safety position before week one.
Specialists (3) – Matt Bryant, Matt Bosher, Josh Harris
Prior to free agency, the Falcons elected not to bring back legendary place kicker Matt Bryant, opting instead to turn to last year's fill-in Giorgio Tavecchio moving forward. But now, after five preseason games, they may be realizing that was a grave mistake.
Per Coy Wire, the team has scheduled a workout with Matt Bryant for later this afternoon. Translation: Matt Bryant will be the Falcons kicker again in 2019.
Photo By Brant Sanderlin/AJC