By Matt Karoly
It almost doesn't seem real given the year we've had, but in less than two weeks the Atlanta Falcons will kick off their 2020 season. But before we get there, one more checkpoint stands in the way of the week one clash with the Seattle Seahawks: roster cutdown day.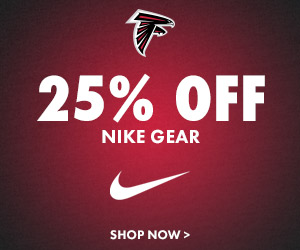 By 4pm ET on Saturday, all 32 NFL teams must trim their roster down to the league-mandated 53 player limit. Predicting final rosters has not been without its fair share of challenges this year.
With no preseason games and media censorship in effect, there has been less information to cling to when it comes to everyone's favorite NFL team. Nevertheless, the beat goes on and roster projection articles are still being written.
That goes for us here at Rise Up Reader as well. After taking two cracks at the Falcons' 53-man roster back in April and July, I present to you my third and final prediction of what the 2020 Brotherhood will look like to open the season.
QB (2): Matt Ryan, Matt Schaub
Analysis: I know some will be disappointed not to see Kurt Benkert at QB2, but the fact is Matt Schaub enters the 2020 season as a top-5 backup despite his advanced age. Put some respect on his name.
RB (4): Todd Gurley, Brian Hill, Ito Smith, Qadree Ollison
Analysis: The only question here is how each will be deployed on Sundays. I tend to think it'll be a committee approach in the way of a 50-25-20-5 split. The team committed too much — $2.133M tender to Hill, fourth round pick on Smith — not to give them a good bit of run.
FB (1): Keith Smith
Analysis: Keith Smith prevented me from going a perfect 53 for 53 in last year's final projection. That won't be the case this year as the team rewarded Smith with a 3-year, $4.3M extension in the offseason.
WR (6): Julio Jones, Calvin Ridley, Russell Gage, Olamide Zaccheaus, Christian Blake, Chris Rowland
Analysis: My biggest shakeup here from past projections is the inclusion of Christian Blake. For whatever reason, this coaching staff can't quit Blake as evidenced by his usage rate last year so I think he'll ultimately get the nod over Laquon Treadwell at WR5. In the event Treadwell does make the team over Blake, though, look for him to be inactive on game days as he serves as an insurance policy to the top three WRs. Special teams matter.
TE (3): Hayden Hurst, Jaeden Graham, Luke Stocker
Analysis: After being made a cap casualty in March, the return of Stocker on a more palatable contract locks the Falcons' top three tight ends into place for 2020. It also signals that UDFA darling Jared Pinkney failed to make an impression on the coaching staff during camp. Oh well.
OL (9): Jake Matthews, Matt Hennessy, Alex Mack, Chris Lindstrom, Kaleb McGary, Matt Gono, Justin McCray, John Wetzel, James Carpenter
Analysis: While I'll never agree with the decision for reasons that extend beyond the 2020 season, third round pick Matt Hennessy appears to be the front runner at left guard to round out the starting five. This will likely relegate James Carpenter to the inactive list in part because of Carpenter's $250,000 46-man active roster bonus. Ya think Thomas Dimitroff would like a do-over on his 2019 free agent class?
DL (10): Takk McKinley, Grady Jarrett, Tyeler Davison, Allen Bailey, Dante Fowler, John Cominsky, Charles Harris, Marlon Davidson, Steven Means, Deadrin Senat
Analysis: This group has mostly been locked into place ever since the Falcons traded for Charles Harris and his $1.9M fully guaranteed salary on May 1. However, if there's one name here at risk of missing the cut it's 2018 third round pick Deadrin Senat. For what reason, you ask? I can only assume Senat pissed off one of the coaches and has been in the doghouse ever since. Because from a football standpoint, he's made plays every time he's seen the field. Just ask Pro Bowl centers Jason Kelce and Maurkice Pouncey.
If the Falcons do in fact move on from Senat, look for versatile DT/DE Jacob Tuioti-Mariner to take his place. Or perhaps this is a situation where Atlanta carries three quarterbacks instead to better prepare themselves for pandemic football.
LB (5): Deion Jones, Foye Oluokun, Mykal Walker, LaRoy Reynolds, Deone Bucannon
Analysis: As a Mykal Walker stan, following his rise through training camp has been a blast and it'll be interesting to see how much playing time the rookie gets in 2020. I suspect the Falcons will roll with just two linebackers on most plays as they continue their use of the bear front (5-2), but Walker figures to be the third LB in more traditional 4-3 under packages.
CB (5): AJ Terrell, Isaiah Oliver, Darqueze Dennard, Kendall Sheffield, Blidi Wreh-Wilson
Analysis: This is a group that got younger in 2020 with the selection of Terrell and the release of Desmond Trufant. Adding Dennard was a godsend especially at the price tag they got him as he'll bring a steady veteran presence to the nickel corner spot. As for the other veteran on the depth chart, I challenge you to find me a better CB5 than Blidi Wreh-Wilson. BWW doesn't get enough credit for his performance last year in the Falcons' shocking upset of the 49ers in week 15. And last but not least, don't discount the impact new secondary coach Joe Whitt Jr. will have coaching up the young trio of Terrell, Oliver, and Sheffield. Of all the additions the Falcons made this offseason, Whitt Jr may be the organization's biggest coup.
SAF (5): Ricardo Allen, Keanu Neal, Damontae Kazee, Jaylinn Hawkins, Sharrod Neasman
Analysis: Expect to see a lot of big nickel in 2020 as the Falcons have three starting caliber safeties in Allen, Neal, and Kazee. Health has been the only question mark standing in the way of this group being a top ten unit. As for the depth at the position, Neasman wins the final roster spot and competition at DB10 between JJ Wilcox and Josh Hawkins by virtue of his dependability, versatility, and special teams prowess. However, he may only be a temporary placeholder as 2019 fifth round pick Jordan Miller serves a three game suspension to open the season.
Specialists (3): Josh Harris, Younghoe Koo, Sterling Hofrichter
Analysis: Not much to add here, except to point out that things have not gone smoothly for Hofrichter as the holder in the placekicking operation. Another reason why having Matt Schaub on board as a backup plan is so vital.
Photo By Dale Zanine/USA TODAY Sports