By Matt Karoly
With the Falcons mandatory mini camp set for June 12-14 and training camp to follow in July, real football is on the horizon, folks. To get you prepared, I thought we'd start by diving into some of the competitions that will take place this summer in Flowery Branch.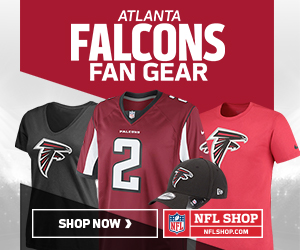 The good news is none of the spots up for grabs are for starters' snaps, with the exception of the vacant fullback opening. But as the old adage goes, you're only as strong as your weakest link.
And with injuries so prevalent in football, it is paramount to have good depth, especially for teams with championship aspirations like the Falcons. So, without further ado, here are the camp competitions to watch for over the next few months.
FB – Ricky Ortiz, Daniel Marx (UDFA), Luke McNitt (UDFA)
We begin with the aforementioned, and much anticipated, fullback competition. The Falcons elected not to bring back last year's fullback and special teams Pro Bowler, Derrick Coleman, who signed a one-year contract with the Arizona Cardinals last month.
As a result, Atlanta will turn to two undrafted rookies and one undrafted player from a year ago to get the first crack at the job. All three represent the traditional fullback archetype, an endangered species in today's NFL, as opposed to the H-back type that has gained some traction throughout the league. However, the Falcons are one of the few teams committed to the former, despite Kyle Shanahan no longer being with the team.
In Ortiz, Marx, and McNitt, it's unclear what the team has in these three players as neither have logged any meaningful snaps in an NFL game. Therefore, attempting to predict a winner in this battle is nothing short of a dart throw. But, if forced to choose between the three, give me Stanford's Daniel Marx due to his time leading the way for talented running backs Christian McCaffrey and Bryce Love.
WR6 – Marvin Hall, Reggie Davis
With the additions of Calvin Ridley and Russell Gage via the draft, the top five wide receivers are firmly implanted on the depth chart. That leaves one spot, albeit one that won't dress on game days, up for grabs this season.
No disrespect to any of the undrafted free agents also competing for the nod, but Hall and Davis showed enough last year to give them a solid leg up on the competition. I would've included a third competitor, Devin Fuller, to this list but he's listed as an unrestricted free agent (UFA) on the NFL website and Atlanta Journal-Constitution's D. Orlando Ledbetter also reaffirmed this on Twitter.
— D. Orlando Ledbetter (@DOrlandoAJC) June 1, 2018
In any event, Fuller was going to have an uphill battle in this contest as he makes his way back from a second consecutive season-ending injury. And according to Falcons' beat reporter William McFadden, Hall has looked sharp through the early stages of OTAs.
Both he and Davis have taken to Mohamed Sanu's mentorship, which will only benefit the two in the long run. As far as who I ultimately see winning this roster spot, I think Hall is the safe choice as he's proven himself worthy in meaningful games, butt-ception aside.
OL8 & OL9 – Austin Pasztor, Wes Schweitzer, Sean Harlow, Jamil Douglas, Daniel Brunskill, Matt Gono (UDFA)
Given what the team paid for Ben Garland ($2.9 million) and Ty Sambrailo (2018 fifth round pick), it's my belief those two are safe as the team's game day backups this season. Therefore, that leaves us with trying to sort out who will be the eighth and ninth offensive linemen on the Falcons' 53-man roster.
The signing of Brandon Fusco has pushed Wes Schweitzer down to this group as the team made it a point to upgrade their right guard position in the offseason. However, the experience Schweitzer garnered as the starter last year should not be overlooked.
While his play was far from stellar in 2017, the team knows it can count on Schweitzer to step in if necessary and provide competent level play. That's more than can be said about the rest of the names on this list.
But for a coach that preaches competition daily, Dan Quinn is not going to just hand Schweitzer the job. With that said, he'll have to fend off the likes of Sean Harlow and Jamil Douglas for that second interior OL spot.
Then it becomes a question of whether experience (Schweitzer), preserving the future LG (Harlow), or versatility (Douglas) is more important. Since I think the Falcons can get away with stashing Harlow on the practice squad in 2018 (big if), I tend to lean toward the experienced option for a team in the midst of a Super Bowl window.
As for the second tackle reserve, the veteran Austin Pasztor, who the team brought back on a veteran minimum deal, will compete with 2017 UDFA Daniel Brunskill and 2018 UDFA Matt Gono. Again, I believe experience prevails here, but Gono enters this competition with an NFL-ready body, so if he shows good technique, the Falcons may be willing to role the dice on him. NFL.com scouting analyst Lance Zierlein had a 6th-7th round grade on Gono, for what it's worth.
DL9 – JT Jones, Anthony Winbush (UDFA)
There's certainly other names that could be in contention for this final defensive line spot. However, I think the team has enough bodies to play inside with Grady Jarrett, Terrell McClain, Jack Crawford, Deadrin Senat, and Derrick Shelby that an edge player makes more sense here.
That leaves us with 2017 practice squad holdover JT Jones and 2018 UDFA Anthony Winbush. If the final DL spot ultimately comes down to these two, this could wind up being the best camp battle of the summer.
Both have nearly identical athletic profiles with Jones and Winbush each being listed at 6-foot-1 and 249 lbs according to the draftscout.com database. In addition, both hail from MAC schools and posted eerily similar numbers during their college careers:
JT Jones – Miami (OH) – 37 games, 35.5 TFL, 24.5 sacks
Anthony Winbush – Ball State – 39 games, 32.5 TFL, 25 sacks (T-1st in school history)
Obviously, Jones has the experience advantage over Winbush, but I wouldn't be surprised if either one came out victorious, especially after seeing this video of Winbush's workout with pass rush specialist Chuck Smith.
LB6 – Richard Jarvis (UDFA), Emmanuel Ellerbee (UDFA), Emmanuel Smith (UDFA)
The Falcons flirted with a few free agent names this offseason at linebacker (Mychal Kendricks, Arthur Moats), which makes me believe they may not be done adding to the position. For the time being, though, this is the group that will duke it out for the LB6 role.
It's also very possible the coaching staff favors these guys more than we might think. Dan Quinn did hint after rookie mini camp that a host of players jumped out on their radar that they didn't expect.
I may be reading too much into that, but it's my belief that the team held off on signing Moats or pursuing Kendricks more heavily because of this reason. Only time will tell if that's true or not.
As for Jarvis, Ellerbee, and Smith, all three fit the mold of what the Falcons look for in their linebackers. Each ran a sub-4.65 40 time and had at least a 10′ broad jump and 35.5″ vertical.
The real differentiation between the three lies in their style of play. If the team wants more of a SAM linebacker that is an accomplished edge rusher (my guess), then Jarvis is their guy. However, if they want another off-ball linebacker so they can bump Kemal Ishmael to SAM where he's shown to be more effective closer to the line, then Ellerbee or Smith are the right choices.
SAF4 – Marcelis Branch, Quincy Mauger, Jason Hall (UDFA), Tyson Graham, Secdrick Cooper (UDFA)
In one of the more surprising decisions of the Falcons' offseason, the team elected not to tender exclusive rights free agent Sharrod Neasman. The backup safety ultimately ended up in New Orleans, leaving the Falcons with an opening behind Keanu Neal.
Since the move to not re-sign Neasman came before the draft, I'm under the impression the team liked what they saw from 2017 UDFAs Marcelis Branch and Quincy Mauger last year. If not that, then perhaps Brian Poole is expected to transition to safety.
But because Atlanta will be breaking in a new cornerback this year in Isaiah Oliver, I tend to believe the former rather than the latter. Keep in mind, the organization kept Mauger on their injured reserve for the 2017 season where he counted $348,000 toward the cap.
It's that kind of commitment that has me thinking he's the favorite to land the backup SS gig; provided he gets healthy sooner than later. If Mauger's health does prove to be a detriment once again though, there's no shortage of options to take his place.
My dark horse candidate for the job would be former Texas Longhorn Jason Hall. Hall originally signed on with the Seahawks after the draft, only to be let go shortly after. However, it's clear he's regarded as a fit for this defense since both teams like the same kinds of players.
Punt Return – Justin Hardy, Marvin Hall, Reggie Davis, Calvin Ridley, Isaiah Oliver; Kick Return – Ito Smith, Justin Hardy, Marvin Hall, Reggie Davis
One of the more underrated roster battles in Atlanta may in fact be for both returner spots. Much like fullback, the Falcons opted against bringing back the incumbent when they let Andre Roberts leave to join the New York Jets.
As a result, Atlanta's return specialist(s) remains a mystery for the first time in over a decade. Marvin Hall, Reggie Davis, and even first round pick Calvin Ridley have all earned reps returning kicks in the early going.
However, neither figure to be a legitimate candidate for the job since Hall or Davis are expected to be inactive on game day whereas Ridley and Oliver are far too valuable to be tasked with full-time return duties. Therefore, I expect Ito Smith to earn some of his initial money as the kick returner in year one while Justin Hardy, based on process of elimination, fills the role of the team's punt returner.
At first glance, it appears like the Falcons have many holes to fill. However, a deeper dive into the depth chart reveals a top three roster in the NFL.
Aside from fullback, depth is the only area the team can stand to address. But with Dan Quinn's "iron sharpens iron" culture permeated throughout the building, even that may be a non-issue by the time training camp concludes.
AP Photo/John Bazemore