By: Evan Birchfield
Greetings Rise Up Readers, I'm back with another awesome article. I'm sure you've all heard the phrase "You don't know what you've got till it's gone", right? Well, we have an opportunity to appreciate what we have, specifically in kicker Matt Bryant.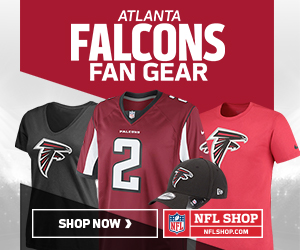 In case you didn't know, Matt "Money" Bryant is one of the Atlanta Falcons' 15 unrestricted free agents this year. Now, it's already known that Bryant isn't retiring, but will he be a Falcon in 2018? I hope so. I write this from a biased perspective, as Matt Bryant is one of my favorite Falcons' players ever. Even though he's spent only 9 seasons in Atlanta, Matt Bryant is without a doubt the best kicker in Falcons history.
If you look purely at his stats:
Most Field Goal Attempts in Atlanta Falcons history (261)
Most Field Goals Made in Atlanta Falcons history (230)
Most Accurate Kicker in Atlanta Falcons history (88.1%)
14th Most Field Goals Made in NFL history (368)
9th Best Field Goal % in NFL history (85.781%)
17th Most Points Scored in NFL history (1,624)
Matt has come a long way, after going undrafted in 1999, coming out of Baylor. His legacy statistically-wise is remarkable, but Falcons fans have their own personal memories of Bryant.
"My fondest memory of Matt Bryant happened at my first Falcons away game this past season. Against the Bucs, the best kicker in the league kicked the longest for any player his age and the second longest that year. After his field goal in the second quarter, it hushed the Bucs fans and solidified what I knew all along. Matt Bryant is a very vital part of our team and his solidness as kicker is undervalued. This year, our offense struggled to score in the red zone but the other Matty Ice continued to keep the Falcons in games. Most teams are not able to depend on special teams in crucial situations, but Atlanta can. He's definitely a rare jewel to find in football nowadays. When he's done playing football in the NFL, I think it would be great if he could become a special teams coach at the University of Alabama."
Je'Vonda Wright (@_broadwayjo)
"The divisional round when the Falcons played the Seahawks at the Georgia Dome. There was 31 seconds left in the 4th quarter with the Seahawks leading 28-27, after Marshawn Lynch rushed for a 2-yard touchdown. Matt Ryan and company rushed two plays down the field, which on the final drive, Ryan threw to Tony Gonzalez for 19 yards at Seattle's 31 to setup a Matt Bryant 49-yard field goal game winner. Final score Falcons 30-28. Matt Bryant has often been the clutch for the Falcons under pressure, which some would call him the other Matty Ice."
Bruce Luong (@Atl_Bruce_Luong)
"Being a scientist by trade, I can't help but wonder if Matt "Money" Bryant is a scientific marvel as he defies the idea of senescence. Not to mention, he only seems to be getting better with age. My fondest memory of him was way back in 2013 at the Georgia Dome, Divisional Playoff game against the Seahawks. Falcons were teetering on the edge after surrendering another big lead to the Seahawks who led with only 30 seconds left. The other Matt promptly led the falcons to the FG range thanks to clutch catch by the great Tony Gonzalez. The entire Dome was on the edge. Can an aging kicker rewrite history for the Falcons? He takes aim and misses it by a whisker, only to be saved by the most brainless timeout ever by Seahawks Head Coach Pete Carroll. The breather gave Money a chance to size up the pylons and he made it with ease. A man who rarely shows emotion on the field let out a big fist pump and the dome went into a tizzy. Falcons win, and the sound of A-T-L from the raucous crowd gave me the chills that I have never experienced, even from watching a game while at the stadium. This kick will forever remain etched in my memory. To me this legend, and ever reliable kicker, deserves every accolade that comes his way and should be given the opportunity to retire on his own terms!"
Vineeth Murali (@Vincruze)
"I had always liked Matt Bryant as a kicker from his previous stops in Tampa and with the Giants. But when the Falcons picked him up in-season in 2009 to replace a struggling Jason Elam, there was no reason to expect he'd soon become the greatest kicker in Falcons history. After a nondescript partial 2009 season, he returned to the Falcons in 2010 and turned into a kicking legend. My fondest Bryant memory was the playoff game against the Seahawks in January 2013. Sitting in the Georgia Dome, I was averting my eyes, afraid to even watch Bryant's fourth quarter game-winning kick as it happened. But when that kick sailed through, and I heard the stadium erupt, I immediately shed tears of joy. Watching the locker room interviews with Matt after the game was a joy too: he's so unassuming, and it was great to see him get rewarded with all that media attention for making a massively important kick for that team and for the Falcons franchise."
Steve Cohen (@SteveInBrooklyn)
I'll never forget the end of the Seattle divisional playoff game in 2013. I was sunken deeper than a treasure chest in a Pirates of the Caribbean movie at the blown lead, and surely felt all hope was lost for the Falcons that day. I was watching the game with my great-grandmother, and I remember turning off the television after the last Seattle score. There was *no way* I was about to subject myself to swallowing the bitter pill in real time — no way I was about to watch that sideline sadness. I walked around the house, in a twist and tangle over what I felt was possible doom. Though, Nana knew better. "Cory, if you don't watch this, and the Falcons come back and win, and you didn't watch it happen, you're going to regret it for the rest of your life." 
Sometimes, it does help to listen to your elders. The Falcons get the ball, and Matt Ryan makes a few clutch throws, and the receivers clutch catches (thank you Harry Douglas and Tony G), to set the Falcons up in field goal range. Then, out comes Money Matt. No stranger to knocking down game winners, Matt Bryant composed himself, kick, timeout Seattle. Silly Pete Carroll, you can't ice the Money Man. Second try? Bang. Money. Jump off the couch and screech into the air. The Falcons would win that one. With no help from myself, I saw it happen. I cherish that one. It's because of my Nana, and because of Matt Bryant's beautiful foot. 
I'm known to be overbearingly verbose, but I'll make a simple statement: Matt Bryant is the embodiment of why I watch this football team. He is the valor, the surprise, the endearing grind, the unabashed joy that I sincerely believe is patented to rooting for the Atlanta Falcons. It's not always easy to wear the red and black, but then, something amazing and beautiful and unfounded and rare and shocking and wowza happens, and you're on your feet, running around the house, banging on the walls, going hoarse. Most of those moments have come from Bryant's laser-focused foot. He's the Falcons to me, why I keep cheering for them and why I turned back on the television. 
Cory Woodroof (@CoryWoodroof47)
As you can see from above, Matt Bryant means a lot to the fans. He's someone we have always counted on, and had unquestionable faith in. I hope he's a Falcon in 2018, but regardless, I will be cheering for him, wherever he kicks. Thanks for reading Rise Up Readers! You can find me on Twitter (@EvanBirchfield) if you'd like to discuss anything Falcons related. There's not a whole lot going on currently, at least until the NFL Combine begins, and then the NFL Free Agency following that. I personally expect and hope the Falcons will re-sign Matt Bryant, and his last NFL kick will be as a Falcon.