By Matt Karoly
Regrettably, Roddy White's career did not intersect with my time covering the Atlanta Falcons. White decided, or perhaps more appropriately Father Time decided, that 2015 would be his final season in the NFL.
Shortly thereafter, I began covering the team for Fansided's Blogging Dirty during their run to the Super Bowl in 2016. And while that season certainly left a bad taste in the mouths of Falcons fans, it must have hurt Roddy White even more.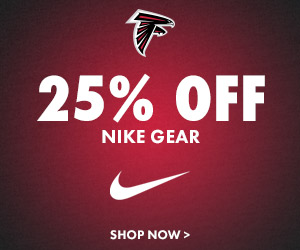 After all, Roddy worked his entire career toward that goal and one particular moment encapsulated his desire for a ring better than any. It occurred during the debut episode of the Falcons appearance on HBO's Hard Knocks in 2014.
The camera picked up a conversation between Osi Umenyiora and White on the sideline during practice one day. After Umenyiora prophesied Roddy's future as a Falcons Ring of Honor inductee, White countered by saying why he thinks it's great to be Umenyiora.
"I just only wish to be Osi Umenyiora. Let me tell you why being you is so good. You got two Super Bowl rings. Not one; people wish and hope for one. I have dreams about winning one! You got two!"
So you can imagine how White must have felt watching Matt Ryan and Julio Jones hoist the George Halas trophy in the George Dome as the Falcons became NFC Champions for only the second time in franchise history. Surely, he was happy for his brothers, but at the same time there had to have been some feelings of regret.
It was the only missing piece of White's storybook 11-year career with the Falcons.
From teetering on the brink of bust status to exiting as the franchise's all-time leader in catches, receiving yards, and receiving touchdowns, Roddy White had done just about everything a receiver can do in the NFL (with the exception of that elusive Super Bowl berth). So let's take a trip down memory lane and revisit some of Roddy's greatest hits in Atlanta.
Here are my top five Roddy White moments.
1. 2007: Free Mike Vick Roddy White
As alluded to earlier, Roddy White was trending toward bust status as a former first round pick in 2005. The Falcons had desperately needed a top-flight wide receiver to pair with franchise quarterback Mike Vick and the organization hoped White would be that guy.
But after two disappointing seasons in which White's work ethic was called into question, that hope began to wane. Then came the 2007 season, which ironically enough was the year that Vick was sent to federal prison on dog fighting charges.
However, thanks in part to the veteran presence of Joe Horn, White got his act together and delivered the breakout campaign everyone had been waiting for. The third-year receiver finished the season with 83 catches for 1,202 yards and eight touchdowns despite a carousel of bad quarterback play to work with.
This was also the first time since Terance Mathis in 1999 that a Falcons wide receiver recorded a 1,000 yard season, making the feat all the more impressive.
2. 2008: Roddy White Signals His Arrival…with a Back Flip
Many players in league history have been able to say they are a 1,000 yard receiver, especially in today's pass-happy format. But in order to be considered among the game's best, a receiver must be able to string together multiple such seasons.
So while his 2007 season was noteworthy, it also received very little fanfare and rightfully so. Roddy needed to prove he was more than just a flash in the pan.
But now armed with a franchise quarterback in 2008, White finally had the stability around him to make that a reality. The game at home versus the Chiefs that year was proof enough.
After connecting on a 70-yard touchdown, White celebrated in the end zone with a standing backflip, signaling to the NFL world he was here to stay. That game marked the first of seven 100 yard outings for White that year; a season that concluded in Honolulu with his first of four consecutive Pro Bowl appearances.
3. 2009-2010: Roddy White Eclipses The 200 Yard Mark Twice
As is the case with most of Roddy White's accomplishments, they would eventually be outdone by his protege Julio Jones. But before Jones came on the scene, Roddy had been the only Falcon receiver to surpass 200 yards in a game (the previous high was 198 by Terance Mathis), which he went on to do twice.
His first such instance came against the 49ers in week four of the 2009 season. Roddy set a career high in receiving yards with 210, 90 of which came on one play where he was able to showcase his 4.45 speed.
The other such contest came the following year at home against Cincinnati. White caught 11 passes that day for 201 yards and two scores with the most impressive one being his acrobatic 43-yard touchdown grab near the front left pylon.
4. 2012: Roddy White Keeps Falcons Perfect Season Alive
Aside from 2016, the 2012 season was arguably one of the most memorable ones in the Falcons 53-year history. Part of what made it so special was the fact that the Dirty Birds flirted with perfection in the first half of the year.
But none of that would have been possible had it not been for Roddy's heroics in week four against Carolina. With the Falcons down one and backed up on their own one-yard line, Matt Ryan dialed up a shot play to his favorite target in crunch time.
White raced past rookie cornerback Josh Norman down the left sideline and leaped over safety Haruki Nakamura as he came down with the 59-yard reception, putting the Falcons in position to kick the eventual game-winning field goal. Roddy always seemed to come through against division rivals, but it was the Panthers who brought out the best in him.
Of his 10,863 career receiving yards, 1,498 came versus Carolina, the most against any one team.
5. 2013: Roddy White Takes A Young Richard Sherman To School
It wouldn't be a Roddy White tribute piece if we didn't include his besting of Richard Sherman in the 2012 divisional round. As many are aware, White and company struggled to get over the playoff hump in the previous four seasons.
So when the upstart Seattle Seahawks came to town on January 13, 2013, it was a tense atmosphere. Those tensions came to a head late in the second quarter when White slipped past second-year cornerback Richard Sherman for a 47-yard touchdown grab.
But rather than just hand the ball to the referee afterward, Roddy instead got up in the face of Sherman to remind the young cornerback it was still his yard. For the first time in his brief career, the Seahawks cornerback was left speechless and had only a golf clap to offer in response.
No moment personified Roddy White better than that one.
Boisterous personality. Junkyard dog mentality. Underrated route runner. These are just a few ways to describe the one and only Sharod Lamor White, the newest member of the Falcons Ring of Honor.
What are your favorite Roddy White moments? Sound off in the comments section below.
Photo By John Bazmore/AP