The NFC South has been hyped up ever since free agency began in March.
Each of the Falcons' rivals have made moves that will see them hypothetically improve in 2017. The Bucs had the most publicity, assembling a nasty group of targets for Jameis Winston. The Panthers added a speedy Stanford product among other names and the Saints declared their love for running the ball.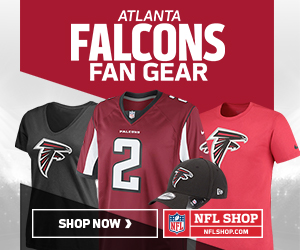 This writer still expects the Dirty Birds to claim the division title next year, but the road won't be any easier. Here's why.
CAROLINA PANTHERS
Notable Additions: RB Christian McCaffrey, T Taylor Moton, DE Julius Peppers, S Mike Adams, CB Captain Munnerlyn, WR Curtis Samuel, DE Daeshon Hall, CB Corn Elder, WR Russell Shephard, DT Toby Johnson
Notable Departures: DC Sean McDermott, WR Ted Ginn, WR Philly Brown, T Mike Remmers, LB A.J. Klein, DE Kony Ealy
KHALIL OR NO KHALIL
Of the three teams in the NFC South, the Carolina Panthers present the greatest threat to Atlanta for the division crown.
"But, Cory, that goes against group-think! But the Buccaneers have lots of weapons! And the Saints added things!"
Yes, I know. I'm like that. But, really, when you look at the Panthers' off-season moves, they've sneakily made some duct-tape additions to their defense that could to be potent in the short-term. On offense, it's a little muddier as to how that's all going to go, particularly with the oversized contract of a certain offensive tackle, but if that particular moves pays off, Cam Newton gets his confidence back.
If that happens, things could get very interesting for the Falcons come fall.
The Panthers added a potential game-changer to their offense in RB Christian McCaffrey. The former Stanford jack-of-all-trades is a hyper-speedy, elusive back who can also pass-catch, line up as a wideout and return kicks and punts. He's the super-talented headache opposing teams do not want to have to game plan for. He can burn you in lots of ways, and he gives QB Cam Newton a versatile weapon who he can utilize, no matter how the line protection is. The Falcons will field a good, fast coverage unit this fall, which makes them ready for what McCaffrey can bring. Other teams may not be as lucky.
As for Moton, he's an NFL-ready right tackle who gives Newton arguably the best right side protector he's had in a long time. Whether he starts early will be up to the coaching staff, but drafting Moton is a savvy way to help the offensive line, which might be a left tackle away from being a strong unit (the interior of Andrew Norwell, Trai Turner and Ryan Khalil isn't too shabby).
It'll be the blind side that may hold the Panthers back in 2017 from getting back to where they were as a team in 2015. Matt Khalil, the former high-first round draft pick of the Vikings, has never put together a season as impressive as his rookie campaign in 2012. In fact, he's struggled tremendously with consistently on the field, due in large part to injuries.
But, he was paid like a rock star by Carolina in free agency (a staggering five years, $55 million contract), and he's being tasked (and paid handsomely) to fix the Panthers' glaring hole on the roster – left tackle.
Michael Oher manned the position to decent effect in 2015, but a severe concussion knocked him out of play in 2016. His future career is in jeopardy due to the injury. Khalil has been signed to take Oher's spot, and the Panthers will need him to play at least to Oher's 2015 level to get their offense back on track. The more Newton takes hits, the less effective he is. Newton, like all quarterbacks, needs a clean pocket to produce to his potential. His tackle protection in 2016 was a major reason for their Super Bowl hangover.
Khalil has a lot to prove, and if he plays well and stays healthy, it'll be a good move in the rearview. But, right now, they've signed an oft-injured player who's struggled to maintain consistent play outside of one season on his rookie deal (his first). It's a gamble for this organization's future – one that could either pay in dividends or end in more sacks and stagnant play from the offense.
As for Sean McDermott, his departure was unavoidable. He's a smart DC who had been getting looks for the head coaching position for quite some time. But, anytime you lose a coordinator, there is speculation as to how the unit will produce.
The Panthers' defense is heavy on veteran presence, which will help pad the loss, but it's never ideal to lose a coordinator who's been fielding one of the more imposing units of the last few seasons. New DC Steve Wilks, formerly a DBs coach for Carolina, has a lot to live up to.
HOW NERVOUS SHOULD FALCONS FANS BE: Somewhat
The Khalil move will make or break this season for Carolina. Choosing to sign him as opposed to drafting a younger player in the draft or making a move for a more consistent veteran (Andrew Whitworth) could prove to be the straw that breaks the Panther's back. But, if Khalil regains his 2012 form, or at least isn't the player he was later in his Vikings career, the Panthers could start clicking again on offense. If he doesn't, safe to say it won't bode well for Newton, who was hit far-too many times in 2016.
Another big offensive question mark comes with the receivers. Top WR Ted Ginn and reliable reserve Philly Brown are now elsewhere, with WRs Kelvin Benjamin and Devin Funchess coming off disappointing sophomore campaigns. New WR Curtis Samuel has a lot on him to fit in to give Newton the deep threat the roster currently lacks. TE Greg Olsen will likely see his most targets to date. McCaffrey should certainly help.
On defense, they are getting older. Adding guys like S Mike Adams, DE Julius Peppers and CB Captain Munnerlyn – all good players in their own right – puts more age on this defense that is seeing its best player, LB Luke Kuechley – return from a concussion that ended his season. The defensive line is still stacked in the interior with Kawaan Short, Star Lotulelei , Toby Johnson and Vernon Butler manning spots, and OLB Shaq Thompson only stands to get better. They may be a more complete unit in 2017, but the added age and secondary (still an unproven spot) should give pause to crowning this unit as one of the league's best.
The Panthers are the biggest question mark of the NFC South. Their future kind of embodies the Khalil signing – it's a high risk, high reward horizon.
PREDICTED RECORD: 9-7, Tied for Second in the NFC South, Wild Card contender
TAMPA BAY BUCCANEERS
Notable Additions: WR DeSean Jackson, TE O.J. Howard, DT Chris Baker, WR Chris Godwin, S Justin Evans, ILB Kendell Beckwith, S J.J. Wilcox, K Nick Folk, QB Ryan Fitzpatrick
Notable Departures: CB Alterraun Verner, S Bradley McDougard, DT Akeem Spence, T Gosder Cherilus, QB Mike Glennon, WR Vincent Jackson, WR Russell Shepard, TE Brandon Myers, LB Daryl Smith
WON'T GET FOOLED AGAIN
This is the team you've been told to fear – the up-and-coming terror from Tampa Bay whose vertical game will smother you with fierce might! The defense who will strangle your dreams of Lombardi!
It's too late, Atlanta. Your doom is here, and it wears pirate logos.
OK – pump your breaks, man.
The Tampa Bay Buccaneers have been popular pre-season picks since the days of Blackbeard and Long John Silver. They're always going to make the next leap on offense, always finally going to click on defense and always about to crack open that big box of potential that seemingly eludes them with each passing season.
Indeed, their off-season has been impressive. Adding speedy WR DeSean Jackson, polished rookie TE O.J. Howard and potential-laden rookie WR Chris Godwin alongside Pro Bowl WR Mike Evans and TE Cameron Brate is legitimately scary. The potential for that pass-catching quintet should worry you. It's a very good group. The running game, if RB Doug Martin is able to return to form after missing most of 2016, should also be a bear, with RBs Jacquizz Rodgers and Charles Sims both dangerous talents.
QB Jameis Winston flashes elite potential, but has not yet put together a full season of consistent play. He now can be mentored by QB Ryan Fitzpatrick, an erratic-yet-intelligent player who could shepherd Winston into a new level of play. HC Dirk Koetter is also known to be a nice teacher for QBs. Winston's junior season could be where he finally puts it together.
On defense, they're still stout on the defensive line – DT Gerald McCoy is still one of the better interior forces in the game, and he's flanked by new addition DT Chris Baker, a vastly underrated pocket disrupter from Washington. DE Noah Spence could be poised for a breakout season, and DE William Gholston just got a new five-year deal. Spry veteran DE Robert Ayres Jr. is a rotational guy in Tampa, which indicates the depth they have on the line. Stellar LBs Kwon Alexander and Lavonte David are joined by Alexander's old teammate Kendall Beckwith at the middle position, and the safety tandem has been remade with Texas A&M's Justin Evans and Cowboys import J.J. Wilcox.
Even K Robert Aguayo, who struggled his rookie campaign, has competition with veteran kicker Nick Folk in the system.
So, this is the new super-team, right? Well, maybe not.
The Buccaneers have two glaring Achilles heels – their offensive line and their secondary.
The Buccaneers have not yet figured out how to solve the offensive line issues that have plagued them for years. The Bucs do not have a good left tackle at the moment (unless LT Donovan Smith improves his play), their interior is a major question mark (G Ali Marpet is moving to center, 2016 FA pickup J.R. Sweezy, who was never a world breaker, will fill in somewhere after missing his first season in TB, the right guard spot, like Atlanta, is also lacking a strong suitor). RT Demar Dotson is the line's only consistent starter.
As it stands, the Buccaneers have one of the worst offensive lines in the NFL. It will hold them back from reaching their potential until the young guys vamp up their play and they get a consistent group of four-to-five quality players on the field.
If the unit they field in 2017 meshes and gets the offense going, this could be a stronger unit than it ever has been. But with a young quarterback like Winston, he will go as his offensive line goes. He's talented enough to run a few plays on his own that look incredible, but he's not talented enough to play strong despite no protection. The unit sparked late in 2016, and they very well could in 2017. But, can they put together a good enough season to unseat the Falcons as the premiere offense in the NFC South? With this offensive line, it's unlikely, no matter who they have to throw to.
On defense, the weak spot is the corner stable. CB Vernon Haregraves III will have to take a major leap in 2017 in his second season. Right now, the team lacks a true CB2, with the old-yet-feisty Brent Grimes needed to play the slot. There is no strong CB2 on the roster – that can always change via trade or cut pick-up, but as of now, they are vulnerable at corner in a pass-happy NFL. Can they overcome that?
HOW NERVOUS SHOULD FALCONS FANS BE: Maybe a little, maybe a lot 
Until the Buccaneers find consistent play on their offensive line and in their secondary, they will continue to be "just about there." Perhaps the writer will eat his words if these units click. If they do, the Buccaneers could finally cross the threshold and become a legitimate contender. They've certainly got the talent with skill players on offense and along the front seven to do so. But, Winston is what makes or breaks this team. If he doesn't get the protection he needs, he will continue to flash and not produce consistent play.
As for the defense, unless the team's gamble to not add a strong presence next to the growing Haregraves pays off with the second-year CB taking the leap, they will be an easy team to throw on, no matter who is playing in front of the corners.
This Buccaneers team has a lot of potential, but they've also got two huge points of concern. If they overcome their OL and CB units, the team has the potential to unseat the Falcons as division champs.
But, the smoke might not lead to a fire, at least this season. Let's say the Bucs start out hot, and begin to fizzle as the season goes on.
PREDICTED RECORD: 8-8, Third in the NFC South
NEW ORLEANS SAINTS
NOTABLE ADDITIONS: CB Marshon Lattimore, G Larry Warford, WR Ted Ginn, RB Adrian Peterson, RB Alvin Kamara, T Ryam Ramczyk, DE Alex Okafor, ILB A.J. Klein, ILB Manti Te'o, DE Trey Hendrickson, FS Marcus Williams, OLB Alex Anzalone, TE Clay Harbor, QB Chase Daniel
NOTABLE DEPARTURES: RB Tim Hightower, G Jahri Evans, S Roman Harper, QB Luke McCown, T Tony Hills, DE Paul Kruger CB B.W. Webb, LB Sam Barrington
We don't like the Saints, but we won't be the kind of fans who don't give the Saints credit for making good moves.
The Saints have seemingly made the shift to become world-pounders, with the signing of G Larry Warford and the drafting of T Ryan Ramczyk padding the additions of RB Adrian Peterson and RB Alvin Kamara.
Sean Peyton's path is clear on offense – they're going to tote the rock.
How much? A lot. With Peterson and Kamara joining longtime Saints starting RB Mark Ingram and RB Travaris Cadet, they're going to run the football a crap ton.
They should have success with it – when C Max Unger returns from injury later in the 2017 season, they'll have one of the more stout offensive lines in the league (T Terron Armstead, G Warford, G Andrus Peat and T Zach Strief are along for the ride with Unger). WR Ted Ginn jumps from Carolina to the Big Easy, where he will give QB Drew Brees his best vertical threat he's had since Jimmy Graham left town.
Brees, who turned 38 in January, is no spring chicken, but the orchestrated one of the best offenses in football last year. They could score on anyone, but they could also *get* scored on by anyone.
The defense was a dumpster fire, with their first rounder DT Sheldon Rankins missing a large chunk of the year with an injury and their linebacking core and secondary in tatters.
They've tried to stop the bleeding on the back row some with the addition of CB Marshon Lattimore, a highly-touted Ohio State player and S Marcus Williams, who had his fans in the draft. Lattimore and Williams join CB Delvin Breaux and S Von Bell as the young guns in the Saints secondary – they could be far-better as a unit next year.
The front seven is more of a question mark, with a healthy Rankins the major plus to them (he and Nick Fairley could be a nasty one-two punch). They still remain sketchy on edge, with DE Alex Okafor and draftee Trey Hendrickson the only big names joining DE Cameron Jordan.
LB is the major bugaboo – ILBs A.J. Klein, Alex Anzalone and Manti Te'o are the latest attempts for New Orleans to get consistent play in their linebacking core. LB Craig Robinson is the unit's strongest player.
The Saints still don't have a great defense. They could improve substantially in the secondary, but the front seven, sans Jordan and the two defensive tackles, is a largely underwhelming assembly. Their mission to pound the ball in a passing league (with one of the best passing quarterbacks of the last twenty years) is also odd.
The Saints should have been investing in more targets for Brees, who will need more talent at the position as he gets older. Brees played well in 2016, but his time is wearing thin – he may not have the longevity of a Brady due to his injury history. Really, the future Hall of Famer could be a bad hit away from exiting his prime. Father Time will always remain undefeated. Right now, the tight end position looks sparse, with starting TE Coby Fleener a far cry from the days of Jimmy Graham.
Ginn will help Brees, as will WR1 Michael Thomas and wily slot guy Willy Snead IV, and Kamara can pass-catch, a plus. But, right now, the team's investments in the run game mean they will likely be a run-first team in 2017. The offense could look different than what we're used to seeing with the Saints.
The defense is still, at best, a middling unit. With a tighter secondary, they stand to improve. Their schedule is also top-heavy – a slow start could lead to a strong finish. The Saints might very well be back to a winning season.  Though, we still hate them.
HOW NERVOUS SHOULD FALCONS FANS BE: Somewhat
We hate to break it to you, but the Saints will have a winning record in 2017 if Brees continues to play well. They've done enough to the defense to make it mediocre, and the offense will have success running the ball. They aren't built to beat the Falcons, but they are built to beat the bottom feeders of the league. Their schedule is favorable, hence the winning record guess.
PREDICTED RECORD: 9-7, Tied for Second in the NFC South, Wild Card Contender
Photo from Rant Sports