Hello, Rise Up Readers! It's me, Cory I'm here for my yearly Falcons schedule breakdown!
*Kermit flailing his arms saying yay.gif*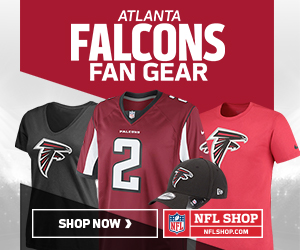 Yeah, so, uh, you don't need this much intro. I'm breaking down all the games.
WEEK ONE – AT PHILADELPHIA EAGLES
You remember when the Falcons lost to the Eagles in the playoffs? Well, sure you do! It was literally the last game Atlanta played in.
The Falcons get a chance to pay the Super Bowl champs back in primetime in a divisional round playoff. Sure, it's not going to be fun to yet again have Al Michaels and Chris Collinsworth go on and on about the last major loss in Falcons history, but perhaps they'll leave the Super Bowl alone. Ah, who am I kidding, they'll mention it 5,000 times.
Atlanta lucks out here with either a rusty Carson Wentz or a regular season Nick Foles under center. Philly drained a lot of brain from their offensive coaching staff and will need to get their own selves together for the season. Week One is weird, which is precisely why Atlanta's got a good shot here. They're not breaking in a QB fresh off an ACL tear, and they're going to simply be hungrier to get this win. Philly's coming off a Super Bowl win. It's not going to fracture the franchise to drop the opener.
The freshness of the matchup, and the uncertainty at QB, gives Atlanta bit of an edge here, even if the sweat continues to gather on your brow. I'm rolling the dice here. Weird things happen in Week One. The Falcons get revenge.
Result: WIN, 1-0
WEEK TWO – VS. CAROLINA PANTHERS
The Birds get Cam Newton and the Panthers to open up at home. The Panthers…just don't make a lot of sense. Like…really…I don't get where they're going, what they're capable of or what their ceiling or floor is. Newton is always a threat, but with Norv Turner calling the plays…I don't know, man. I just don't know. Thomas Davis will also miss this game.
Atlanta's never lost a home opene…oh, what's that? They did *what* to the Buccaneers in 2016? H…how did that happen? What were the circumstances?
Atlanta gets to 2-0, which is fun.
Result: Win, 2-0
WEEK THREE – VS. NEW ORLEANS SAINTS
The Falcons and Saints will split this season. It will happen in a really weird way where both teams lose at home. I don't know; it just feels like this is how it will go.
Result: Loss, 2-1
WEEK FOUR – VS. CINCINNATI BENGALS
C'mon, man.
Result: Win, 3-1
WEEK FIVE – AT PITTSBURGH STEELERS
Perhaps this is being a bit cavalier, but it feels like this run of the Steelers is over. Playing up in Pittsburgh is no fun in the sun, but Big Ben is in his mid-60s, and that defense is kinda not great. If Ben gets to airing it out with AB, and Le'Veon gets to work, I mean, it won't be easy, but Atlanta just feels like the better team at the moment.
It's going to be hard, though. Road games against legacy teams never are.
Result: Win, 4-1
WEEK SIX – VS. TAMPA BAY BUCCANEERS
I kind of figured the Falcons would lose to Tampa Bay once this season, but with this game at home early, it's a saving grace. If this were in TB in October, I'd feel differently.
Result: Win, 5-1
WEEK SEVEN – VS. NEW YORK GIANTS
[INSERT NEW MONDAY NIGHT FOOTBALL CREW HERE], those ole' rascals, will be on the ground to commentate on watching the Falcons gouge the everlasting lights out of the Giants.
Oh, that's dark. But, I don't know, the Giants aren't going to be all that great next season.
Result: Win, 6-1
WEEK EIGHT – BYE
WEEK NINE – AT WASHINGTON
I have a theory about Washington and Atlanta – those teams hate each other. I don't know why! But, every time Atlanta plays them, it's really rough, and scrappy.
I have a bad feeling about this game. It just feels like one of those ugly losses you get once a year that makes no sense in the rearview. But, y'know, they happen.
Result: Loss, 6-2
WEEK TEN – AT CLEVELAND BROWNS
C'mon, man.
Result: Win, 7-2
WEEK ELEVEN – VS. DALLAS COWBOYS
I don't know how good Dallas will wind up being, but I do know we spanked them pretty handedly around this time last year, and that Cowboys don't forget.
Dallas fans also travel well.
Result: Loss, 7-3
WEEK TWELVE – AT NEW ORLEANS SAINTS
I'm telling you. This is the year they split road wins.
Result: Win, 8-3
WEEK THIRTEEN – VS. BALTIMORE RAVENS
Bwut Joe Fwacco is ewite, rwight?
Result: Win, 9-3
WEEK FOURTEEN – AT GREEN BAY PACKERS
I don't look forward to the Great Aaron Rodgers Revenge Feast, but we've embarrassed that man a lot over the last two years. He's going to be *ready.*
Result: Loss, 9-4
WEEK FIFTEEN – VS. ARIZONA CARDINALS
Palette cleanser.
Result: Win, 10-4
WEEK SIXTEEN – AT CAROLINA PANTHERS
Again, I don't know what the Panthers will be, but they're coming off an 11-5 season. We'll probably split.
Result: Loss, 10-5
WEEK SEVENTEEN – VS. TAMPA BAY BUCCANEERS
Thank you, NFL Schedule Makers.
Result: Win, 11-5
So, there you go. The Falcons go 11-5, and hopefully, can get that second-best spot in the playoffs.
See ya in the fall, Rise Up Readers.